007 Mission Files: 'Tomorrow Never Dies'

GoldenEye was one of the top grossing Bond films of all time, so the producers were desperate to jump on the opportunity and release another film as soon as possible. The resulting film feels rushed. Two of the primary characters (Elliot and Paris Carver) weren't even cast until after principal photography had begun, the script went through massive rewrites on set, and even the music was barely completed in time. Somehow, Tomorrow Never Dies still manages to be a decent entry in the series.
The producers first turned to Martin Campbell to direct the follow up effort to GoldenEye, but he didn't want to make two Bond films in a row, a decision he would repeat when he was offered Quantum of Solace after directing Casino Royale. They eventually turned to Roger Spottiswoode, who at the time was known for Turner & Hooch, Terror Train, and Stop! Or My Mom Will Shoot.
The good news for Spottiswoode was that the producers believed in him and wanted the project to be a hit. They gave him a budget of $110 million, a $52 million raise from the budget of GoldenEye and the largest jump in budget to date. They felt comfortable doing this because they had the entire budget covered in product placement campaigns. The best lesson the producers learned from GoldenEye was how to effectively make money with product placement, and with Tomorrow Never Dies they took it to the next level. This was the first movie in history to have the budget completely covered by money generated with product placement.
The bad news for Spottiswoode is that Tomorrow Never Dies opened the same weekend as a little film called Titanic. Tomorrow Never Dies was still able to make $335.3 million in the worldwide box office, and since the budget was covered by product placement it still made for a profitable film. This is one of the few Bond movies that didn't open at number one in the US box office, and ironically all of the underwater scenes were shot in the same tank as Titanic.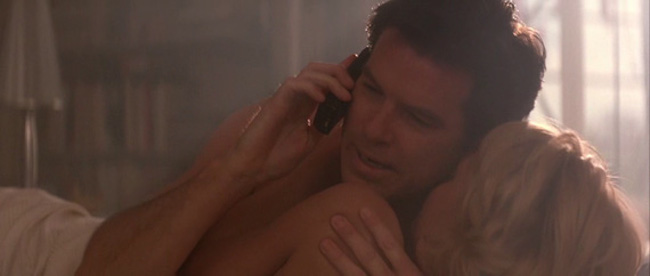 The movie opens with Bond at a huge bazaar of illegal weaponry. The sheer organization to get this amount of surly characters in one place along with billions of dollars worth of stolen weaponry is pretty remarkable. Of course it's also easy to see how MI-6 would be tipped off to such an event. Bond is relaying video footage of the event back to base, where M is watching along with British Admiral Roebuck and Russian General Bakharin. When they identify an American GPS decoder and some of the villainous attendees it becomes a military operation. Roebuck takes over and orders a bombing of the area, but Bond points out that there are nuclear torpedoes on a fighter jet. It's too late to abort the bombing, so Bond wreaks some havoc and steals the plane just before the base is hit with the missile.
After the opening credit sequence we see the British naval ship, the H.M.S. Devonshire, in the South China Sea. The ship is buzzed by two Chinese Air Force MiGs, claiming that they have entered Chinese water, but the British argue that they are in international waters and they're using the American GPS satellite.
We next see the familiar face of Henry Gupta. He was at the bazaar buying the American GPS decoder. He is using it to put the Devonshire off course from a nearby stealth boat. The stealth ship deploys a torpedo with a drill bit attached. They are able to drive the torpedo with a remote and drill into the hull and through the ship. They then fire a missile at one of the MiGs the next time they fly over. The British and Chinese each think the other has attacked them, and the British are able to get off a message with their location before abandoning ship.
Stamper, the captain of the stealth ship, contacts his employer Elliot Carver to let him know that the operation was a success. Carver tells him to take a missile from the Devonshire and gun down any survivors that may be floating in the water with Chinese ammunition. Carver is a media mogul, and he's using the story that he just created to launch his new satellite television network.
Roebuck is furious and orders the entire British fleet to descend on the area. M thinks this is premature and asks for time to figure out what exactly happened before going to war with the Chinese. Roebuck informs her that it will take 48 hours for the fleet to get there, and she has until then to do whatever she has to do.
M is already curious of Carver. The bodies were only discovered three hours before, but he has already had time to print up newspapers with the details? She sends Bond to Hamburg to investigate the Carver Media Group. Q meets Bond at the airport in Hamburg and gives him a new, fully equipped car. Later that night, he goes to a lavish party being thrown by Carver to celebrate the launch of their new network.
At the party, Bond runs into Carver's wife Paris, whom he had previously had a relationship with. Paris tells him that she isn't going to give him any information on her husband. Bond said that this wasn't the reason he was there and he would investigate Carver on his own. Carver, who had been occupied by New Chinese News Agency reporter Wei Lin, arrives to collect his wife for a speech. Bond and Wei Lin follow them, but before the speech starts Bond is taken to a back room by Carver's security detail. They begin to knock Bond around, but he eventually gets the upper hand and shuts down Carver's operation.
Later that night, Paris shows up at Bond's hotel room. Bond doesn't want to get her involved, but Paris is persistent. Eventually he relinquishes and they rekindle their previous romance. Paris then fills Bond in on a secret lab that is on the top floor of the Carver building.
Meanwhile, Gupta has followed Bond's employment record and deduces that it's too clean, so he must be a secret agent. He also plays a video of Paris and Bond from the party. Carver tells Gupta to arrange an appointment for her with "the doctor".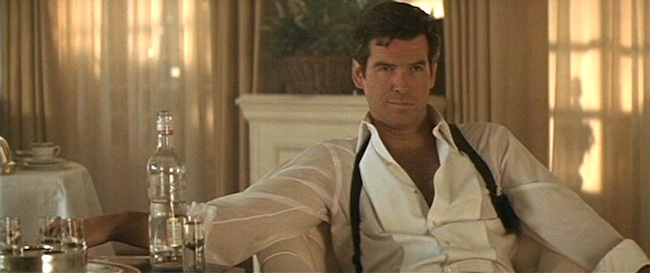 Bond breaks into the secret lab and eventually finds the American GPS decoder. On his way out he runs into Wei Lin, who is also trying to break into the lab. An alarm is tripped and they both escape separately. When Bond returns to his hotel room he finds Paris dead on the bed and Dr. Kaufman waiting for him. Bond is able to trick Kaufman into electrocuting himself and flees the room, leaving Paris's body behind.
When he gets to his car, it is surrounded by people trying to break in and retrieve the decoder. Bond uses the remote control feature that Q built into the car to escape, eventually destroying most of the parking structure and launching the car off the roof into the building across the street.
Bond goes to a nearby US Air Force Base where he meets up with CIA agent Jack Wade. Bond provides them with the decoder, and the American technician tells him that someone has tampered with it. They are able to calculate where the Devonshire is by using the last location they reported, and Bond does a HALO jump into the ocean over that spot. He quickly finds the wreckage and Wai Lin, who is also looking through the ship. They notice that one of the missiles is missing and head to the surface, but Lin's boat has been taken over by Stamper.
Bond and Lin are taken to Carver, who is busy writing their obituaries. Before Stamper is able to torture them to death, Bond and Lin jump off the side of the building, using the banner to slow their fall. Still handcuffed together, they steal a motorcycle and out run the Landrovers and helicopter that are chasing them.
They regroup at Wei Lin's hideout and send messages to each of their governments, telling them that Carver is behind the attack. They also discover that Carver has been stealing stealth material, and they soon realize that he must have built a stealth boat. They gear up and head toward the most likely port for the ship to operate from.
They find the boat in the South China Sea and sneak aboard. They begin placing mines as Carver shoots at the Chinese and British fleets. He plans on shooting the missile they stole from the Devonshire at Beijing. Lin is captured, but Bond is able to damage the ship enough for it to appear on Chinese and British radars. Carver corners Bond, but it's in front of the controls to the drill torpedo, and Bond is able to direct it into Carver and slice and dice him to bits.
Stamper drops a chained up Wei Lin into the sea and Bond puts explosive charges on the missile, so when it is launched it just blows up instead. Stamper and Bond get into a fist fight. Stamper gets caught on the missile launching system and is blown up when it goes. Bond dives into the sea and rescues Lin.
Tomorrow Never Dies suffers a bit of a sophomore slump, but this was in large part due to their rush to get it out. It feels uneven in both tone and quality. It doesn't know if it wants to be a brooding Dalton adventure or a slapstick Moore outing. Part of the reason for this is the recycling of old material that had either been used or discarded for previous films. It's certainly the most formulaic James Bond movie since A View to a Kill.
One thing that really hurts the film watching it today is how irrelevant the villain seems. Carver's plan is to corner the market and be the ultimate source of news across all forms of media. However, the internet was a few short years away and all of the media that he coveted would be obsolete.
Originally the movie was called Tomorrow Never Lies, but when one of the later drafts was faxed to MGM the ink was smudged. They believed it said Tomorrow Never Dies. Both the producers and marketing department liked this much better, so the name was changed.
I really like the theme song for Tomorrow Never Dies. It's very 90s, but Sheryl Crow belts out a great tune that always puts me in the mood for 90s music. In a way, it's also kind of a throw back to the Shirley Bassey theme. It walks a nice line.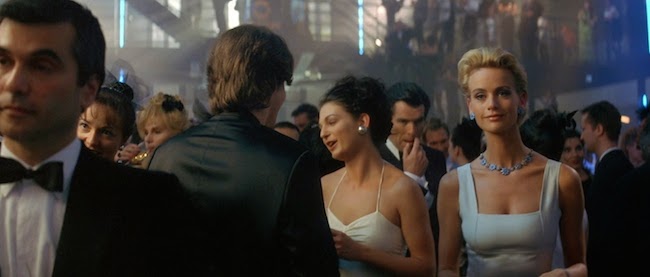 The story of the theme song is that they solicited a dozen artists like Dot Allison and Swan Lee for songs, but they didn't tell any of them that other bands were also writing songs. This apparently upset a lot of artists, but most of them changed a few words and released the tracks themselves.
John Barry had done most of the scores up to this point, but he was upset that he did not have the ability to work with Sheryl Crow on the title track so he passed on scoring the movie. He recommended David Arnold, who would go on to score most of the films going forward. Arnold was also upset that he couldn't work on the title track, but he struck a deal with them to write and record a song with k.d. lang. This gave Arnold the flexibility to work portions of the song throughout the score, and the k.d. lang song appears during the closing credits.
The movie was so rushed that some of the music wasn't completed before the soundtrack was set to be released. They eventually re-released the soundtrack in 2000 with additional tracks that were recorded for the movie at the last minute, after the release of the soundtrack.
Bond upgrades his Walther in this movie. He'd had the PPK since Dr. No, but he is able to get a P-99 from the armory in Wei Lin's safe house. He uses the P-99 through Casino Royale before returning to the PPK in Quantum of Solace.
There's a minor cameo by Gerard Butler as "Leading Seaman – HMS Devonshire". It's one of his first credited roles, but he's basically a glorified extra.
Cars: Bond's new car was a centerpiece of the film. This is the second of a three-picture deal with BMW, this time featuring the BMW 750iL. It's the first sedan that Q has provided to Bond, and a lot of fans weren't overly impressed with the look of it. However, Q installed all of his usual gadgetry in the car from missiles to unbreakable glass. Most notably was the remote control for the car built into Bond's phone. We do get a brief glimpse of Bond's Aston Martin DB5 for the Bond purists.
You also can't forget the BMW Cruiser R1200 C motorcycle. I'm not a big motorcycle guy, but I really like this bike. There's a great chase through the streets as Bond and Wei Lin are being chased by a helicopter. Very cool.
There are of course a number of helicopters, MiGs, and naval ships, but we do have to mention Carver's stealth boat. Many believed it was a fictional invention for the film, possibly due to the way the characters scoffed at it, but in the early 1980s Lockheed had actually produced a similar prototype called the Sea Shadow. The US Navy passed on the project, but it survived for Bond.
Allies: This is the second appearance by Dame Judi Dench as M. Her role has expanded a bit from GoldenEye, but most noticeable is the mutual respect that has grown between her and Bond. They are clearly beginning to trust each other after a couple of years of working together.
Samantha Bond returns as Miss Moneypenny. She does a nice job here. Again, I really like her rapport with Brosnan, but her scenes are very quick in this one.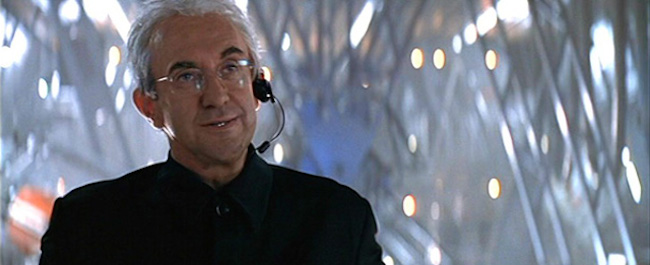 Desmond Llewelyn plays Q for the sixteenth time, appearing in the field for the final time. He does some great cue card reading in this one, but to be fair his scenes were shot very sporadically throughout the filming. He still has great banter with Brosnan.
Joe Don Baker returns as Jack Wade. He's kind of the J.W. Pepper of the Brosnan era. A cartoonish American figure that "helps" Bond. He really only has one scene and he's gone pretty quickly.
Wei Lin is Bond's Chinese counterpart. She has a different skill set than Bond's, but they are able to work together to stop Carver. She's played by Michelle Yeoh a few years before the release of Crouching Tiger, Hidden Dragon. My favorite movie of hers will always be Sunshine.
There are a number of allies gathered at the beginning watching the feed when Bond is at the bazaar. While Tanner is absent there are plenty of other people that appear such as the Minister of Defence and General Bukharin. Most notably is Admiral Roebuck. Roebuck was played by Geoffrey Palmer, who was Judy Dench's co-star on As Time Goes By, a popular British sitcom.
Chief of Staff Charles Robinson also makes his first appearance during the opening scene. It isn't a big part, but he is often at M's side along with Tanner throughout the Brosnan era. He's played by Colin Salmon, who Arrow fans might recognize as Walter Steele. He was also in Alien vs. Predator and the Resident Evil series.
Bond Girls: Paris Carver is the primary Bond Girl in this one, though her screen time is brief. They had originally thought of bringing back Natalya Simonova, but Izabella Scorupco passed on the project. They wanted Paris to be a woman from Bond's past, so they just had to use exposition.
Paris is played by Teri Hatcher, just as her role as Lois Lane on Lois and Clark came to an end and well before Desperate Housewives. Hatcher took the role in part because her husband had a lifelong dream of being married to a Bond girl. She was cast at the last minute, after filming had already begun, and all of her scenes had to be rushed to the beginning of production due to an unexpected pregnancy. She isn't completely happy with how her character turned out in part because of the lack of time that she had to develop the character and in part due to the added stress and tension from her pregnancy.
Bond also has a quick roll in the hay with Professor Inga Bergstrom when he's "boning up on a little Danish." She's lovely, but has about two minutes of screen time. It seems like she's just there to give Bond a sexual conquest.
Gadgets: Fans were really upset by the lack of gadgets in GoldenEye. I personally thought there were plenty, but the outpour led to an overreaction by the producers, as it always does in this series. They developed one of Bond's most high tech cars to date and integrated his cell phone with it. The phone had a built in remote control for the car, a stun gun, and a finger print reader. He also has an Omega watch with detachable detonator.
Villains: Elliiot Carver is the primary villain of the film, played by Jonathan Pryce, who would go on to be in Pirates of the Caribbean and Game of Thrones. Pryce has a nice performance here as the over-the-top media mogul. I think the distracting part about the character is that he is always evil. When he's at the party he's telling an anecdote about how he spread Mad Cow disease to ruin someone that had wronged him. He kills his own wife. He wants to start World War III so he can have the headlines first. There is no moment of humanity. Even Blofeld had a cat that he carried around and petted. Also, his plan seems dated now that newspapers, radio, and cable news are dead media.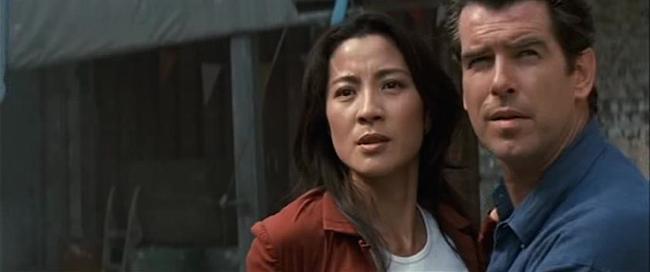 Anthony Hopkins was originally cast as Carver. He had actually joined the production and was on set for three days, but he eventually left the project as there still was not a completed script and he was given a new version every day. He felt the production was too disjointed and chaotic.
Carver's henchman is named Stamper, played by Gotz Otto. He's the typical large, blonde, indestructible henchmen of Eastern European descent. He's the weakest of the characters cast from the Red Grant mold. He doesn't have much to add to the film and he's fairly ineffective.
Henry Gupta is a hacker that Carver has hired to use the American GPS decoder to send the Devonshire off course. He also is in charge of surveillance at the party and launching the missile from the stealth boat. Basically if there's a computer involved Gupta is there to handle it for Carver. Gupta is played by Ricky Jay, who is a pretty famous sleight of hand magician and is also known for his ability to throw playing cards at 90 miles per hour. He was also the narrator of The Brothers Bloom and played Milton in The Prestige.
Finally there's Dr. Kaufman, an assassin that Carver uses to kill his wife and attempt to kill Bond. He's a goofy character in a really serious scene. It's one of the things that doesn't quite work in the movie, but I do really like the character. Mostly because he's played by character actor Vincent Schiavelli, known for Death to Smoochy, Man on the Moon, and Batman Returns.
Overall, Tomorrow Never Dies is a pretty good Bond movie, kind of middle of the pack. It isn't fun enough or serious enough to stand out, but the production value is pretty solid and there are some memorable scenes that make it a worth-while outing.