007 Mission Files: 'GoldenEye'

After Licence to Kill's tepid debut in a crowded summer of 1989, many wondered if the days of James Bond on film had come to an end. Financial troubles hit MGM and they were once again locked in a legal battle over the rights to the character.
In 1994 they were finally ready to move forward with a new adventure, but Timothy Dalton had grown impatient and lost his interest in playing the part. He stepped out of the James Bond spotlight, leaving the producers in yet another search for a new Bond. They first offered the part to Liam Neeson, who declined. Sam Neill, Mel Gibson, and Hugh Grant were also rumored for the role. Even Ralph Fiennes auditioned, who would later become M.
Ultimately, the producers were finally able to sign Pierce Brosnan, who they'd been pursuing since the mid-80s. With a new actor in place, the writers went to work changing the tone of the film from what they'd written for Dalton to allow for some of Brosnan's more comedic strengths. They felt that it was a good time to lean back a little more towards Moore's style from the harsher edge that Dalton brought to the character.
John Woo turned down the chance to direct the film, so the reins were handed to Martin Campbell. At the time, Campbell was mostly known for television, but No Escape starring Ray Liotta and Lance Henriksen turned some heads. After GoldenEye, he would go on to direct a pair of Zorro movies and Vertical Limit before returning to direct the first film of the next new Bond actor in Casino Royale.
GoldenEye's 1995 release marked the longest hiatus to date between films, but it also marked the biggest financial success of the series since Moonraker. At $60 million, the budget was finally updated to reflect the times, though most similar movies such as Die Hard: With a Vengeance and Batman Forever had budgets around $100 million. The movie raked in $350.7 million worldwide, making it the fourth highest grossing film of the year.
The movie opens with Bond infiltrating the Arkangel Chemical Weapons Facility in the USSR. He begins at the top of a dam and bungee jumps down to the facility, gaining access to their base of operations. Bond then meets up with 006, Alec Trevelyan, and they begin to set timed mines in their lab. 006 is captured by General Ourumov, who threatens to kill Alec if Bond doesn't give himself up. Bond refuses and Ourumov shoots 006. James escapes on a conveyor belt and blows up the facility as he chases down a departing plane and escapes aboard it.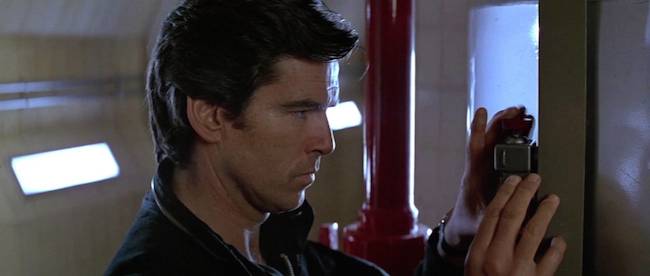 After the opening credits, the movie jumps ahead nine years. Bond is speeding around the hills of Monte Carlo in his Aston Martin DB5 with an MI-5 psychologist in tow. He gets into a street race with a mysterious woman in a Ferrari, but the psychologist orders him to stop the car so she can continue with her evaluation. Bond pulls over and seduces the psychologist, probably affecting the outcome of his evaluation.
That night, Bond spots the Ferrari at a casino and finds the woman at a baccarat table. After Bond wins a large amount of her money, the woman decides it's time to leave. After some innocent flirting, Bond discovers that the woman is Xenia Onatopp. Eventually she leaves with Canadian Admiral Chuck Farrel who interrupts their conversation.
Bond is curious of Onatopp and follows the couple to a nearby boat. He takes a few photos and sends them to Moneypenny, who later informs Bond that she is an ex-Soviet fighter pilot with links to the Janus crime syndicate. The boat is also believed to be linked to Janus, and M agrees to let him investigate at a distance. Meanwhile on the boat, Onatopp is murdering Farrel by crushing him with her thighs.
The following morning Bond sneaks aboard the boat where a crewman attacks him. After defeating him, Bond discovers Farrel's body in a closet. Bond realizes too late that Onatopp is there to steal the new Tiger helicopter prototype. He gets to the frigate as the helicopter is taking off.
Later in Siberia we are introduced to a small team of technicians and computer programmers including the smart and beautiful Natalya Simonova and the obnoxious and nerdy Boris. Boris gives Natalya a riddle to solve one of his passwords and heads outside for a cigarette. Just then, the Tiger helicopter lands and Xenia and General Ourumov enter the base. They kill everyone in the building and fire the experimental EMP weapon named GoldenEye at the facility to cover their tracks. The pair leaves in the helicopter, but Natalya has survived after being safely hidden away in the kitchen during the attack. She crawls to safety and begins heading into town.
Bond, Tanner, and M watch the events via a satellite feed. Bond suggests that the rumors of a Russian EMP must be true and they shot it at the facility to cover the theft of the weapon. However, M doesn't believe that the Russians have the money or resources to make such a device, but Bond is adamant. They move their conversation to M's office where she confronts him. She is new to the position and knows that Bond does not respect her accounting background. She also doesn't respect Bond, saying she doesn't like his methods and is a relic of the Cold War. She sends him on a mission in search of GoldenEye, but warns him not to make it personal and turn it into a vendetta against Ourumov. Bond visits Q to stock up on some supplies before heading to St. Petersburg.
Bond meets an American CIA contact named Jack Wade. Wade fills Bond in on the Janus Corporation and tells him that the only way to contact them is through their rivals like Valentin Zukovsky, a former KGB agent who had numerous encounters with Bond. Zurkovsky is of course not happy to see Bond, but before killing him Bond is able to strike a deal with Zukovsky that would set Bond up with Janus and Zukovsky would walk away with a large sum of money while watching one of his rivals taken into custody.
Meanwhile, Natalya has arrived in St. Petersburg and poses as a teacher to buy computers. She asks for a place to privately test them, gets online, and finds Boris. Boris instructs her to meet him at a church and to trust no one. When she arrives, she sees that he is in cahoots with Ourumov and they take her hostage.
Meanwhile, Bond is relaxing at his hotel when Xenia arrives. After a struggle, Bond is able to get the upper hand and force Xenia to take him to the head of the Janus Corporation. Bond arrives at a scrapyard of Soviet statues to find that the organization is being run by Alec Trevelyan. Bond is amazed that he is alive, but Alec reveals that he was always planning on betraying England. His parents were Lienz Cossacks, who had surrendered to the Allies during World War II in the hopes of helping them defeat the Communists. At the end of the war, most were forced to return to Russia where many of them were executed. Alec's parents were able to escape, but eventually grew weary of running and committed suicide. Alec was orphaned and taken in by the government where he entered the military and he eventually became an agent.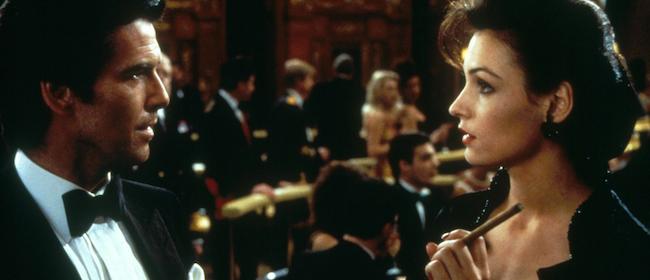 After being hit with a poisoned dart, Bond awakes in the Tiger helicopter with Natalya in the seat behind him. The missiles are fired and loop back toward them. Bond is able to eject the cockpit before the missiles hit, but they are taken into custody by the Russian defense minister Miskin.
Bond and Natalya sit in an interrogation room waiting for Miskin. Natalya tells Bond that Ourumov was behind the GoldenEye attack and he was being helped by Boris. When Miskin enters, they tell him everything. Just then Ourumov bursts into the room and murders Miskin and a guard with Bond's gun. Bond overpowers Ourumov and he is able to escape with Natalya. Eventually she is captured, but Bond is able to escape in a tank and chase Ourumov and Natalya through the streets of St. Petersburg.
Bond follows them to a train yard and sees them board an old armored Soviet train. Bond positions the tank on the track and is able to stop and board the train. There he confronts Alec, Xenia, and Ourumov, who is still holding Natalya hostage. Alec and Xenia escape and rig the train to explode, but Bond is able to kill Ourumov and rescue Natalya. While Bond uses his laser watch to cut a hole in the floor so they can escape, Natalya spikes Boris and is able to trace him to Cuba.
Natalya and Bond head to Cuba and meet up with Wade, who gives them a small airplane. The following day Bond and Natalya fly over Cuba looking for a large satellite. When flying over a large lake the plane is struck by a missile and crashes into the jungle. Bond comes to and sees a helicopter hovering above them. Xenia repels down a rope and attacks them. Bond is able to kill Xenia by shooting at the helicopter. She is still attached to the rope, so when the pilot flees she is smashed into a tree and suffocated against the rope.
Trevelyan and Boris are preparing to fire the second GoldenEye on London. Their plan is to hack into the Bank of England's system and take all of the money before covering their tracks and crippling London with the EMP attack. As the enormous satellite rises from the lake, Bond and Natalya are able to infiltrate the facility.
Bond is captured while placing explosives and Natalya is caught reprogramming the satellite. When they are brought together, Boris realizes that Simonova has changed the access codes. He begins trying to break her code and picks up Bond's pen to play with while he works. Eventually he clicks the pen three times, which arms a built in grenade, and Bond slaps it to the tanks where he set the explosives. The building begins to fall around them, but Bond and Natalya are able to get to safety.
Boris is feverishly working on breaking Natalya's codes, and just as he does so Bond is able to jam the gears that are trying to reposition the satellite. This causes the satellite to burn up in the atmosphere and Boris is covered in liquid nitrogen. Meanwhile on the cradle of the dish Bond and Alec are having a hand-to-hand fight. Alec eventually falls off the satellite and Bond is able to escape before it crumbles around him with the help of Natalya, who has taken a helicopter pilot hostage.
GoldenEye is a great introduction for a new generation of Bond fans. Few people would note Pierce Brosnan as their favorite Bond, but he holds a special place in the hearts of Bond fans that are currently in their mid-20s and 30s because he's the actor we grew up with in the role. GoldenEye was the first Bond film that I saw in the theatres, and as a kid it was definitely my favorite.
A large reason for the lasting success of GoldenEye was the marketing. It was voted as the Best Marketed Film of 1995 at the Film Information Council due to product placements, brand integrations, promotional tie-ins, and sponsorships with well-known companies like Perrier, British Airways, IBM, Jack Daniel's, Omega Watches, BMW, Smirnoff, and Sharper Image. The three-picture deal they signed with BMW is one of the most successful product placements in history. BMW paid $3 million for the new Z3 Roadster to appear in the film, and they had over $240 million in advanced sales.
Most notably, the movie led to the GoldenEye 64 video game for the Nintendo 64 system. This first person shooter was one of the highest selling video games in history. Beloved by critics, gamers, and prepubescent teenage boys at sleepovers across the country, if you didn't have GoldenEye 64 or at least MarioKart 64, then you probably didn't have many friends. At least at my middle school you were deemed a social outcast.
The theme song to GoldenEye was written by Bono and the Edge from U2 and performed by Tina Turner. All three were ironically neighbors in southern France and easily collaborated on the track. It's a pretty classic theme song and has been stuck in the heads of millions of cinefiles since 1995. Face it, you've read this whole article and every time you see GoldenEye you hear it in Tina Turner's voice.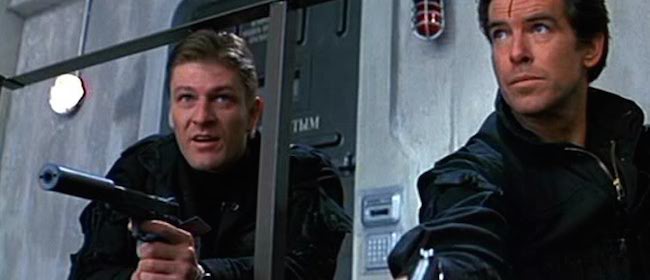 The Rolling Stones were originally asked to write a song for the film, but they declined the offer. Ace of Base did record a theme song for the movie, but the producers passed. They changed a few words and later released it as "The Juvenile."
I wish the rest of the soundtrack were as good as the theme song. It was written by Eric Serra, who is also known for The Fifth Element and The Professional, but the overly synthesized soundtrack deterred from the action. The producers actually hired someone else to come in and rescore large portions of the movie. Unfortunately, they somehow missed changing the music during the opening car chase. It ruins the scene.
This was the first opening title sequence created by Daniel Kleinman. He picked up for the deceased Maurice Binder who had done the titles since Dr. No. He has done every opening title sequence including the upcoming Spectre except for Quantum of Solace since GoldenEye.
The 722-foot bungee drop to open the film still marks the longest bungee jump in cinematic history.
This entry still marks the most miniatures ever used in a Bond film, but it also marks the first time that CGI was used in a Bond film. It was mostly used to enhance other scenes, but they also used it to create the opening gun barrel sequence instead of their normal means.
The name "Goldeneye" held a lot of meaning to Bond creator Ian Fleming. It was the name of a contingency plan that his team devised during World War II in the event of a Nazi invasion of Spain. After the war, Fleming moved to Jamaica and he named his beachfront house "Goldeneye". It was here that he began writing Bond adventures, and he took the character's name from the author of a book titled 'Birds of the West Indies', which is why Wade asks Bond if he knows anything about birds in the movie.
Pinewood Studios was unavailable for this shoot because it was ironically being used by First Knight at the time. Part of me wonders if this was Sean Connery's doing, just to mess with the production. The producers decided to create a new studio for them to shoot in from an old Rolls Royce aircraft engine factory and aerodrome. Leavesden, or "Cubbywood", was vast enough that they could create some huge set pieces. It would later be used in films such as Sleepy Hollow and Star Wars: Episode I – The Phantom Menace.
Cars: Any time that Bond's Aston Martin DB5 appears, I get really excited. This is the car that Bond is using during the "spirited ride in the country" when he decides to street race Xenia with his psychologist in the passenger seat. Xenia is driving a Ferrari Spider F35 GTS during this scene.
As mentioned before, the BMW Z3 Roadster was all the rage in the late 90s, and it was mostly due to this movie. Seeing Bond behind the wheel with Natalya in the passenger seat as they drove through Central America was the catalyst for many a mid-life crisis.
I feel like I should also mention Alec's train, which was a British Rail Class 20 No. D8188, and the tank that Bond steals, which was a normal T-55 that was adapted to look like a T-80BV Russian tank.
There were also a number of aircrafts in the film. A Cessna 172, a Pilatus PC-6/B2-H4 Turbo-Porter, and three Mikoyan MiG-29 fighter jets. There were also a few helicopters; the Robinson R-22 Beta, Bell 204 HUEY, and the Eurocopter 355 Twin Star. The most notable is the Eurocopter PAH-2 Tiger Stealth helicopter. This was actually a prototype that the producers were able to use in the movie. The ejecting system was added for the movie, as this model does not have one. The one used in the film was modeled after the ejector system in the Russian Ka-50 "Black Shark".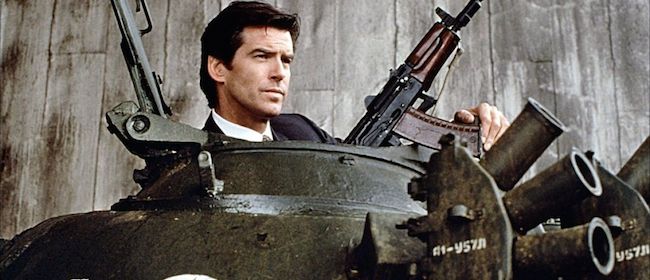 Allies: For just the second time in the series we have a new M. Dame Judi Dench steps into the role of the head of MI6. Dench would be an eventual Oscar winner, and while she was well known in Britain, she was not on the American's radar at the time. Many were apprehensive about the hiring and worried about Bond's dynamic with a female boss. This was even written into the script with Tanner, Zukovsky, and Trevelyan all commenting on the fact that the new M is a woman. However, Dench quickly got the public on her side with a commanding performance in her brief scenes in this entry. Her casting was immediately deemed such a success after the release of GoldenEye that her part in subsequent films became larger and larger.
We also have another new Miss Moneypenny. Samantha Bond is only the third actress to play Moneypenny, but she does a great job of stepping in and going toe-to-toe with Bond. Her performance hinges less on a lust for Bond and more on their witty banter. Samantha and Pierce have great chemistry and I always enjoy watching their scenes together.
Brosnan also has fantastic chemistry with Desmond Llewelyn, who returns as Q for the fifteenth time. This movie makes Llewelyn the actor with the most appearances in the series as he passes Lois Maxwell. This might be one of my favorite Q scenes as he walks Bond around the lab. This is also in many ways the last true Q scene. He appears in the field in Tomorrow Never Dies and in The World is Not Enough, they introduce his replacement. I love watching Llewelyn and Brosnan work together, though. Yes, Llewelyn is reading off of cue cards, but their banter between gadgets is unmatched. You can tell they are generally having fun.
Jack Wade is a new CIA contact for Bond. After Felix loses a leg and an arm in Licence to Kill, the producers finally decided it was time to move away from him. They recruited Joe Don Baker to play the role, who played the villainous Brad Whitaker in The Living Daylights. Baker turns in a fun performance as the quirky agent and returns in the next film.
Bill Tanner is the MI6 Chief of Staff. He pops up from time to time in Fleming's novels, but really becomes a more regular character when John Gardner begins writing Bond stories. Tanner briefly appeared in The Man with the Golden Gun and For Your Eyes Only, but he returns here played by Michael Kitchen. Tanner is generally presented as an ally of Bond's in the service and a friend and golf partner of Bond's outside of work. He has a very dry sense of humor, and Kitchen does a nice job of playing to all of these aspects of the character. Like seemingly everyone else, he is skeptical about the new M.
Bond finds an unusual ally in former KGB agent Valentin Zukovsky, played by Robbie Coltrane. In a previous encounter, Bond stole Zukovsky's car and girlfriend and left him with a limp. Zukovsky is ready to kill Bond, until he presents him with an offer he can't refuse. I really like Coltrane, who also played Hagrid in the Harry Potter films, and he does a nice enough job here to have a part written for him in The World is Not Enough.
Bond Girls: Natalya Simonova is one of the best Bond girls in the series. She's a hyper-intelligent computer programmer that can out-wit the villain's own programmer, she can handle a gun and escape an explosion as well as anyone else in the film, and she can spit one liners back and forth with Bond and Alec. Izabella Scorupco turns in a great performance and creates a memorable character.
Xenia Onatopp is a super-sexual version of Mayday for the 90s. She enjoys killing people a little too much, and Famke Janssen of X-Men fame plays her on the verge of insanity. She is not only one of the best and most memorable Bond girls, but also one of the best henchmen in the series.
Gadgets: This was a very gadget heavy entry. Bond is provided with the supped up BMW Z3 Roadster. He's also given a belt with a built in grappling hook, a pen grenade, a key code cracker that Alec and Bond use to break into the chemical facility, a miniature digital camera that takes a photo from far away but is a high enough resolution that he can fax it to Moneypenny from his car and they can instantly identify the people in the photo, and an Omega watch with a built in laser which also activates his remote mines. That doesn't even include the stuff around Q's lab that he doesn't use, like Q's hoagie.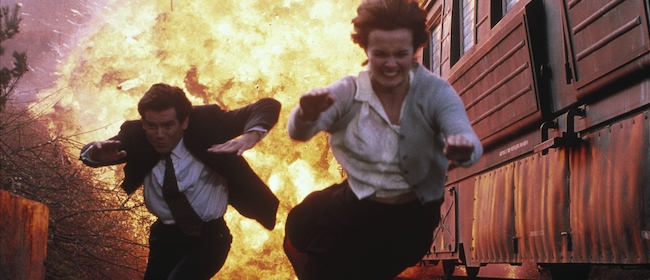 Villains: 006. Alec Trevelyan. One of the most infamous Bond villains in the series, he is played by amazing actor and repeat casualty Sean Bean, who has died in everything from Patriot Games to The Lord of the Rings to The Island.
Alec's parents are Cossacks that escaped being returned to Russia where they would have been murdered for their crimes against the USSR during World War II. Eventually weary from running, they took their own lives leaving Alec an orphan. He joined the military and became an agent for MI6, always with the plan of betraying them and destroying both the Soviets and British.
Originally the character was supposed to be a much older mentor of Bond's, named Augustus Trevelyan, instead of a fellow agent. Anthony Hopkins and Alan Rickman both turned down the role, as they didn't want to be typecast as villains after their respective roles in Silence of the Lambs and Die Hard. The producers reworked the role to go to a peer of Bond's and cast Bean. Instead of being a Cossack himself, it was written that he witnessed what his parents went through at a young age and vowed revenge.
General Ourumov is Alec's assistant in his plot to destroy London with the GoldenEye weapon. His partnership with Trevelyan goes back to before the opening scene at the chemical facility, but Alec is able to hide his Cossack heritage from Ourumov. He's a no-nonsense Russian military leader, another relic from the Cold War trying to find his place in modern times. He's actually played by veteran German actor Gottfried John, who does a very nice job.
Finally, we have Boris Grishenko, played by Alan Cumming. Cumming's performance was way over the top as the computer geek turned villain, but it was in a fun and believable way that made him somewhat lovable; even as he spiked the US Department of Defense and turned on his friends.
Seeing all of the characters listed back to back here really makes me realize how focused they were on casting. We just covered a long list of actors, many of who have a number of award nominations. The producers were betting big on GoldenEye, and it definitely paid off. The script, acting, theme song, and marketing all aided in propelling Bond into the 90s and ensuring that his time as a box office mainstay was far from over.