The Ten: Best Metal Gear Solid Moments

With the release of Metal Gear Solid V: The Phantom Pain we will be treated to the last installment of Hideo Kojima's masterpiece series of the last 25 years. It is no secret to those who know me, or talk with me about games for very long, that I'm a huge Metal Gear fan. So to honor the new game I thought we should look back at the best moments from the Metal Gear Solid series. This list will cover Metal Gear Solid, Metal Gear Solid 2: Sons of Liberty, Metal Gear 3: Snake Eater, Metal Gear Solid 4: Guns of the Patriots, Metal Gear Solid: Peace Walker, and Metal Gear Solid V: Ground Zeroes.
---
10 Explosive end to Metal Gear Solid V: Ground Zeroes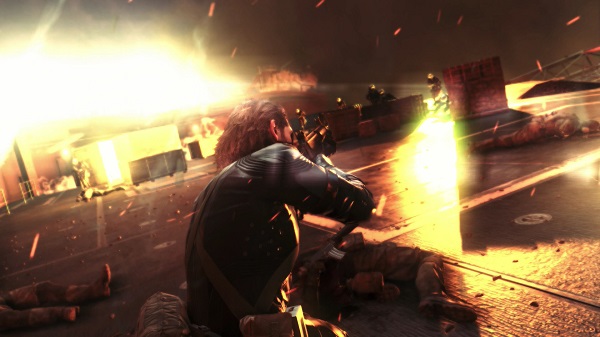 I couldn't start a list about the new game without talking some about how Metal Gear Solid V: Ground Zeroes ended. The end to this…game, demo, whatever you want to call it, was pretty good. It did a really good job of creating a desire to see where the story goes. You start to see Big Boss becoming the man you face in Metal Gear and Metal Gear 2: Solid Snake. After nearly 30 years it does a good job of making me think we'll see the closing of a story that has kept me fully engaged for a very long time.
---
9 Fight with The End in Metal Gear Solid 3: Snake Eater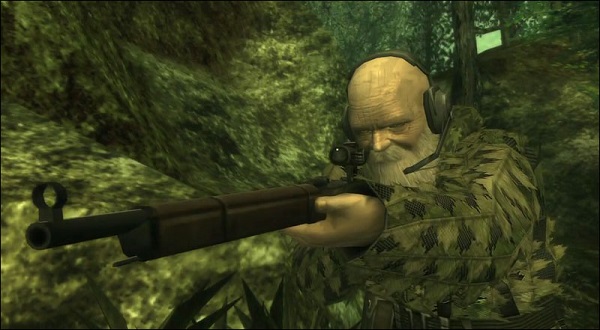 This is one of my favorite characters in the series, and maybe one you'll see me cosplay sometime. The Metal Gear series does a great job of toying with the fourth wall. You'll see more examples farther down the list but this fight is one of my favorite ways they do it. The End is old and that experience makes him the best sniper on the planet. But if you were in an actual fight with him that old age would also be a hindrance. There are many ways to defeat The End, basic sniper shoot-out being one of them, but my favorite way to do it is simply let him die of old age. That's right, if you get to the fight and save, all you have to do is not play for a week, or set your system ahead a week, and The End will have died of old age. Such a novel idea for a boss fight.
---
8 Surviving torture in Metal Gear Solid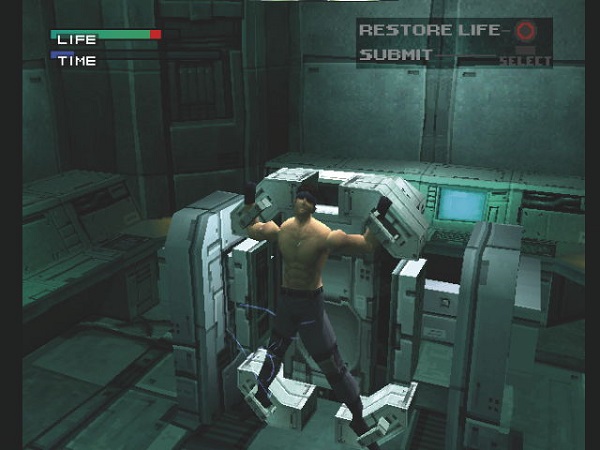 This scene makes for a really tense moment. They did a fantastic job at making it very challenging which works perfectly for trying to survive torture. The series balances, or juxtaposes, silly and serious moments. This is one of the more serious, hopefully you interpret it that way, and they do a very good job at making it almost uncomfortable. While it would be hard for me to call a torture scene as one of my favorites it certainly makes an impression and sticks out in my mind.
---
7 The changing Ocelot/Liquid fight in Metal Gear Solid 4: Guns of the Patriots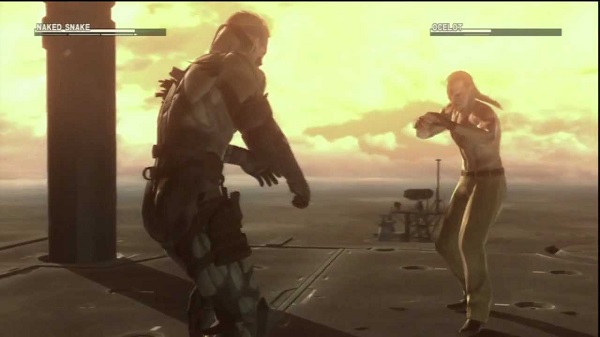 One of the things that I love about the Metal Gear series is that they aren't afraid to do things differently. By the end of Metal Gear Solid 4: Guns of the Patriots you've encountered Ocelot/Liquid multiple times throughout the games and in multiple forms. This fight is an acknowledgement of that fact in such that as you beat Ocelot/Liquid, he changes fighting style and works through the different incarnations you've come across previously. It is a remarkably fitting fight to end an epic story, coming at the end of the timeline even if not at the end of the last game.
---
6 Raiden's fight with Solidus in Metal Gear Solid 2: Sons of Liberty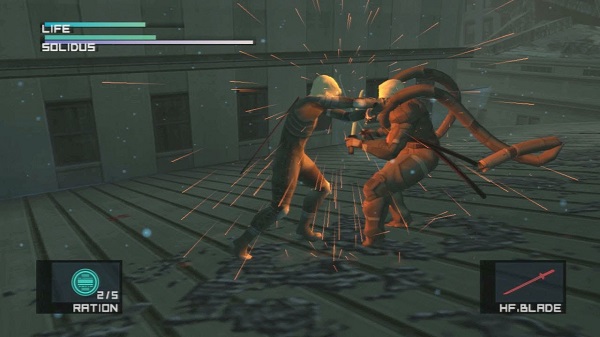 This fight is very fun and completely different than most other in the series, especially if you don't include Metal Gear Rising: Revengence. The main reason this fight is so different is that you get a sword—yes, you fight a clone of Big Boss himself, who's equipped with a set of extra Doc Oct style metal arms, with a sword. It's awesome.
---
5 Using the actual packaging for Metal Gear Solid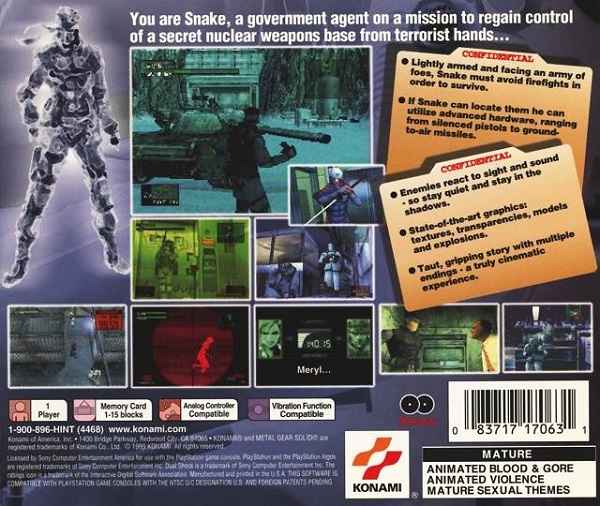 You read it right, the actual packaging from Metal Gear Solid had a codec frequency that you need to use in the game. The series very much plays with the idea of reality and virtual reality. There is talk about training soldiers through VR and how that might give them the skills but not the ability to use them in real situations. It's a very deep, almost meta story and they play into that with things like this. Here you are playing a game (or are you training?) that talks about training soldiers with VR and Snake even talks with Miller about how Miller talked with him during those training sessions, and then the game talks you through finding this code. It's a very cool moment.
---
4 Snake and The Boss' Conversation at the end of Metal Gear Solid 3: Snake Eater
Kojima tells incredibly in-depth stories—some might say convoluted—but for me they are fun and engaging. The ending interaction between Snake and The Boss brings many things to light that the rest of the game hinted at and alluded to. Not only do we get some answers to some questions from this game but from the previous two as well. The fight that follows is fun but feels secondary to the story you're being told.
---
3 Metal Gear Rex vs. Metal Gear Ray fight from Metal Gear Solid 4: Guns of the Patriots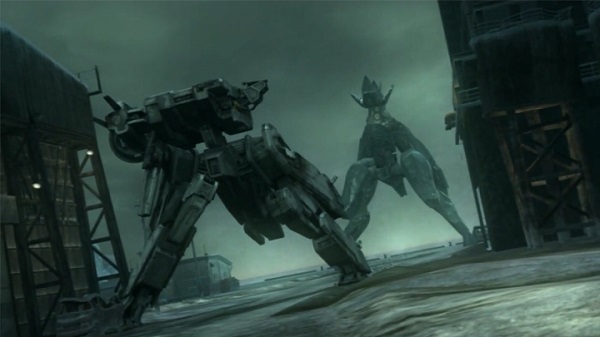 It's a game series about giant walking metal robots, so you had to figure that a fight between two of the Metal Gears would be pretty high on the list. This fight pits Metal Gear Rex, the metal gear from Metal Gear Solid, against Metal Gear Ray, the metal gear from Metal Gear Solid 2: Sons of Liberty. The fight is full of action and keeps you on your toes.
---
2 The Sorrow fight in Metal Gear Solid 3: Snake Eater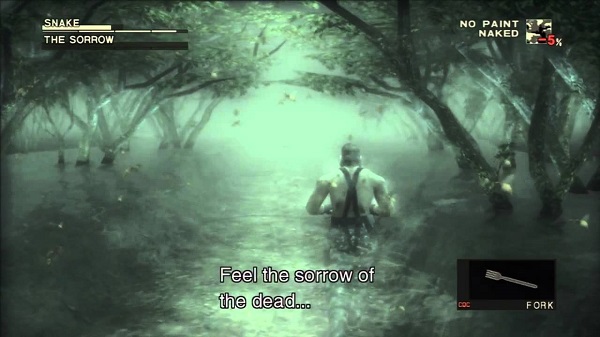 The Metal Gear series is all about stealth. That means that many times your best option is to not kill or be seen. Metal Gear Solid 3: Snake Eater really hit that point home with The Sorrow boss fight. You travel down a river and every character that you've killed in the game will come down the river at you and slowly wear you down. I've seen cut-scenes where characters deal with the idea that they've killed but never in something like this. It's a pretty intense idea, and a powerful part of this series.
---
1 Psycho Mantis fight in Metal Gear Solid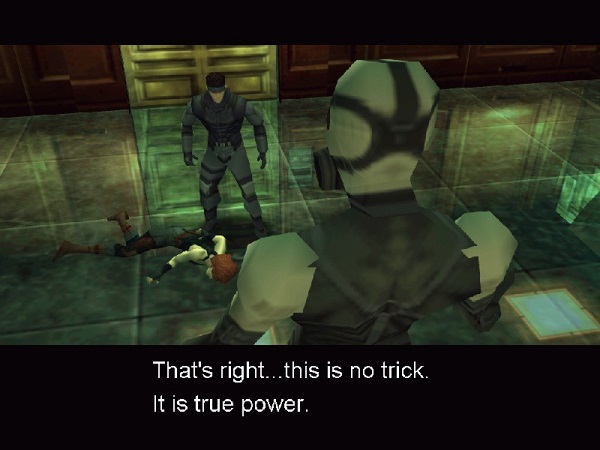 Possibly my favorite boss fight in any video game. The fight with Psycho Mantis was fantastic for multiple reasons. Mantis used the "cheating" that ever gamer has claimed and read the controller inputs to prevent you from shooting him. His interaction with Snake is fun and intense. Solving the puzzle of this fight is part of the fun so I won't spoil that for you, but it's the only time I've seen something like that in a boss fight.
---
As you can tell I really enjoy this series. I have a friend from college to thank for handing me his copy of Metal Gear Solid 2: Sons of Liberty and introducing me to the world of Hideo Kojima. The Metal Gear series is brave enough to do things differently and manages to evolve its games without losing its key ideas and mechanics. The series has many detractors, those who think the story is too obtuse or weird, and those who just don't like the gameplay, but for me it is a staple and shining example of gaming for the past three decades. Are your favorite or best moments here? If not, be sure to let us know.