Interview with Comic Creator C.W. Cooke
With four issues complete, comic creator C.W. Cooke is ready to debut volume one of his hit comic series, Solitary, this month. But before it hits shelves at comic stores, there's an exclusive release at Kansas City Comic Con and some other exciting things happening.
So we decided to take a moment to speak with Cooke about all he has going on, and we think you're going to like what he has to say.
C.W., thanks for joining us today. Let's start with you sharing what you've been up to since last we talked at Planet Comicon in March.
CW: Quite a lot actually. I've been to a few more shows this year like the O Comic Con and a Minicon in Leavenworth, Kansas. Outside of that, the third and fourth issues of Solitary came out to pretty great reviews, I've been working on new pitches, producing new comics with friends, and working at my day job. It's been a busy year so far.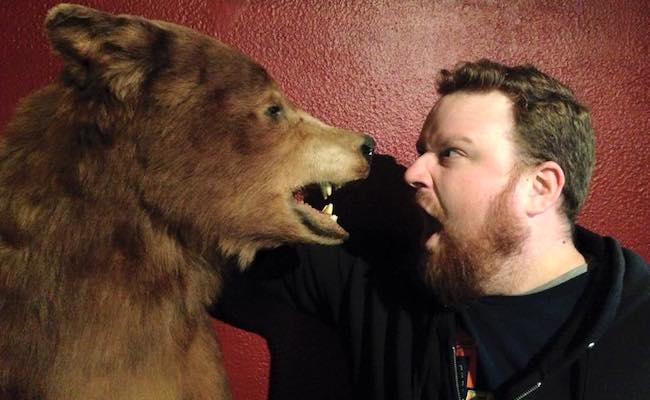 Interesting, a number of great things happening. So how does it feel to have 4 issues of C.W. Cooke's Solitary completed?
CW: Crazy to say the least. Having the full first part of the series done and out seems like a long time coming and like something that was supposed to happen long ago, just because Solitary has been in my head since I was 8 years old. So having it out, seeing it on the shelves, hearing people talk about it or tell me how great they think it is, or just hearing about it being found all over the world…it's incredible stuff.
And we mentioned that volume one will be out soon, tell us more about it and the KCCC Exclusive.
CW: The first volume will be out in fine comic shops starting in September, but KCCC will have an exclusive variant edition available starting Friday August 7th! So about a month early, before anyone else in the world has it, you can get it at KCCC with a special variant cover by Bryan Fyffe (a great artist who has done work for big name entertainment companies and has been a good friend).
Where does Solitary go from here?
CW: Hopefully forward forever. Volume 2 should start sometime this fall online first as about a page a week online webcomic to be completed and published later in comic shops and for comic conventions. From there, if things keep rolling, hopefully more and more volumes and more and more stories. The story itself is going to get big. We started small in the prison, and while that will remain a focus, the plan for volume 2 is to start more world building. Building outside of the prison. Developing more of the characters. And then diving deep into the heart of Tim and exploring who he is and what he's becoming.
What do you think when people approach you at a booth to bring you a copy of your work to sign?
CW: When people bring me a book from home or that they bought previously to sign, it's a pretty great feeling. It means they either heard about it from me or someone else and had to get it and then had to come to the show and have me sign it. Sometimes these people find the copies at the con or find them at their local shops, and handing them to me to sign is always great. It means they like what I'm doing. Ha! Always a great feeling!
You teased some images about a potential series to come. Can you share any details on that?
CW: I actually have a couple new series coming up. The Guitarist is a series of graphic novels that we're working to get finished and published through Underbelly Comix. That should happen very soon. Then there's Clock Puncher, a book we've pitched a couple places and we're just hoping to hear some news about, hopefully soon but we shall see. Then the two newest I've been teasing are called Loots Hannigan: King of the Road and The Furious Fists of Frankie. Two new series that kind of came from a place of needing to tell new stories in between arcs of Solitary and pitching other series. Frankie is a book I've also been working on in one form or another for years, starting back in college when I did a screenplay that was part Tortoise and Hare and part The Matrix, that then developed into a story for all-ages comics. Loots Hannigan is actually a crazier idea that I had because of a desire to work with the specific artist, Jordan Kroeger, and just wanting to do some bombastic action, car chases, and racing. It was another mashup idea I had of Fury Road meets Mario Kart with a dash of Steve Mcqueen. Ha. A little Speed Racer, a little Evel Knievel, and just craziness abounds.
CW: So yeah, I've been a bit busy.
OK, we know you have a big convention around the corner, so we won't keep you too long. But I have a couple of important questions not related to comics…
You get the chance to dine with any three people (living or not), who are you taking to dinner?
CW: These are always the toughest questions to answer. If I went writing, it'd be Chuck Palahniuk, Hunter Thompson, Stan Lee. If I went comics specifically, it'd be Mike Allred, Jeff Smith, and Erik Larsen. If I went based on what happened recently, I'd find a seat for Rowdy Roddy Piper and have a meal with John Carpenter and Lovecraft. That'd be a crazy dinner.
Fantastic! The tough question… what does everybody order?
CW: Barbecue all around! Or just a free wheeling pot luck dinner with all of the people I suggested above. The problem is, asking me to pick three people is too hard, so I'd just have a huge backyard party full of these people and add more and more names by the minute. Ha! I know it's a cheat.
Thank you for your time and enjoy your weekend at Kansas City Comic Con.
You can learn more about C.W. Cooke and all things Solitary on the website, social media pages, and other important links listed below.
Facebook – I'd Buy That for a Dollar
Facebook – Solitary Comic
Twitter
Instagram
Tumblr