'Ex Machina' Blu-Ray Review

Hey everyone, it's another artificial-intelligence movie!  I told you when I reviewed Chappie that filmmakers love this theme.  This time we have Ex Machina, and, where Chappie fails, this one does everything right.
The Movie Itself
The Movie Itself portion is borrowed from our Theatrical Review by Laura Griffin.
Ex Machina starts with Caleb (Domhnall Gleeson) who has won a week alone with his company's boss, Nathan (Oscar Isaac). Nathan seems to be Bill Gates, Steve Jobs, and the founders of Google all rolled into one.  He invented the most popular (fictional) search engine in the world, 'Bluebook.'  Caleb travels to this guy's house, which is miles from civilization. It is heavily guarded not just physically, but also legally.
Nathan makes Caleb sign a nondisclosure agreement before meeting his new project, Ava (Alicia Vikander). Ava is an artificial-intelligence robot. Each day of his visit, Caleb has sessions with Ava trying to determine whether she is in fact her own person, conscious and intelligent.
This movie is riveting and extremely trippy, with themes ranging from feminism to self-worth.  It asks the question, what are true feelings and do we really feel them?  Unlike Chappie, though, it doesn't mix too many themes together.
The acting is utterly phenomenal, Alicia Vikander's especially. A former ballerina, she implemented her skills to create the beautifully fluid movement of this robot.  Her face is inexpressive, perfect for the robotic character she plays.
Her performance is subtle, using slight movements, a tilt of the head or a glance away to indicate what she is feeling, and it is clear every time.  Even at times of great action or tension her face stays calm and she uses her body to tell what she is feeling.  It is incredibly enjoyable to watch.
Gleeson is fantastic as well.  He communicates with a robot and reacts to her odd questions with ease and perfect emotions.  He uses facial cues rather than body language, balancing Ava's mannerisms expertly. While I utterly loathe the character, Oscar Isaac is wonderful as Nathan.  When you leave an audience having to remember that it's not hate for the actor, just the character, then he's done his job.
The movie's themes are its greatest aspect, my favorite being one from a feminist viewpoint, which I could spend pages and pages talking about. But I'll keep it brief. The movie shows two different types of misogynists; a man, Nathan, who feels he owns his female counterpart and the man who sexualizes and feels he needs to rescue the female counterpart, Caleb.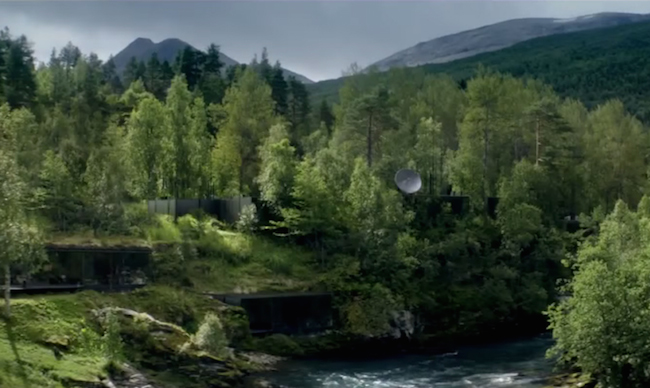 Meanwhile, the female counterpart has everything under her own control. Nathan and Caleb only gave her the abilities of the type of woman they viewed her as–weak or the damsel in distress–and didn't see her as capable of anything else. She is really under full ownership of herself. The ending of the movie is empowering.
I really enjoyed the movie's core question: 'what are true feelings?' This sounds odd but when you are dealing with artificial intelligence you have to wonder, are they really feeling, and how can you really judge that? Nathan explains Ava's brain is basically a search engine. He made Bluebook her brain.
She has access to every type of human emotion imaginable and how people react to these emotions. Is she really feeling, or is she basically a psychopath who knows how they should be acting around people and uses that knowledge to her advantage?
The movie suggests perhaps that's the way all people are. We may feel an emotion, but we are taught the appropriate reaction to the feeling. For example, when someone is sad they may frown or cry, but the person who is seeing the person be sad is taught to be caring and sympathetic. Imagine an intelligent creature who has never seen an emotion see someone cry for the first time. How would they react to it?
There is a great scene in which Nathan is explaining a Jackson Pollack painting to Caleb, saying he painted 'in between deliberate and random.'  As a human, you randomly feel a feeling but also the deliberating act on the feeling. You end up like Jackson Pollack, with lines that bleed together and make a pretty picture but not a lot of sense.
It all blurs together, so you don't know whether you meant to act that way or if it was automatic–which raises the question, when humans are trying to make the A.I., do we realize we are actually more like the A.I.?  This thread leads to some very creepy scenes in the movie in which Caleb wonders whether he's a flesh-and-blood human or a robot underneath the first layer of skin.
Finally, one of my favorite parts is the title of the movie. 'Ex machina' comes from the latin term 'Deus Ex Machina.' The original meaning of this term was used in ancient plays when they would lower the 'god' character in by crane, and it would magically solve all the problems in the play.
Obviously the 'Deus' has been taken off the title, which could lend itself to the fact that Ava is freeing herself of her 'god,' Nathan, and solving her own problems. It could also mean something scarier.
Nathan mentions in the movie that robots and A.I. will one day look back on humans as apes. They are beings with higher brain function and more intellect–something we might view as a god. Could this make Ava a god? The movie leaves this up to the viewer, and so will I.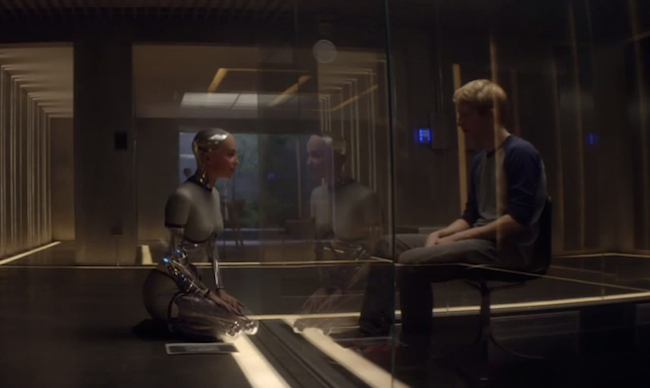 The Presentation
Ex Machina comes to home video in an MPEG-4 AVC presentation, with a 2.40:1 aspect ratio. Alex Garland's directorial debut gets a stunning home video transfer. The look of the film is very distinct–most of it takes place in Nathan's home/lab. These interior scenes are incredibly sharp. On the other hand, exterior shots, such as Caleb's arrival to Nathan's home, have a softness to their appearance, giving these a dreamlike look in comparison to the stark reality of Nathan's lab. And speaking of stark, the film's color scheme is extremely bland and washed out. At times, the only color onscreen is the tan skin colors of the human characters. The film's details are extremely sharp; everything from Oscar Issac's beard to Ava's electronics, is clearly seen. Black levels are very deep and offer good image delineation. Overall, this is an excellent presentation
The film's audio transfer is the first home video release to feature the new DTS X feature. This is DTS's answer to Dolby Atmos. Unfortunately, home systems are not equipped with this feature as of yet (and if they are, they are pricey). So I guess I am stuck using the 7.1 DTS-HD audio transfer, which is just fine with me, because it is fantastic.
Ex Machina is not a powerhouse audio experience, although there are moments that are quite aggressive, such as the helicopter flight at the beginning of the film. Instead, the sound presentation really focuses on the film's atmosphere. It is incredibly realistic and envelopes the listener throughout the film. The dialogue from the center channel is crystal clear. The side channels deliver the film's more bombastic moments, and the clarity is terrific. The sound extension to either side is extremely vast. The rear and back surrounds allow for amazing sound panning effects, putting the audience in the middle of the sound arena. The LFE gives the film a subtle undercurrent (or heartbeat) throughout that provides a level of tension. This is one of the year's best audio transfers.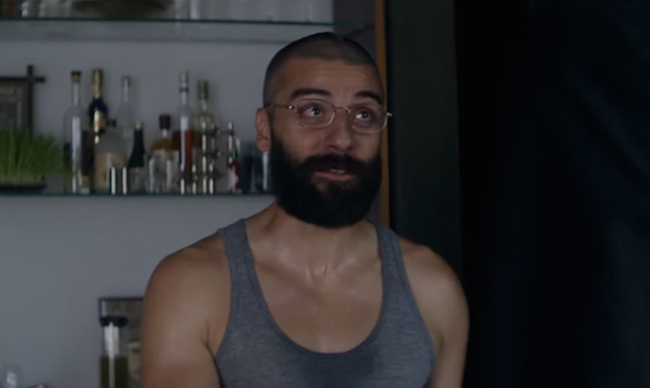 Extra Features
The film's extra features seem somewhat limited. There is a part of me that could see the film as a future Criterion release. Let's hope so. One thing I am happy about is that the extras help me with the pronunciation of the film's title.
Through the Looking Glass: Making Ex Machina
SXSW Q&A with Cast and Crew
Behind-the-Scenes Vignettes
Final Thoughts
Ex Machina is not only a fascinating science-fiction movie, but also a great thriller on top of that. The Blu-ray is already at an amazing price and has a solid high-definition presentation. You will be on the edge of your seat and clinging onto it for dear life, thinking something is about to jump around the corner. Anticipation is the real star of this excellent movie, and I would highly suggest you pick it up.