O Comic Con: Cosplay Contest Recap
Even with more than a dozen events planned again for 2015, last weekend's O Comic Con held a special place in our heart. For the first time ever, Project-Nerd was in the greater mix of a brand new convention providing coverage before the show even started and giving our feedback to the convention organizers to help make this an ultimate experience for the geeks of the greater Omaha area.
The experience was a blast. We did the usual things–interviewed celebrities, took photos of cosplayers, shared our brand from our booth, and hosted panels. Along with sponsoring O Comic Con's first ever Cosplay Competition, we also hosted a variety of aspects of the competition, and I myself emceed. This gave us a front-row seat of the entire experience.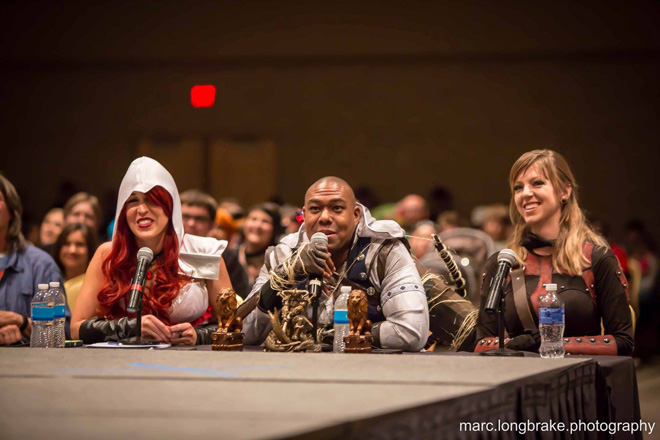 O Comic Con, being a new convention, was not ready for the sizable list of talented individuals who signed up this year, and neither were we. Neither were the amazing cosplay guests that served as judges. April Gloria, Erin Lei, and Michael "Knightmage" Wilson served as the judge's panel, visiting with eighty-two contestants earlier in the day for pre-judging and then seeing their theatrics on stage when it was time for the main event. All parties expected a great turnout, but eighty-two talented contestants definitely made some processes much longer.
All participants spent time with the judges beforehand, either in costume or with photos and props in hand, explaining the amount of work and effort they put into their creations. I stuck around for the entirety of the pre-judging and saw firsthand the amazing amount of effort from all parties involved. The time commitment was extensive, and the contestants shared it all with the judges.
As much as we could talk about the judges, process, and all eighty-two contestants, I wanted to highlight the winners so people could get a clear understanding of what made them so great.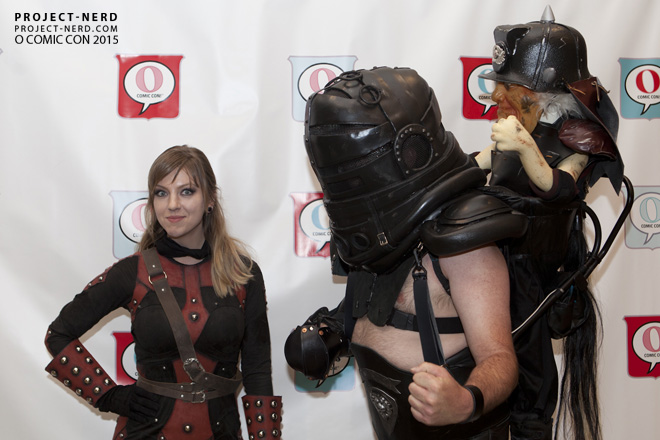 April Gloria's Judges Pick
Who run bartertown? I couldn't believe the response of the crowd when I asked that question, and after they delivered their loud and excited answer, RJ delivered as well, with a dynamite interpretation of Master Blaster from Beyond Thunderdome. His costume had all the details from the movie, including actual horse tail hair hanging from the back. It was even built to house his son on his back, who decided to turn his helmet into a drum.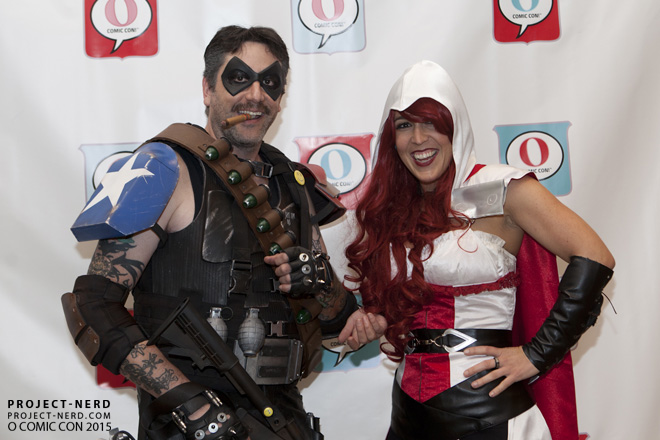 Erin Lei's Judges Pick
The Watchmen has a special place in Erin Lei's heart, and so do screen-accurate costumes. Benito's interpretation of Alan Moore's The Comedian was an incredibly detailed and accurate costume. Even the way he carried himself and acted on stage made one think he was straight from the comic pages or big screen. The costume had fantastic detail, and it was all there–down to the cigar and smiley-face button.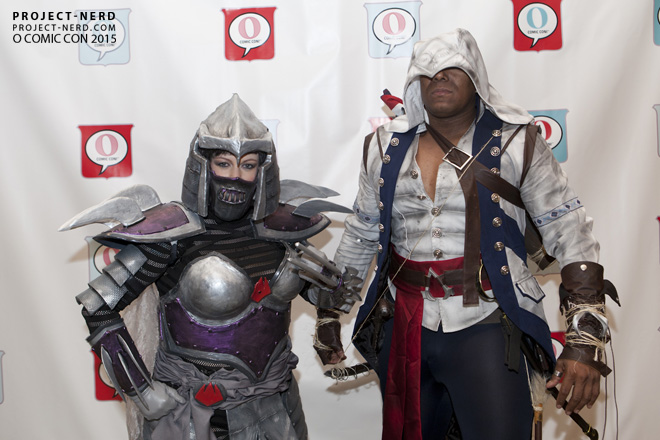 Knightmage's Judges Pick
Running the Action Photobooth booth, Lore Preuss showed up to pre-judging with a bin of props and some amazing stories. This impressive Shredder costume, which the judges wanted to see on her before making a decision, was just her second build and it was impressive. Working with a variety of materials, Lore took a well known character and added an original and genderbent twist to it to make it unique. The costume came out amazingly, and her stage presence added to the experience as well.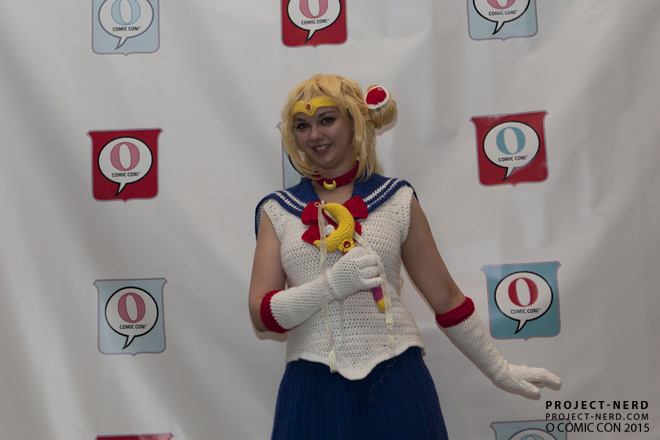 Most Creative Costume
This category was a fun addition because it added an aspect many competitions don't serve. This didn't have to be five hundred pounds of armor, didn't have to be labor intensive. Rather, it was a costume so creative and unique the judges couldn't overlook it. That's exactly what the crowd got to see with this contestant's Crochet Sailor Moon. The entire costume was crocheted, as opposed to the typical fabric you see in the Sailor costumes. I'm talking dress, gloves, and the wand all crocheted. It took her plenty of time to get it completed, and she still found the time to style the wig herself.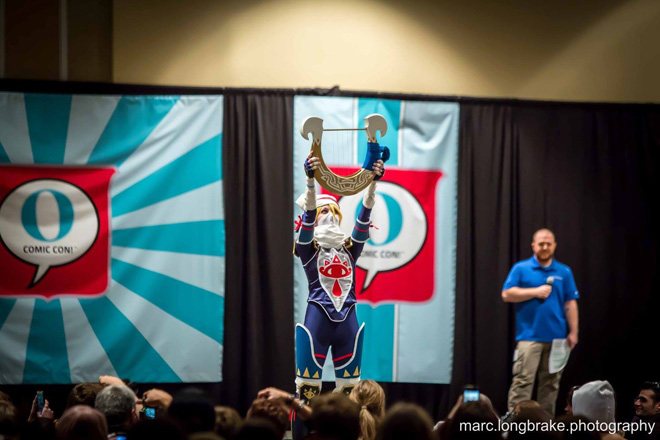 Best Craftsmanship
Possibly my favorite costume in the entire competition was Sisa Cosplay's Sheik from The Legend of Zelda. Considering everything from the sewing detail, the accessory work, and the creative use of snap-magnet buttons on the armor to an actual working electric harp, this Sheik costume had it all. But like the others, the effect went beyond the costume itself and extended into her piercing eyes and incredible stage presence during the competition.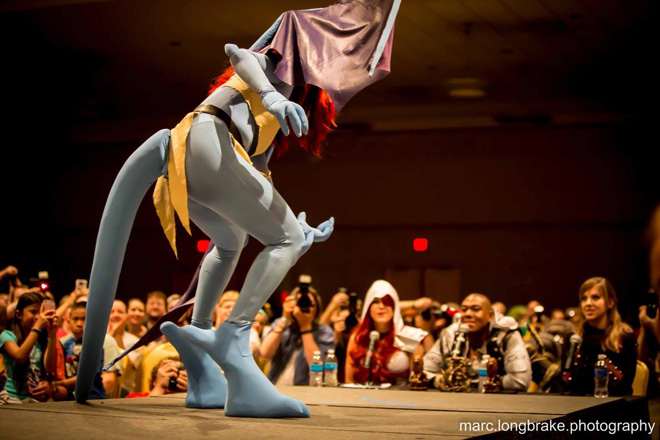 Best in Show
The winner of O Comic Con's inaugural Cosplay Competition was Ezmeralda von Katz, for her Demona costume. Project-Nerd is familiar with Ezmeralda Von Katz, as we ran into her at last year's Planet Comicon and have made many attempts to work with her and share her galleries in the year since. One look at her costume, and you can see why. She built every aspect of her Demona costume, even the stilts/lifts. More impressively, she managed rushing to show up to pre-judging to share progress images and prop details before leaving to be in a wedding–only then to return again to compete in the competition. But it gets even more dramatic. Rushing to get into costume, she broke her wing, managed to repair it, and still had time to compete prior to the end. Talk about an epic win.
Growing Pains
Being that Project-Nerd was so involved with the competition, with plans to be completely involved in 2016, I paid close attention to things that could have been done better. With a few volunteers available here and there putting too many hands in the pot, there was some disconnect early on, but it seemed to be squashed fairly early. Pre-judging could have been sped up and divided into categories, and those new categories (novice, intermediate, and pro) could have been considered for the final competition itself. Additionally, as the emcee, I should have communicated the amount of effort these contestants put into their costumes. The crowd had little to no idea how those costumed characters walking across the stage poured blood, sweat, and tears into weeks and months of creating such amazing costumes.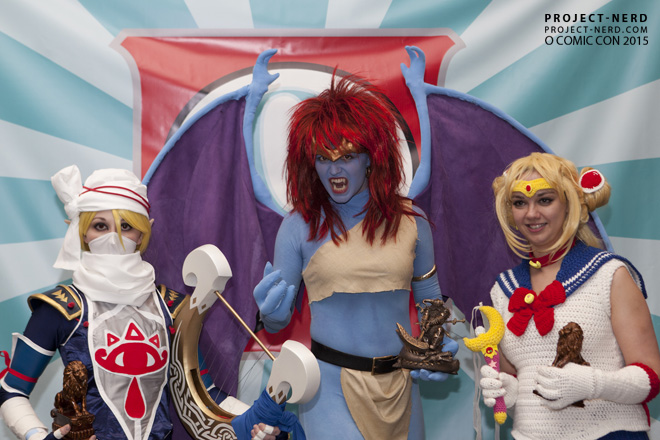 In the End
Project-Nerd always stands behind all cosplay is cosplay, from the person in the Superman undershirt with his buttons open to the person who spent three years making the most extensive armor. But we always love some good, friendly competition. The event at O Comic Con was amazing, and the crowd was really into it. The contestants all did a marvelous job creating their costumes and owning the stage. As much as cosplay is about community, this fun challenge was an awesome experience, and I am glad we were able to be involved at the level we were.
Until next year, Omaha!
For more on how Project-Nerd can assist, host, sponsor, or be a part of your cosplay events, please email us at info@project-nerd.com.
O Comic Con is a part of our 2015 ProNerd Tour. For more on O Comic Con and the other exciting events we are attending, visit our Convention Tour Category or check out our 2015 ProNerd Tour Page.