'Science Hero #1' Comic Review

Coming from New Haven Comics, Science Hero is a fun, independent anthology where every story is written by Aaron Walther. Not only his he the writer of each of the three stories, he's also the editor for the book! I guess when you're producing your own stuff you can give yourself any title you want. I'm president of myself. And also CMO. That's Chief Medial Officer, plebeian.
The first story up in Science Hero is Time Agent Z. Time Agent Z is co-written by Josh Blasingame and involves our hero Zebulon traveling through time fixing the wrongs in the time stream. This time around we've got some dinosaurs running around in 1940 France. World War II. I'm glad Zebulon was able to do his job because I don't remember any dinosaurs in WWII history books. That would have been a whole different story. Artist Joie Simmons has an old-school, simple, yet kinetic style. It's a bit reminiscent of Kirby.
Time Agent Z is my least favorite of the three stories in the Science Hero anthology. Opening the first page and seeing several blocks of paragraphs did nothing to wet my whistle. That's a thing people still say right?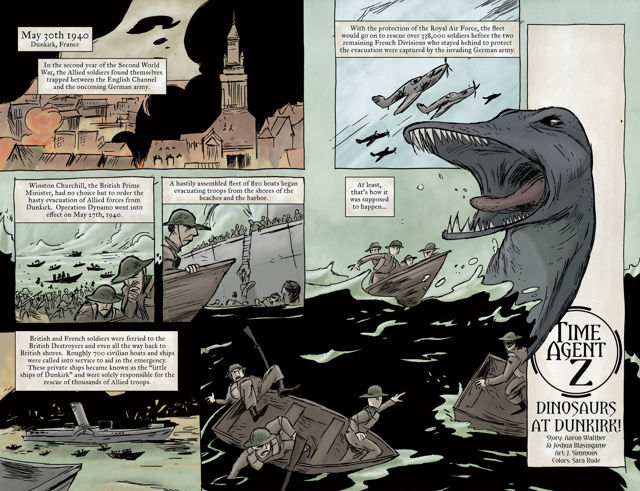 Next up in Science Hero, we've have Muscles & Mullets. Muscles & Mullets is a love letter to '80s rock, space, and mullets. Aaron Walther and artist Grant Perkins create a fun space romp with humanoid cougars and rhinos and a guitar wizard. Grant Perkins' art is a bit reminiscent of Picasso's. You know, the characters are all pretty exaggerated and don't remotely come close to looking like anything in real life. But it's fun art. The second story in Science Hero is really rather enjoyable, even with all the mulletsa and '80s-style rock stuff. (I hate both of those things).
Finally, we have Dogtown. This is by far my favorite story featured in Science Hero. The dark and moody art, with its muted blue tones, really sold me on this Noir-type of story. Walther and artist Chris McJunkin craft a wonder, full tale that spans a whole 9 pages. Dogtown is about a man and his cat on the run from some bad people. That's all I can tell you. I really don't want to ruin the hook of this story; it grabbed me by surprise. I'm glad this was the last story in Science Hero. Way to end on a strong note, fellas.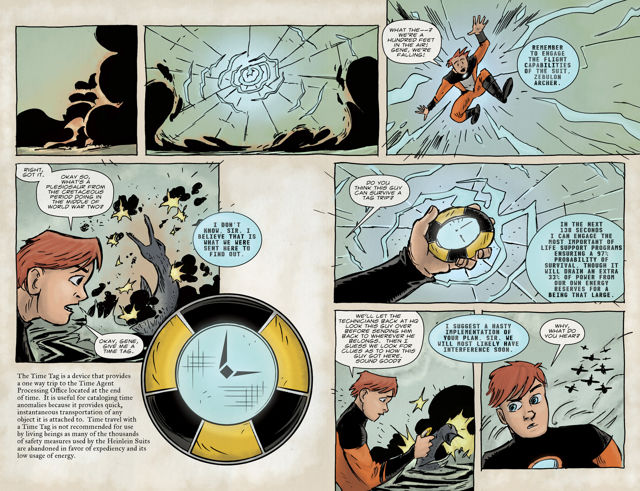 Overall, Science Hero is a decent little book. Like most anthologies, some stories are better than others. While the first tale may have discouraged me, I'm glad I stuck through till the end because Science Hero just got better as it went along. Truth.