New Comics Wednesday: April 29th Edition
It's Wednesday, which means there's a whole new haul of comics hitting the stands at your local shops and online. With so many great titles out there, it can be hard to know what's worth your hard-earned cash. Luckily, I've done the heavy lifting for you and found the good stuff.
Pickin's were kind of slim this week, with only one great comic and two good ones, but the one that made the cut set the bar way high:
Teenage Mutant Ninja Turtles #45 (IDW)
Story by Kevin Eastman, Bobby Curnow, and Tom Waltz
Script by Tom Waltz
Art by Mateus Santolouco and Charles Paul Wilson III
Colors by Ronda Pattison
Letters by Shawn Lee
After last issue's literally shell-cracking beatdown from Bebop and Rocksteady, Donatello's life hangs in the balance while the rest of the TMNT supporting cast deal with the fallout from the recently concluded 4-part "Attack on Technodrome" story that had been building up from the first issue.
Character death and comic books have a strange and tenuous relationship. Want a spike in sales? Kill a major character. Have an overexposed main character? Kill the bastard and replace them with a new model. Bored and want to shake things up in a book? Knock someone off. It's not uncommon for a publisher to get rid of a character in some grandiose fashion, only to have them respawn in some flashy new duds with a brand new power set. A few months later, reeking of regretful decision-making and lazy writing, things return to the status quo as if nothing's changed, and it feels cheap.
Not so much here, as the creative team's tacit understanding of that relationship makes Donnie's journey towards the light refreshing and compelling to follow. In his many back and forths with Leonardo—his philosophical polar opposite—Donnie has stoically and stubbornly defended the empirical nature of science over spirituality, only recently conceding that the two aren't necessarily mutually exclusive. The events of this issue play into that beautifully, as Donnie's two most immediately prominent influences in both philosophies—father and sensei Master Splinter, and the scientific team of Harold Lilljac and Fugitoid—attempt to revive him. On a macro scale, it's incredibly smart storytelling that quietly creeps up on you after you finish reading; on a micro scale, it's just plain good comics that artfully and tastefully uses a character death to push the story in an entirely new direction.
That holds true for the rest of the characters too, all of whom have unforeseen challenges before them and new roles to fill as a result of recent events. The entire power dynamic within the Foot Clan has changed, Casey has a new home and new neighborhood to protect, and the Turtles have to deal with the loss of another brother after just gaining one back. For an issue that really just had to bat clean-up, it really sets things up to get really weird and exciting while filling in the blanks and providing easy inferences for a new reader. Great stuff all around, and highly recommended reading.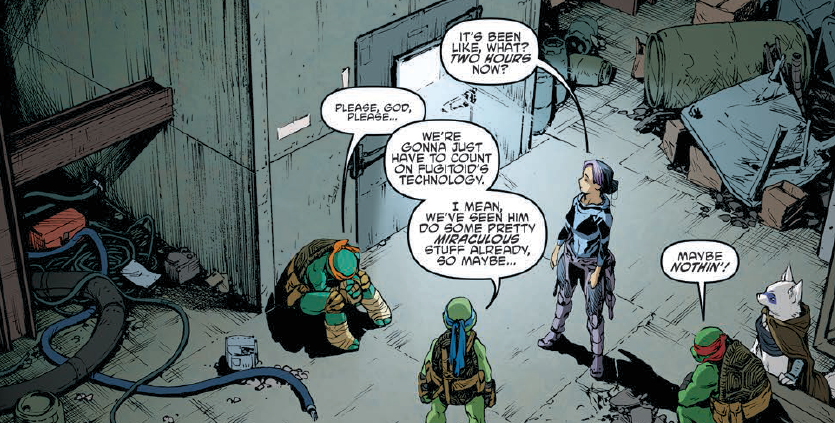 ---
This week's runners up:
In Transformers: More Than Meets The Eye #40, Brainstorm goes to trial for his rather ill thought-out "let's poison the crew and go time-traveling to erase Megatron from history" debacle from a few issues ago, while Ratchet says good-bye to his closest friends the only way a Chief Medical Officer should—call 'em in to the office for physicals, grab 'em by the bolts, and tell 'em to cough. There's some really great character moments here, but this issue sacrificed complexity and emotional weight for some admittedly needed comedic levity after all that's happened the crew of the Lost Light. A good read if you've been following the series, but it's not going to make an impression on anyone picking up the book for the first time.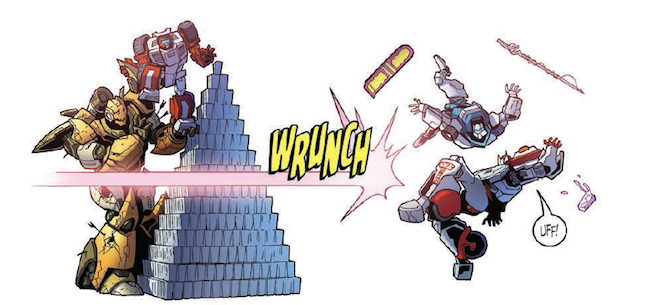 A surprisingly good jump-on point for new readers, Judge Dredd #29 (IDW) kicks off the "Crowd Control" storyline. After recent over-reaches by Chief Justice Cal, Terminator-style terrorist group Guardians of Drokk (or G.O.D., as they'd have you call them) are running amok, airing out the dirty laundry of the ruling class, sowing descent among the citizens of Mega-City One, and throwing an ape-sized monkey wrench in Dredd's covert plans to restore normalcy to the judicial system. Duane Swierczynski's script deftly handles any backstory and gives a new reader enough to chew on, while Nelson Daniel's Giffen-meets-Miller style art is dynamic and engaging.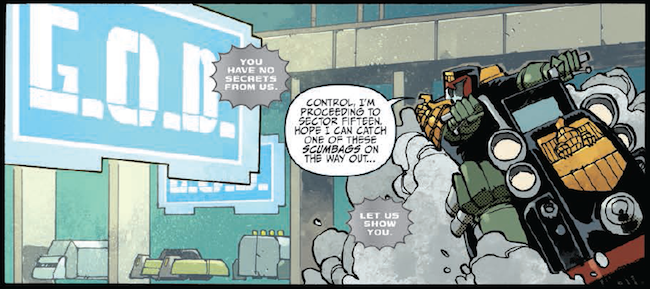 ---
Also out this week:
Boom! – Big Trouble in Little China #10, Boom! FCBD 10 Year Celebration Special, Burning Fields #4, Cowboy Vol. 1 TPB, Hit:1957 #2, Munchkin #4, Plunder #3, Steven Universe: Greg Universe Special, Thomas Alsop Vol. 1 TPB  
IDW – The Complete Dick Tracy Vol. 18, G.I. Joe #4, Garbage Pail Kids: Fables, Fantasy, and Farts, Headspace TPB, Haunted Horror #16,  Jem #2, My Little Pony: Fiendship is Magic #5, The Complete Secret Agent X-9, Teenage Mutant Ninja Turtles: The New Animated Adventures
Dynamite – Battlestar Galactica: Six #4, Blood Queen Vs. Dracula #3, Devilers #6, Twilight Zone #4
---
Project-Nerd is a press partner of BOOM! Studios, Dynamite Entertainment, and IDW Publishing. If you would like to see your studios' content included in our weekly release article, please contact our editors.