Planet Comicon: Sexuality in Cosplay Panel

This year, Planet Comicon featured a panel of cosplayers addressing their profession and the rising issue of sexuality within it. The panel featured Erin Lei, Zach Fisher, Monika Lee, Katie George, Chloe Dykstra, Abby Darkstar, and Zen Dragon (Keith Zen).
Keith Zen mediated the discussion and began with introductions of the panel. The assembled speakers came with impressive credentials from a variety of backgrounds. New players were given representations equal to seasoned veterans with a decade or more experience ensuring diversity and a range of opinions and outlooks.
A brief disclaimer regarding adult content preceded the actual discussion. But after all, a discussion on sexuality that circumnavigates adult topics is hardly a discussion on sexuality.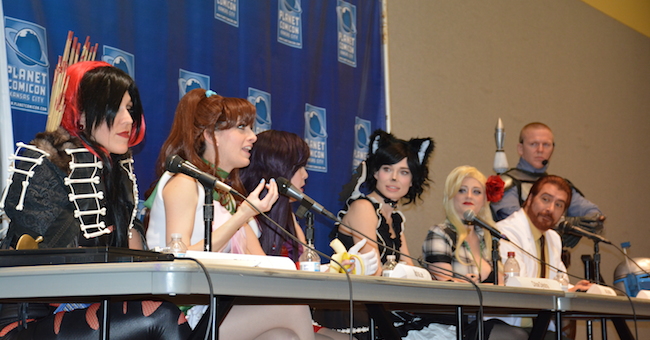 Keith Zen first posed a question regarding "sexy," what it really is, and why it's something so often called into question. Chloe Dykstra started things off by commenting positively on a frequently villainized attribute. Sexy, according to Dykstra, is different to every individual, because it's whatever makes the individual feel good about themselves. As nice as this comment is, however, the panel soon had to address that the public at large sees sexy as a bad thing.
The term "sexy" has become derogatory, although the panel agreed negativity is unwarranted. Katie George added that coming into one's sexuality is a great thing and, as adults, there shouldn't be a big deal with coming into that, embracing it, and finding it empowering. According to the panel, seeing "sexy" as derogatory comes from human judgment, which is something we should learn to overcome so we can move to embrace rather than to judge.
Zach Fisher added that clothes in no way reflect sexual promiscuity. The two are separate parts of a person's life and their chosen style of dress gives no one the right to comment on their sex life because one isn't reflective of the other and it isn't the public's business what someone does in private in any case.
At this point gender came into play and several panel members shared stories of how over-sexualization and taking cosplay as permission to comment on sexuality and to treat the cosplayer sexually is an issue for both genders. Multiple members posited that it's even worse for men, seemingly because men complimenting a female cosplayer have to be more careful than the reverse, for fear of being labeled "creepy."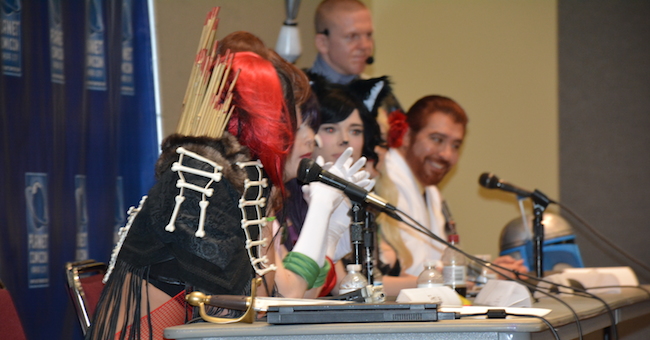 Through this, the topic, "Were they asking for it?" was raised, since cosplayers sometimes put themselves in positions of portraying characters meant to be sexually idolized. Katie George mentioned that, in many situations, a male cosplayer who works on his body for a costume is applauded, while a woman who works on her body for a costume is then immediately labeled "ho,'" which, as Monika Lee added, is the same double standard that makes a promiscuous man an impressive playa' and a promiscuous female a shamed slut.
A question from the crowd then prompted the panel to spend some time talking about appropriate ways to approach cosplayers and how to approach your own cosplaying experience. Overall, the panel agreed that approach depends on the person, and to try to get a feel for what the cosplayer deems comfortable before making bold moves. It's also always a good idea to ask. Keep in mind, cosplayers are people with personal boundaries like everyone else.
Another crowd comment led the panel to talk about the best way to approach your own cosplaying. This part of the discussion left the most resounding message, being that cosplay is about the individual. It isn't about what the rest of the world wants or what they find appropriate. Cosplay should first and foremost be about yourself and being happy with what you do. More importantly, you should never let derogatory comments or harsh judgments take it away from. At the end of the day, cosplay is about your passion and doing it for yourself. It's important to remember that mean comments come from ignorance and the commentor's own insecurity, and your passion is bigger than their hate.