'Lego DC Comics Super Heroes: Justice League vs. Bizarro League' Blu-ray Review

In the early 1960s, DC comics developed a villainous character as a counterpart to Superman. Named Bizarro, he was originally created as a warrior. Using a duplicator ray, Bizarro would essentially be a clone of Superman, except his thought process would be more childlike, he would respond to the opposite of what he was told, and would have a pale skin complexion. Essentially, Bizarro is DC's Frankenstein monster, usually played out in tragic storylines.
To bring the storyline to a new generation, DC and Lego have converged to bring the Bizarro character to life in Lego DC Comics Super Heroes: Justice League vs. Bizarro League. Still keeping the basic DC storyline, yet adding the whimsicality of the Lego characters, the two companies have brought Bizarro to a new and younger audience.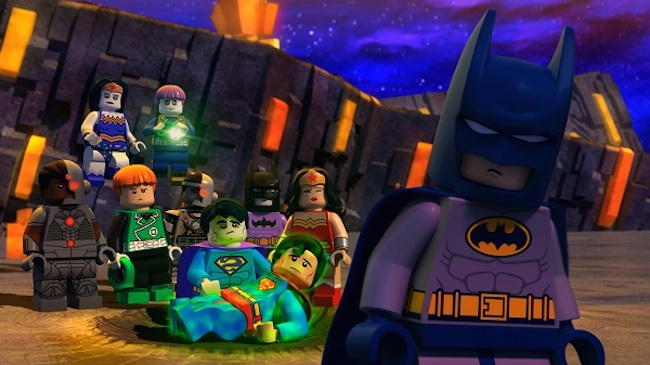 THE MOVIE ITSELF
As the story opens, Bizarro flies around Metropolis trying to assist Superman. After causing havoc at a playground, mostly due to his backwards vocabulary, Superman leads him to a square planet in space, known as Htrae (Earth spelled backwards), a lifeless orb only inhabited by large yellow boulders. Superman leaves him there to build his own Metropolis and citizens with the rocks.
Back on Earth, Superman and the rest of the Justice League must deal with a robbery attempt, controlled by Giganta and Gorilla Grodd. But during the robbery, someone breaks into Lex Luther's Laboratory. When the league arrives, they discover the perpetrator in none other than Bizarro. He steals Lex's Duplicator Ray and makes Bizarro copies of Batman, Wonder Woman, Cyborg, and Flash, who escape back to Htrae.
Lego DC Comics Super Heroes: Justice League vs. Bizarro League is initially geared for the DC fanboys, like most of the DC Comics video releases. But this one has a story and characters that come closer to a Saturday-morning cartoon more than anything else. This is mostly due to the added Lego element. If it would have played it out straight with basic animation and story, DC could have had a solid release that would be appealing to young and old.
The production itself is done very well. If you want to see a vast number of DC heroes and villains, you definitely get a boatload here. The computer animation of the characters is done very well with that Lego style we are all familiar with. The colors onscreen are sure to attract and keep the attention of the youngest future heroes. The dialogue is entertaining, especially when dealing with Batman's mistrust of Superman. Plenty of inside jokes pop up throughout that older kids will pick up on. But beyond that age group, the film doesn't have much to maintain one's attention.
Lego DC Comics Super Heroes: Justice League vs. Bizarro League is a fun release for families and kids. It is humorous, and the Lego characters add to the enjoyment. But if you're a true DC fan, the film offers little more than a distraction. I would hold out for the next DC Comic release without Legos. Leave them to their own movie.
PRESENTATION
Presented in a 1080p, MPEG-4 AVC transfer and an aspect ratio of 1.78:1, Lego DC Comics Super Heroes: Justice League vs. Bizarro League is a direct-to-digital transfer that is pristine all the way around. Imagery is extremely sharp, as expected. The film's color palette is extremely bright with no signs of smudging. Details, such as the nubs on the Legos and creases on the plastic characters, are present.
The DTS-HD 5.1 audio transfer is surprisingly good. The front speakers offer a wide extension of sound, with good clarity in the upper and lower levels. The center channel delivers the dialogue cleanly with no apparent distortion. The rear surrounds are the real treat here. They definitely open up during many of the film's action sequences. This is especially evident during the battle with Darkseid's droids. The panning of sound throughout the room really enhances the viewing experience.
EXTRA FEATURES
The extra features included with Lego DC Comics Super Heroes: Justice League vs. Bizarro League are quite good. They even include an entire second Lego DC Comic episode.
Lego DC Comics Super Heroes: Batman: Be-Leaguered episode
Me Am Bizarro! The League of Opposites feature
Be-Leaguered Bloopers
Trailers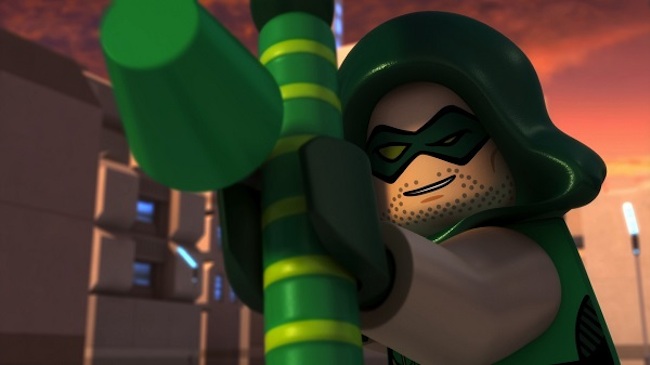 FINAL THOUGHTS
Lego DC Comics Super Heroes: Justice League vs. Bizarro League is an entertaining release from DC Comics. It's geared mostly to youngsters who would watch pretty much anything as long as it is on television and is colorful. It has some fun dialogue and good action sequences. But if you're 14 years or older, you will probably be bored with it pretty quickly. Rent it for the kids on a rainy day.