Anime Weekend Atlanta: A Hidden Gem on the Gulf Coast

When I decided to go to Georgia for the largest anime convention on the Gulf Coast, I was disillusioned with con life. It's been a rough couple of years, after all: A year of mediocre convention experiences, cosplay friendships ending, and general disappointment. After three years of bad experiences at my local conventions, I had decided that this would be my last year going to local cons. I'm not sure what straw broke the camel's back, but in August, I realized that I had been saying the same things for too long: Each year would be my last year, then the next year would be the last, hoping it would improve every time and being let down each time I gave my home state another chance.
I decided to do something crazy, something out of my comfort zone. I gave away my room at the major local con. I gave my badge to a friend. I didn't go to the con I've been attending for 10 years.
Instead, I applied for a badge, and decided that if the universe wanted it to work out, I would go to Anime Weekend Atlanta.
I knew absolutely nobody in Atlanta; I had no friends going. I had a room by myself, and jumping in headfirst with no security net was scary— But jumping in turned out to be one of the best decisions I have ever made. A month and a half later, with a mostly-finished new costume, I found myself on a plane to Atlanta, on the way to one of the best convention experiences of my life.
AWA is a four day convention, technically speaking. Events start on Thursday evening, though the largest crowds of people don't show up until about 2 pm on Friday (according to convention sources, who refer to this rush as the 'college crowd'). Sunday afternoon felt somewhat slow, and I felt that I could have taken a flight out that evening instead of Monday morning and not missed a lot. As for the details, I've broken everything down so you know what to expect from each aspect of your Anime Weekend Atlanta experience.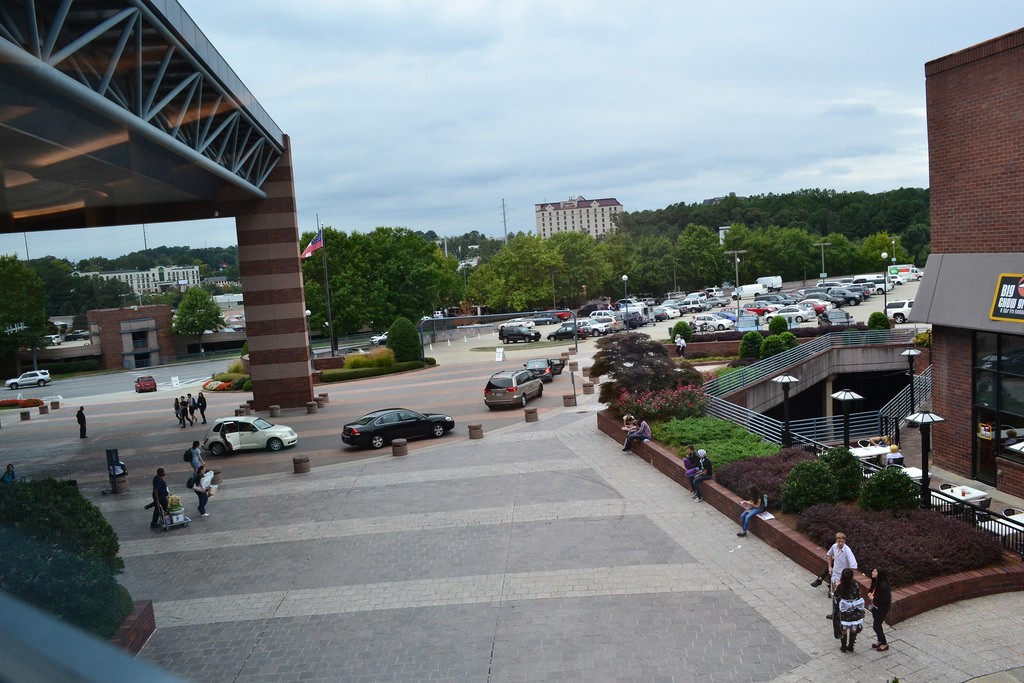 Travel
Airfare to Georgia will vary based on your point of origin, but by shopping ahead and keeping an eye on airfare, you can snag roundtrip tickets for around $200 from most other places in the United States. The ATL airport is very clean and well-furnished with many restaurants and shops, and you can grab a smoothie while you wait for your baggage or sit down for a real meal before heading out to the hotel. The convention center is too far from the airport for hotels to provide shuttles, but taxis can be employed for about $50 one-way, and shuttles can be reserved for about $65 round-trip (it's about 30 minutes each way, more with traffic).
If you choose to stay in a hotel away from the convention center, most have free shuttles that run until about 10 pm. Unfortunately, many events at the convention run past this time (like the cosplay contest), and the convention runs 24 hours, which makes renting a car of your own or employing a taxi to take you across the highway more feasible for scheduling. (I paid about $7 for a taxi ride from the convention center to the Hyatt Place/Wyndham at 10:15, but other cabs may choose to charge more or less.)
Accommodations
The nightly rate at most AWA hotels was $135/night plus tax this year, though some hotels have lower rates with special group discounts (i.e. Costco, AAA, etc.). The hospitality tax in Smyrna is only 8%, which is pretty low compared to some other cities; Seattle's is ~16%, for instance, while Los Angeles hovers around 12%. None of the official convention hotels have any reports of bedbugs, which is always a bonus, and all hotels are within walking distance of the convention center and the large mall nearby. Many local restaurants offer delivery to the hotels, and the convention center proper has restaurants to choose from, as well, with very reasonable pricing on entrees. The hotel bars average ~$1-2 more per drink than you see in Colorado, but the prices are on par with those found in Seattle and LA.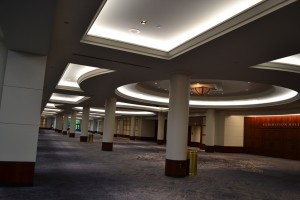 Venue
This year, AWA had over 20,000 attendees- A number that's pretty shocking, when you've been in the hallways. The huge space that hosts the convention makes it feel a lot smaller, or perhaps just more bearable. The venue is full of amazing locations for photos, from the huge atrium of the Waverly to the vast park/gardens outside of the same hotel, to the broad halls of the Galleria Centre itself. It seems that the outside becomes even busier after dark, when the heat has abated to let cosplayers and photographers explore the magic of steps and waterfalls and pavilions lit by old-fashioned streetlights.
The only part of the venue that was not entirely ADA-compliant (as far as spacing goes) was the cross-way aisles in the artist alley, where it would be accessible if not for the people crowded in front of tables in the narrower rows. Adding an additional 5 feet to each of these spaces would make it much easier to access for wheelchairs, as well as the general public.
Events
The convention has 5 video rooms, plus an AMV/miscellaneous room, and they're booked solid from noon on Friday to about 4 pm on Sunday. There are about 10 rooms for panels and a gigantic Main Events hall, also booked for the entirety of the convention (with spaces between to allow panelists to break down and set up, which makes things run much more smoothly.) The main events room is well-positioned and filled with seating, and has a stage setup that allows the audience to get a good view from any seat in the house.

Shopping
The dealer room felt gigantic, but was roughly equivalent to the size of Sakura-con's dealer hall; the artist alley was almost the same size, and the back of the room was occupied by food trucks that kept attendees well-fed throughout the weekend. Merchandise prices in the dealer room are slightly above online retail, but you can find a few good deals if you shop around the room a few times for any specific item.
Walkways were easy to move through, with only minor instances of congestion around the Crunchyroll booth as people crowded around to play on the NicoNico stream. Staff stood by and marked off 'no-crowd' areas to keep things moving and let people access the booths nearby, however, and generally kept it from causing major traffic problems.
Cosplay Amenities
AWA has a costume contest with on-site registration, a cosplay repair room, a 'rest' lounge, and on-site pre-judging the day of the cosplay contest. The hallways are large enough that it is easy to move around in a costume without running into people or breaking things, and you can get around the majority of the venue without trouble. Water coolers are scattered throughout the convention center to help prevent dehydration and overheating in large costumes, and the Waverly's bar will give you a cup of water at no cost if you ask, as well.
The costume contest and judging were expedited quickly; the only major issue was the lack of a dedicated green room, which was exacerbated by the delay of a concert encore cutting into the cosplay contest time. Contest participants first had to stand out on the loading docks, which was hot and uncomfortable, and then to stand in a cordoned off area in the Artist Alley with no provisions for seating or water. Water was provided upon request, but chairs were not made available until an hour of wait time had passed. If you plan to compete, choosing shoes you can easily remove will make the time more bearable, and putting on heavier rigs or pieces before going on will ease the discomfort of wearing it in the heat/while standing for long periods of time.
Atmosphere
As an attendee from the central US, where we all know each other much too well, I found the atmosphere and personalities of the convention's attendees to be extremely personable and friendly. People were willing to talk to strangers, compliment one another on costumes, be openly friendly without the wary foreplay that many convention (and non-convention) interactions tend to have. Maybe this is a Southern thing: The last time I was in the South, I was very young and in Alabama, so I don't know if the shift in interaction is regional or convention-specific. Regardless, I felt extremely welcome throughout the entire convention, by staff and attendee alike, and that's the feeling most of us are looking for in these events. Even the staff of the hotel and venue were respectful and open, which is always a relief.
Overall, Anime Weekend Atlanta was a fantastic experience in an amazing venue. The programming was intelligent and entertaining; the people were friendly and accepting; the location was perfect for photos, shopping, and just sitting down to rest your feet and take in all the positive energy of the convention. This was one of the most impressive anime conventions I have attended, and I would fully recommend it to anyone who wants a fresh and enjoyable convention experience in the southern United States.