'True Blood: Omnibus' Comic Review

This is one hefty book. Hefty as in big and heavy. I'm not referring to the brand of garbage bags, though those are perfectly serviceable. The True Blood Omnibus contains 3 six-issue limited series. 3 times 6 equals 18. 18 whole issues are contained in this book. That's a lot of reading. Fortunately for me, I enjoy True Blood. For those of you who don't know, True Blood was a vampire show set in Louisiana which aired on HBO. It was filled with blood, boobs, sex, and bad language. You know, the typical kind of thing for HBO. It ran a total of 7 seasons and offered a vastly different and vastly better vampire story than Twilight.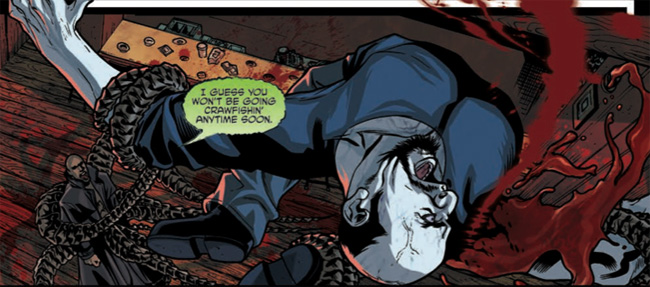 The first, let's say book, is titled All Together Now. A trickster god descends onto Merlotte's and demands that everyone in the bar feed him their deepest darkest secrets. Being that he's pretty powerful, everyone at the bar including Sookie, Eric, and Bill must abide by the god's wishes. What really worked for this book is the voice of each and every character. They sound just like they do in the show. That's pretty legit. As much as the characters in this first book sound like they came right from the show, the bad guy really doesn't. The god is a bit of a cross between a mutant and Doc Ock. You know, from Spider-man. The art is pretty spot on and everyone looked pretty close to the real actors and actresses. That always helps. My brain doesn't have to strain as hard to remember who is who. My poor, poor brain.
The second book, Tainted Love, rocks an entirely different creative team. In this tale someone has been poisoning the water hole (Toy Story reference). Okay, not really, but someone has tainted the True Blood, the synthetic blood the mainstream vampires all feed on. Tainted Love is the best of the three books presented in this omnibus. Its interesting that the storyline would fit in right at home on the show. Instead of 6 issues it probably would have been an entire season. The TV people do love to stretch stuff out. The art work is a little rougher than it was in the first book but it still does what it should. It tells a good story with easily recognizable characters.
The final book fails to live up to the first two. French Quarter brings Sookie, Bill, and Eric to New Orleans in search of a killer who has ties to Eric's past. All of the characters, like in the first two books, sound like they should but that's as far as the praise really can go. I found the story to be a little hackneyed. There are several times when the flow of the narrative gets interrupted by some panels and pages not really working together. Kind of like there was a panel or a page missing. It's not hard to make sense of it, it's just jarring and pulls you out of the story. The art is loose. It's not terrible, but there wasn't anything special about it.
Overall, if you're a fan of the show True Blood then you'll dig this book. If you're unfamiliar with the show, you might have a hard time getting in to it. The first two books are good while the third is decent at best.