'A is for Alex' Film Festival Review

One of the most common comments overheard at this year's Tallgrass Film Festival was in regards to the number of sad and depressing films that were shown. Each of the four films I saw on the first day of the festival were so dark and gloomy I craved a Zoloft between each of the movies. It got to the point when I thought that the definition of 'Independent Film' included the phrase "Must be depressing." Thank goodness Alex Orr broke the streak with his comedy A is for Alex.
Orr's comedic tale documents his wife Katie's pregnancy and the impending changes in his life. Alex is a part-time inventor, part-time filmmaker who, as the film opens, attempts to replace the missing bee population in Atlanta by using over-sized robotic bees to assist with pollination. This becomes a running gag through most of the film as you see the mechanical bees flying throughout the background.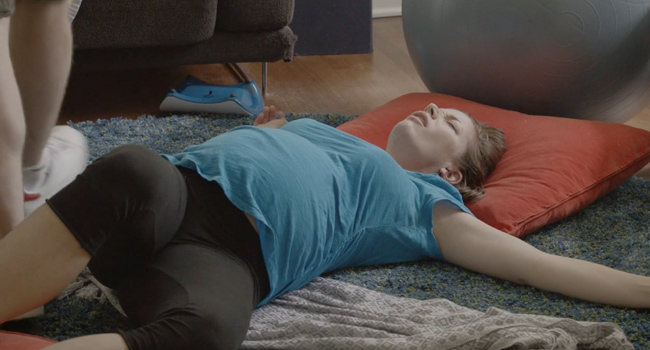 As the film progresses, we start to see the fear that Alex has at bringing a child into the world. Katie is a very level-headed woman, but becomes more frustrated at seeing Alex's reactions when the due date gets closer. The film takes the situation and nervousness that any new parent may have and multiplies it by ten, turning a normal moment into something totally outrageous.
As the film progresses, Orr flops in and out of reality, as he turns his simple film about his wife's pregnancy into an action, science fiction film with stars like George Clooney, Meryl Streep, and Meryl Streep Jr (of course they are not in the film, especially Meryl Streep Jr.). Sequences start, such as a moving moment with Alex's father, then suddenly Alex calls cut, saying that he is cutting the scene from the film. His father turns out to be a stodgy British actor.
The film's biggest laughs come at the expense of his mother (Judith Beasly), who downloads pictures of Alex onto the internet every day. Problems ensue further after she downloads video of Alex in a compromising situation with a girl when he was just 13 years old…consequently landing Mom in jail for child pornography. It is a hilarious moment that brings back thoughts of why my mom wasn't arrested for the things she embarrassed me with.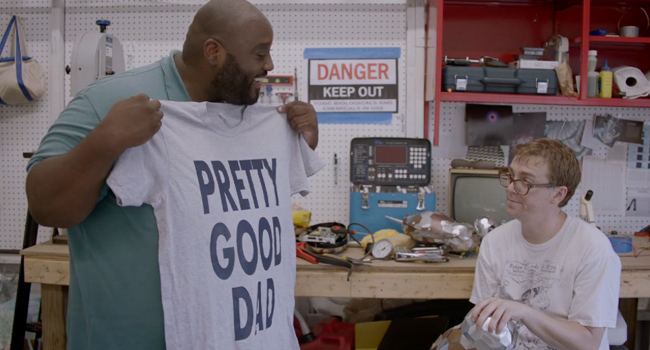 A is for Alex harkens back to classic Woody Allen films. Orr's use of stopping scenes in mid-filming brings back fond memories of Annie Hall when Allen brought Marshall McLuhan into a line at a movie theater when a couple was discussing McLuhan's work. Allen concludes the bit with the line "Now, if life were only like this." I can say the same about A is for Alex.
Alex Orr possesses a talent that is very reminiscent of a younger Allen. In his writing, his directing and his performance, he comes off with a neurotic sense of himself that made Allen so lovable in many of his earlier films. Orr's writing style is quirky, yet easy to digest. My only issue was using the breaking out of reality so much. Most of the time, it works. But it occasionally got a little distracting as the movie went on.
The performances in A is for Alex were quite good. I can't imagine giving a performance in a film while actually nine months pregnant, but Katie Orr does a great job as the mother-to-be. I kept wondering how much she would let him film being that far along. But she bravely goes along with it, documenting every step of the way. Beasly, as Alex's mother, steals the show in her excitement about being a grandmother, and totally disregards the fact that she put child pornography on the internet.
A is for Alex is a charming little film that takes one of life's greatest moments for a couple and flips it on its ear. Alex Orr is definitely a filmmaker to watch out for. He has the writing and directorial qualities of a young Woody Allen. His style of humor is the ironic, subtle type that makes you laugh at it when you watch the film, and yet it still has such kick that you can laugh even harder hours after you've seen it.