'Before I Disappear' Film Festival Review

Films dealing with suicide, death, drugs, depression and family issues aren't usually considered 'crowd pleasing' movies. But writer/director Shawn Christensen has delivered Before I Disappear, an intimate story of a broken relationship between a brother and sister that has been sweeping the 2014 film festival circuit.
Based on his 2012 Academy Award-winning short film Curfew, Christensen's newest work tells the story of Richie (Christensen), who's life hasn't been going so well. Having used drugs to drown his ongoing depression after the death of the woman he loves, Richie decides to end his life by slitting his wrists in a bathtub. But as he is slowly slipping into unconsciousness, the phone rings. On the other end we hear his estranged sister, Maggie (Emmy Rossum), who is frantically searching for someone to watch her daughter Sophia (Fatima Ptacek). Richie is her last choice for the job. The two haven't talked for a long time, but she is that desperate. He reluctantly agrees. He wraps up his wrists and heads out to pick up the girl.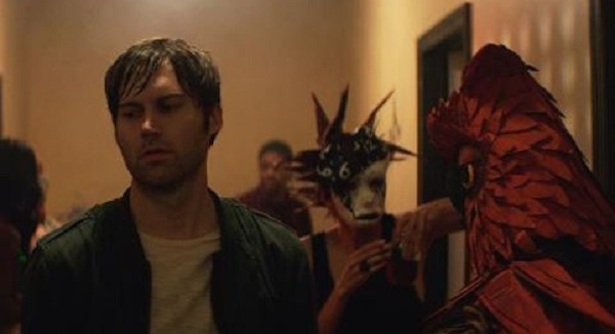 Richie finds his sister has raised a highly intelligent young girl who takes no crap from anyone, especially him. Sophia sets the ground rules, or there will be 'Hell to pay.' He attempts to take her back to Maggie's apartment, but a strange woman lurks outside their hallway. Unable to go to his apartment since it's basically uninhabitable, Richie takes Sophia to the local bowling alley his friend runs. It's there Sophia starts quizzing Richie about his life, his drug habits, and why he isn't involved in her life. As he opens up to her she begins to soften up, seeing a kindred soul in him. Richie also sees something in Sophia that has been lost in his life–a reason to care about someone and a possible link to regain his connection to his sister.
Before I Disappear is a cross between Martin Scorsese's After Hours and Chris Columbus's Adventures in Babysitting; it gives the audience a guided tour of the seedy underbelly of New York City while towing the kids along. The film starts off dark and depressing. Working as a janitor at a friend's (Ron Perlman) club, Richie discovers a young woman dead from a heroin overdose in a bathroom stall. (This catalyst pushes him over the edge). As the film progresses with the arrival of Sophia, it becomes lighter, more fun but still with a dark edge. The high point of the film: an exhilarating dance number at the bowling alley that made me feel I was smack-dab in the middle of a John Hughes movie. It's a great sequence that documents the first spontaneously joyful moment in Sophia's life as Richie looks on proudly. It concludes, unfortunately, when Richie is painfully jerked back into reality.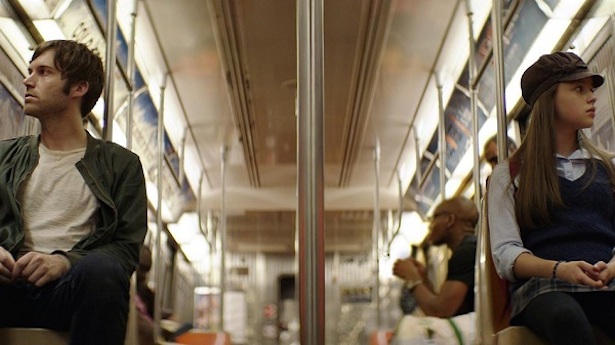 Director Shawn Christensen has essentially taken his 19-minute short film, Curfew, and opened it up to give a better understanding of what drives the primary characters. He has also added characters, such as the two competing club owners (Perlman and Paul Wesley) who are both involved with the girl who OD'd. Although scenes with these characters are good, there doesn't seem to be a purpose to them. There never appears to be any type of resolution. Richie withholds information about the girl's death from Wesley's character, who never discovers the truth. This is probably the films biggest flaw for me.
Behind the camera, Christensen's direction is brilliant. The film moves consistently in and out of different tones, going flawlessly from serious to humorous moments. The pacing is very quick and allows little time for the audience to catch its breath before Richie and Sophia's next dilemma. Cinematographer Daniel Katz has crafted some exquisite shots throughout the film; he uses different techniques to show Richie's diminished awareness of what's going on around him. Richie is more alert as the film progresses, and the camera demonstrates an increasingly sharper image.
The film's performances are the real highlight of Before I Disappear. Christensen and Ptacek recreate their roles from Curfew, and both are sensational. Expanding the short film to feature length has allowed the characters more flesh, so to speak. It has allowed great performances to become incredible performances. Christensen's performance seems more full-bodied because we clearly see his character's motivations in previous scenes. In fact, his work in front of the camera really shines–his facial expression as he lies in the bathtub waiting for the inevitable, is heartbreaking to watch. As we move towards the conclusion, a completely different expression hints at an optimistic outlook for him.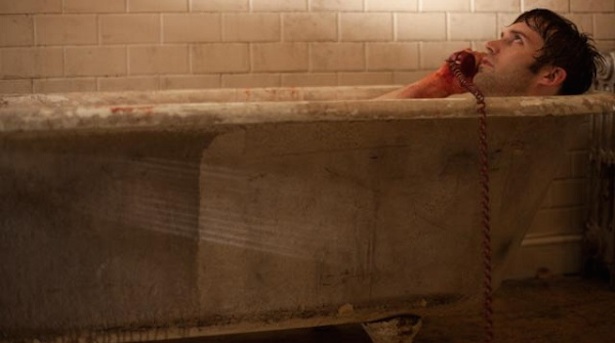 The real star of the film is Fatima Ptacek, the voice of Dora on TVs Dora the Explorer. In Curfew, we see the possibility of greatness from the young actress. But here, we see a true star-making performance. Ptacek's character Sophia does a complete about-face throughout the film, and, both physically and emotionally, we see each stage of that change take place. Don't be surprised to see her name on the short list at Oscar time.
Before I Disappear is a terrific little film that has been racking up the awards on the film festival circuit, including the Audience Award at this year's SXSW Film Festival. It's a powerful story that covers a lot of territory–love, loss, family, remorse, depression–and it does so brilliantly. Director/writer/actor Shawn Christensen reconstructs his award-winning short film into a feature film, and, although an added subplot doesn't necessarily improve the film, his additions to the primary relationships among Richie/Sophia/Maggie are incredibly moving. For Christensen's first feature film, Before I Disappear is a heck of a way to start.