'Mood Indigo' Film Festival Review

I have waited for Mood Indigo since the first announcement of Drafthouse Films acquiring the independent French feature. The trailer and plot promised a whimsical and fun film in the style of the great Jacques Tati, but what the movie delivered was something more.
In fact, the first half of Mood Indigo is a somehow beautiful combination of Tati's classics and a lengthy episode of Pee-wee's Playhouse, masterfully intertwined to make it seem as if those two styles were meant to be together. It was everything I wanted and more. The second half, though, is a completely different movie. The narrative starts in fun-and-crazy color and ends in all too depressing black-and-white.
Mood Indigo, written by Michael Gondry and Luc Bossi, tells the story of Colin (Romain Duris), a wealthy bachelor living and loving life. A life that is full of pianocktails, oven backed snacks that come in little ovens, a man in a mouse suit the size of a mouse, shoes that won't stay inside, and twisted handshakes. When he learns his friend Chick (Gad Elmaleh) and his friend/mentor/attorney/volunteer chef Nicolas (Omar Sy) are each in relationships he declares that his solitude is no longer acceptable and seeks companionship. That companionship is delivered, very quickly I might add, in Chloe (Audrey Tautou).
As Chloe and Colin's relationship grows, so does the corkiness and fun of Mood Indigo. Eventually the two decide to get married and the reality, albeit a very quirky and far-fetched version of reality, finally sets in when Chloe becomes ill. Thus begins act two.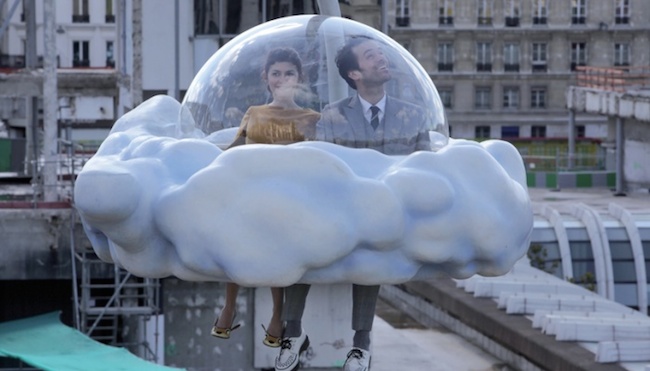 Act I
The first half of Mood Indigo does everything except take itself seriously. The conflict that must be overcome is companionship, and it is done so nearly immediately and in great fun. Elaborate and fantastic dance sequences, mind-boggling displays of food, and a house that has a life of its own nearly steal the show from the trio of gentlemen and their growing list of companions.
The film did immediately remind me of Tati, specifically Playhouse. In fact, I feel Mood Indigo is something Tati would have concocted had he been making films today. As I watched the fun unfold one moment after the next I kept saying in my head, "this is the somehow beautiful lovechild of Tati and Pee-wee Herman."
Act II
The second half of Mood Indigo takes a very different approach. The interesting unrealities of the world remain largely at play, but with a major conflict introduced not only into Chloe and Colin's world, but also in the lives of those around them, the fun and exciting adventure rather rapidly unwinds. The over-the-top visuals and the drastic changes now come in to play to progress the story to a more grim and dark world that even wraps the movie in black-and-white.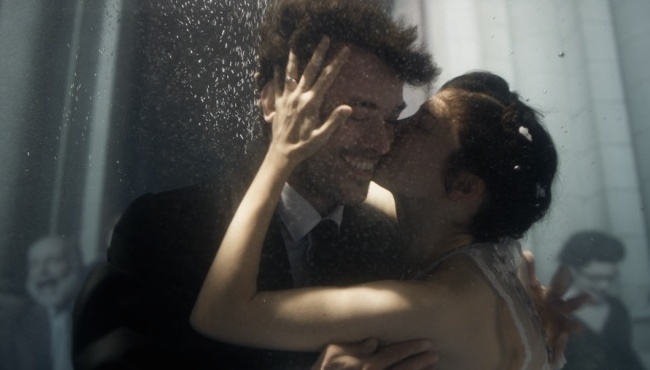 The acts, although at time feel completely separated, do flow together to make Mood Indigo a complete and well constructed film. The adventure isn't all kicks and giggles as the trailer promises, but even with bad news delivered it doesn't force you to leave overly depressed either.
Performances throughout Mood Indigo are seamlessly fantastic. Whenever the world changes around them the characters adapt well and play into the fun that the environment creates. Gondry and Bossi made no attempt to have Mood Indigo pretend it was something it was not, as it recognizes all its craziness, even opening the film with a note that this is a true story, and they know because they made it up.
It has taken a few days for me to figure out where Mood Indigo fits in my heart. My earlier concerns were based on not knowing about the twist and turn, however the more I discuss the film and the more I think about it, the more I fall in love. It is an extremely original ride in a world full of remakes and adaptations that dares to do whatever it feels like. Mixing great onscreen performances with fantastic filmmaking and a world of fun, Mood Indigo delivers a unique experience worth visiting at least once.