2014 Planet Comicon: Darryl "DMC" McDaniels Panel

"Darryl Makes Comics."
Such is the imprint under which Darryl McDaniels, pioneer of hip-hop culture and founding member of RUN-D.M.C., will publish his graphic novel, DMC. The graphic novel is set in the 1980s, when hip-hop culture flourished. It features DMC, a superhero, fighting for justice in an alternate reality.
This work will showcase some of the industry's most original talent and will put forth the message that "hip-hop is not about race. It's about culture and respect," says McDaniels. "And we're doing this from an independent perspective so that we don't lose our perspective."
Minutes before the panel starts, he and editor-in-chief of Darryl Makes Comics, Edgardo Miranda-Rodriguez, chat exuberantly. Best friends, the two start by describing the fairly typical scenario in which they entered into a partnership to produce the graphic novel – a harmonic synthesis of McDaniels' first two loves: hip-hop and comic books.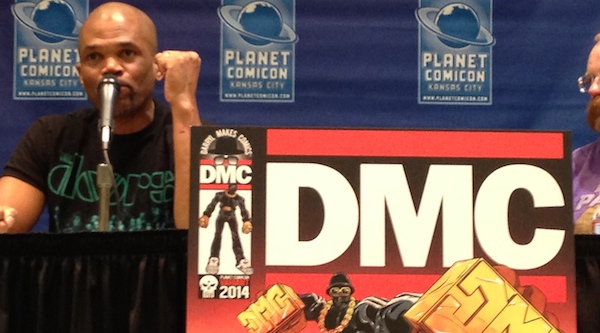 For McDaniels, who has always been a self-proclaimed nerd, comic books served as an escape from his unforgiving environment of New York City, circa 1970s-80s. The elements of these comic books – writing and artwork – manifested, he says, as superheroes that would show themselves in his amateur hip-hop performances.
For instance, McDaniels describes a fascinating process in which the might and intimidation of the Hulk would come out in his musical performances; the rapper would (figuratively) smash down walls and become the kind of public figure that people could admire. "The transformative quality of hip-hop is actually a very organic process," says McDaniels.
But again, he asserts that hip-hop is not about rage, not about being the strongest or the meanest. It's really about encouraging a kind of undeniable respect for culture in general – and bthe differences that make people unique. "The integrity of this comic book cannot and will not be lost. That's why I'm not doing a "hip hop" comic book in the sense that most people would expect," says McDaniels. "A large part of the book is about responsibility. It's about being responsible to the people who came before. Respect."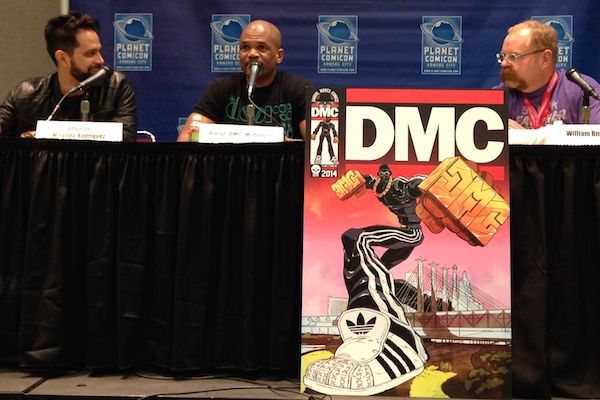 It seems to me that, since McDaniels and Miranda-Rodriguez are producing this project independently, they can fearlessly convey a rarely seen level of authenticity in hip-hop culture. "Hip-hop is nerdy," asserts McDaniels, before he exclaims, "Bruce Lee, MUTHAFUCKA!," and then dials it back again – "excuse my language" – for the unshaken, seven-year-old girl in the audience.
Actually, the graphic novel "explores themes of tolerance and racism without oversexualizing characters and exacerbating violence," says Miranda-Rodriguez. But more seriously, McDaniels talks about the unnecessary and damaging perception that hip-hop artists should be relentlessly masculine and intimidating in the public eye. In fact, to my pleasure and surprise, one of the issues the DMC graphic novel touches upon is that of the AIDS epidemic. Given hip-hop's exclusively "masculine" image, the fact that DMC even skirts such an issue strikes me as notable – if not downright important. Quite frankly, this is the kind of authenticity the world needs right now.
The prologue issue, DMC #0 was released in Fall 2013, and, according to Miranda-Rodriguez, three more years of stories have been planned.