2014 Planet Comicon: Eddie McClintock Panel

Eddie McClintock, star of the SyFy Channel original series Warehouse 13, walks down the center aisle among a room full of fans – five minutes before the panel is set to begin. He immediately makes it clear to everyone that "people who don't do these conventions are really missing the boat. I mean, " – a switch kicks, and he's speaking in an expressively goofy tone – "People actually walk up to me and pay me money to sign a piece of paper! It's the best!"
But the sincerity returns, and McClintock talks about the value of actually spending time to talk with fans individually. This is apparent when, halfway through the panel, he walks back into the center aisle to answer their questions face-to-face.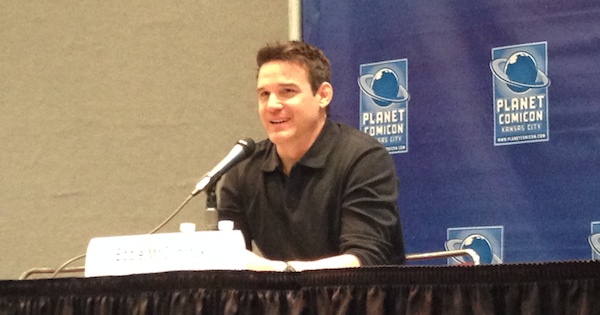 The final season of Warehouse 13 is set to air on the SyFy channel on April 14. When asked about his favorite memories from making the show, McClintock says he'll always look back and remember shooting the last episode on the last day. McClintock says "there's a moment when my character [Pete] gets to say goodbye to his friends, his family. To say goodbye to them was a big deal, and it's the [memory] that will stick with me the longest."
He describes that last day in more detail, launching into an account of how genuine and (quite frankly) uncontrollable his sobbing was during the goodbye scene. Even though the director probably knows McClintock is "an emotional guy who really wears [his] heart on his sleeve," he apparently asked, "Can we get a little less crying please?"
One thing that makes acting such an emotional experience for McClintock is the relationships between the actors themselves. "If I act with someone," he says, "even if I haven't seen them for years, we have shared something that many people who are family members haven't shared. There's an intimacy, and that's why I love it so much. There's a catharsis, and they become family members very quickly." Another shift back to his now-familiar, frank goofiness. "…But I drove Joanne [who plays Myka] absolutely nuts!"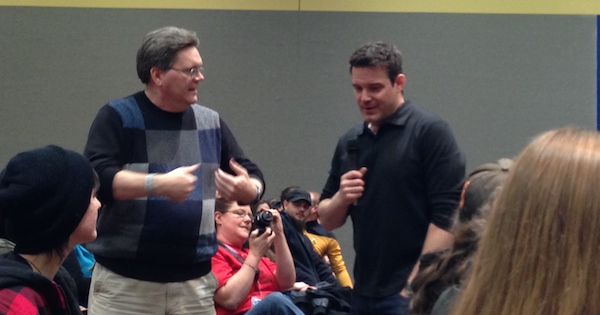 The other favorite memory of McClintock's is from the very first day he auditioned for Warehouse 13. He read with Joanne Kelly, and it was obvious to the casting directors that the two "had a special chemistry. Almost like a sibling relationship." Apparently, this chemistry is also obvious in their scenes from the show – it's a dynamic the fans in the room have also become intimate with.
Near the end of the panel, with McClintock among the audience, a fan asks about the reason behind the fate of the show on the network: "Since SyFy announced they would go back to their science-fiction roots, why would they cancel Warehouse 13, which is about as Sci-Fi as you can get?" McClintock answers, "Well, I think they meant that they're trying to make the network more family friendly. SyFy is just the whipping boy for Comcast, you know? If it weren't for Mark Stern [the President of SyFy], you wouldn't even be getting the last six episodes of Warehouse. They fought really hard."