'Wet and Reckless' Movie Review

Hollywood's run dry and they keep recycling the same old crap and messing up great source material. Sure, there's been some great works as of late; big budget movies that pan out in a way I am pleased with, but more times than not it's independent features that are catching attention. Whether it's a big budget Cloud Atlas or an under-the-radar Wet and Reckless, it's clear that the big studios might want to start taking note.
Everything written about Wet and Reckless will seem unreal beyond this point until you see it yourself. I am about to highly praise an incredibly odd film that was made on a budget Johnny Depp would laugh at and was released online via Vimeo on Demand. But whether you want to relate this to our loyalty to independent film (as outlined above), our obsession with The FP, or the three drink minimum the opening of the film asks of its audience, you may not understand how great this little flick really is until you watch it yourself.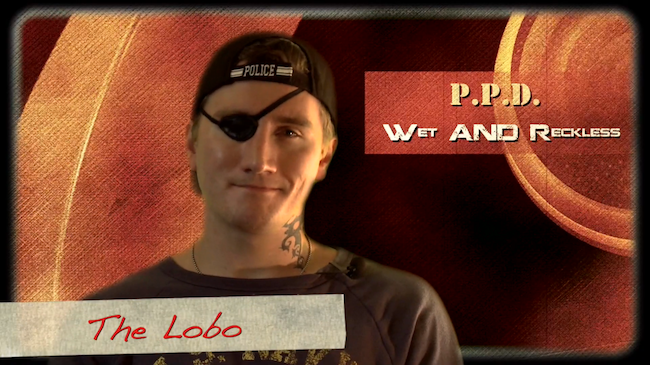 While shooting the fourth season of the reality series The P.P.D. (Pussy Police),  ex-Marine "The Lobo" (Jason Trost) and his pal, "Toby Dollars" (Lucas Till) find themselves in a serious predicament. Acting as spoiled brats for the first three seasons, partying to no stop and boring audiences with their repetitive and childish antics, combined with declining ratings, the creator of the show decides to stir some things up and creates some drama of his own by adding a female, Sonya (Scout Taylor-Compton), to the mix and sends them off to Thailand without any handlers or means of return. Lobo and Dollars wise up to the true motives of the producers though when they discover that the studio is ready to film the fourth season with a new cast- so long as Lobo and Dollars don't make it back in less than a week to start shooting the new season. Without much choice, the reality star whores decide to slow down their partying to try and get back home so they won't be dismissed from their contracts. Their plan? Follow "The Lobo's" treasure map he inherited from his father to gain access to untold treasure that will pay their way home.
With that, Wet and Reckless is masterful in every sense. The movie is hilarious and attacks a genre of television I have despised since day one. Much like in his other works, Trost does nothing here to say Wet and Reckless will be too serious, and nothing to say it won't be great, and just delivers a movie that is good mostly due to the fact the cast and crew had a blast making it.
Lucas Till and Jason Trost acted together in All Superheroes Must Die, and that familiarity lends itself to some fantastic chemistry throughout the movie. It's so strong that some scenes seem as if they had them worked out years in advance. Till's portrayal of "Dollars" is fantastic, as playing a spoiled child model who's grown up and wants the glory days still can't be easy. His whiney demeanor, his over confidence with women, and the fact that he still acts like a child was well done from open to close. Scout Taylor-Compton's Sonya was interesting as well. She was a flip-flop of a character, but clearly by design. Of the main three, the hardest to buy was Jason Trost's "The Lobo" simply because I can't see JTRO as that big of a jerk! Either way, The Lobo was a hilarious character that Trost did  deliver really well. His setup with "The Broom" and prepping "Dollars" for their adventures showed immediately what kind of character he would be. Hilarious.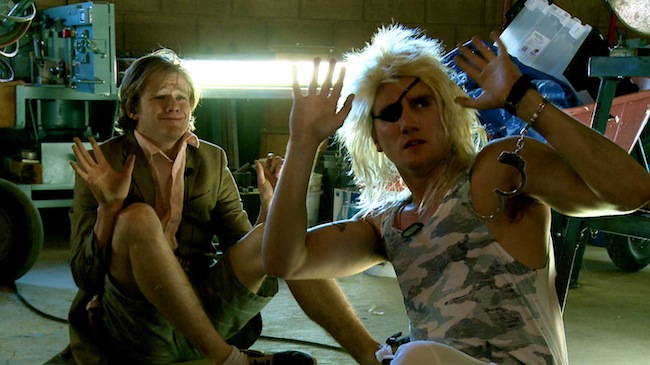 Complaints? If I had any it would be Budget. Budget. Budget. And I'm not just saying that, the movie was exactly what it needed to be but all I can do is imagine what it would have been had the budget been something more than the $20,000 that Trost and crew came up with. To extend this paragraph I could say the audio was a bit up and down, but that lends itself to the afore mentioned budget or mostly because I was watching it on a different source (Vimeo) which may not have lent itself to the audio a DVD or Blu-ray could.
Our blog's love for Drafthouse Films introduced me to The FP very early, allowing us to discover what Jason Trost is all about. Wet and Reckless is very much in that same league, which is saying a lot. At this point all I can say is I will now anxiously await the limited DVD and Blu-ray release so I can revisit it as much as I do the town of Frazier Park.