Kendrick Lamar Releases 'Black Panther' Tracklist

Marvel's two most anticipated feature films hit theaters this year, with Black Panther kicking it off.
As excited as people are for the movie, the soundtrack is also garnering plenty of attention. And today, Kendrick Lamar, who is co-producing the soundtrack in collaboration with Top Dawg Entertainment president Anthony "Top Dawg" Tiffith and director Ryan Coogler, has unveiled the official tracklist for the film on Twitter.
The album is filled with talent, including the likes of 2 Chainz, Future, Vince Staples and Anderson .Paak, Sacramento spitter Mozzy and Vallejo, K.Dot, Jorja Smith, and Khalid.
Black Panther: The Album drops February 9th via Interscope Records. Marvel's Black Panther hits theaters nationwide February 16th.
You can pre-order it now on Amazon.
---
Black Panther The Album
1. "Black Panther," Kendrick Lamar
2. "All The Stars," Kendrick Lamar and SZA
3. "X," ScHoolBoy Q, 2 Chainz and Saudi
4. "The Ways," Khalid and Swae Lee
5. "Opps" Vince Staples and Young Blackrok
6. "I Am" Jorja Smith
7. "Paramedic!" SOB x RBE
8. "Bloody Waters" Ab-Soul, Anderson .Paak and James Blake
9. "Kings Dead" Jay Rock, Kendrick Lamar, Future and James Blake
10. "Redemption Interlude"
11. "Redemption" Zicari, Babes Wodumo
12. "Seasons" Mozzy, Sjava and Reason
13. "Big Shot" Kendrick Lamar and Travis Scott
14. "Pray For Me" The Weeknd, Kendrick Lamar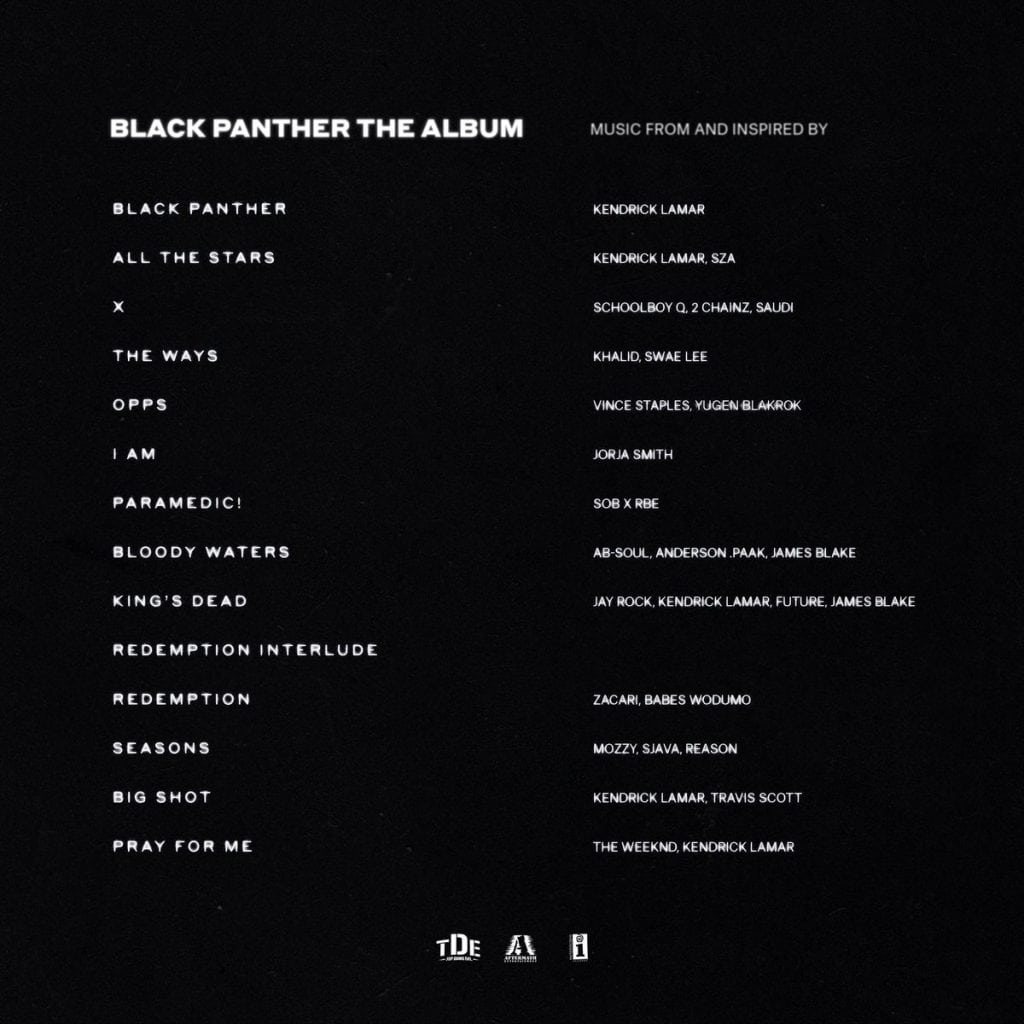 Iggy is immersed in the world of geek. From the statue covered shelves in his man-cave, to the collection of over 1,000 high definition movies, all the way to the the boxes of comics in his basement. He's interested in video games, collectibles, sports, comics, and books, but his true geek love is movies.