'Kingsway West #1' Comic Review

The rules of genre as they apply to comics have never been set in stone. For years, writers have experimented with genre-blending, achieving various degrees of success. Experimenting with genre is similar to testing out food combinations. I once had a General Tso's chicken burrito from a Chinese/Mexican restaurant; it was delightful. Sometimes smashing together divergent ideas can produce something new and innovative. Some would argue that creativity is routed in this concept. What happens when you take the tropes used in traditional fantasy stories and implant them into the wild west? Writer Greg Pak hopes to answer that question with his new series Kingsway West.
The issue opens with a map of the wild west. This is obviously not the wild west we know, but a re-imagined version. The topography is the same but the names of locations have been changed. The map features places with names like "the Golden City" and "the Dead Zone." Many fantasy novels and comics feature maps of their landscapes. This allows the reader to be pulled into the world of the story geographically. In Kingsway, Pak presents an alternate version of the classic American West.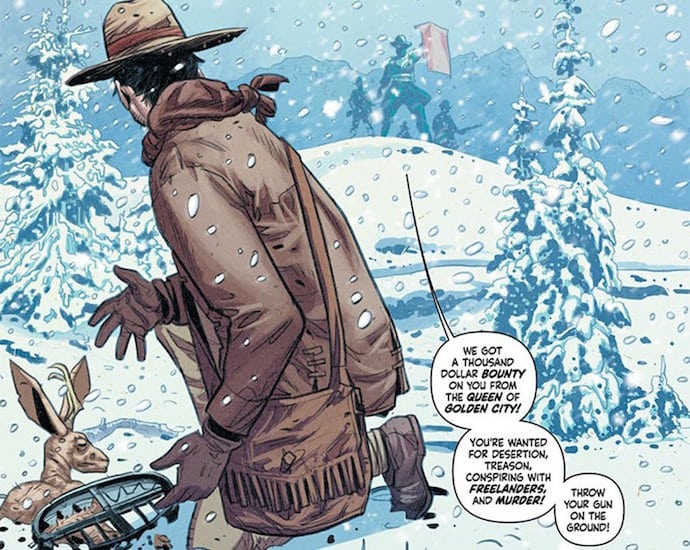 The protagonist, Kingsway Law, resembles the classic lone gunman. Stern, enigmatic, and dangerous with a pistol, he wanders the land trying to stay out of trouble. Unfortunately trouble seems to have a way of finding him. A greater conflict exists between the Chinese Dynasty and the Republic of Mexico. It's interesting how Greg Pak re-imagines the history of America. The great gold rush of the late 1800's was instrumental in shaping the face of America. In the world of Kingsway West, gold is now red gold. This rare mineral is not only precious, but contains magical properties that are very dangerous when employed.
Mirko Colak's pencils are sharp and engaging. He's tasked with drawing cowboys, soldiers, and dragons all in the same series. Wil Quintana's colors are very appropriate as well. The browns and blacks he uses illustrate the desolate landscape of the wild west with detail. Even though Kingsway is a mixture of the western and fantasy, it definitely leans more towards the western angle. The fantastical elements are peppered throughout the story, but at its heart this is a story about cowboys and outlaws.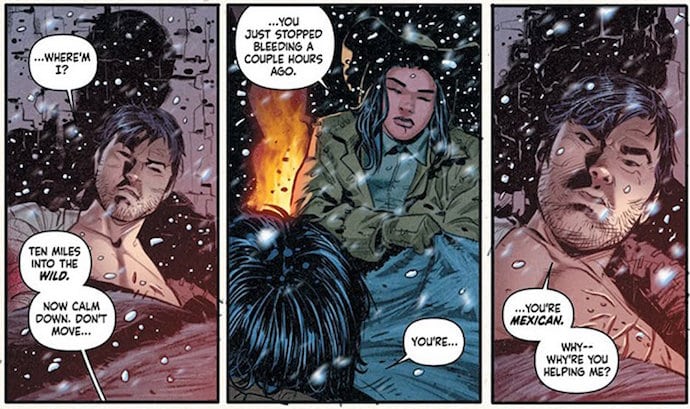 This is very a serviceable first issue. We get a solid description of the universe and the characters within. There is a love story woven into the narrative as well, and it's interesting enough to drive the plot forward. Unfortunately this issue features a series of time jumps that disrupts the flow of the plot. Pak could have taken this first issue and expanded to two or three issues at least, but I'm sure he has quite a bit of story left to tell. Pacing aside, this story sports a intriguing premise, mysterious characters and some fun gunslinging action to boot.
Mixing genres can prove to be disastrous if a writer is not careful. Thankfully, Greg Pak is up to the task. There are many different places this story can go and I'm interested to see more magic cowboy action. If the prospect of a re-imagined old west sounds intriguing to you, look no further than Kingsway West.

Alex is a and comic reviewer for Project-Nerd.

Latest posts by Alex Ampadu (see all)