Vote 'Cat in the Hat' this Election Year

It's Election Year. That means everybody and everything has to go political.
But Amazon and Dr. Seuss are doing something different with their political campaign; something that will impact charity.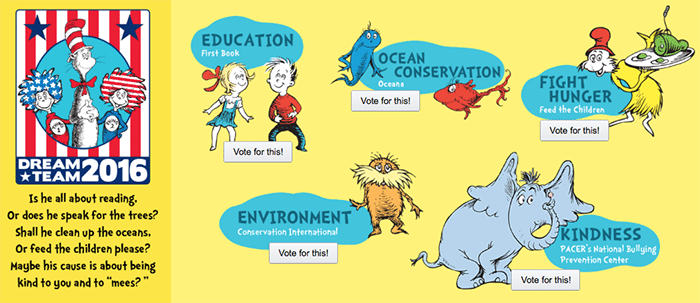 Amazon is hosting the Vote for Cat in the Hat for President Campaign.
Head over to Amazon and vote for your favorite charitable cause on the campaign page (photo above). The cause with the most votes will receive $20,000 from Dr. Seuss Enterprise and Amazon.
Pretty cool deal!
While you're there, check out some of the cool Dr. Seuss gear you can pick up while you're voting.

Iggy is immersed in the world of geek. From the statue covered shelves in his man-cave, to the collection of over 1,000 high definition movies, all the way to the the boxes of comics in his basement. He's interested in video games, collectibles, sports, comics, and books, but his true geek love is movies.