Suicide Squad Harley Quinn Finders Keyper
Keeping with the Suicide Squad theme this week, we have another awesome product based on the new movie, that sadly won't be ready until October 1st.
Even though there's a wait, this Suicide Squad Harley Quinn Finders Keyper is a great way for any Harley Quinn fan to keep track of their keys.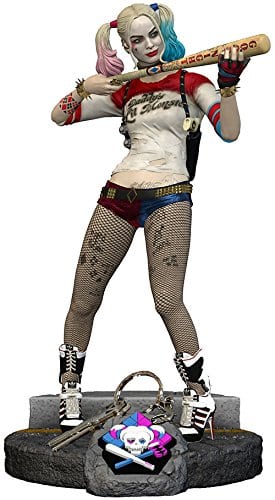 This Finders Keyper will give you a really cool place to store your keys. These 10″ statues are plastic and feature a removable key chain that nests in the base. Ridiculously highly detailed, with exceptional attention to likeness and paint, you can't hardly get anything this awesome for this price. And it watches over your keys! Great for display at your home or office.
The Suicide Squad Harley Quinn Finders Keyper is just $23.95 on Amazon for a pre-order of October 1st. And just like all Amazon goodies that you can pre-order, there is a low price guarantee.

Iggy is immersed in the world of geek. From the statue covered shelves in his man-cave, to the collection of over 1,000 high definition movies, all the way to the the boxes of comics in his basement. He's interested in video games, collectibles, sports, comics, and books, but his true geek love is movies.