'Lady Snowblood: Song of Vengeance' Criterion Review

Hey Folks! This week we are following up on our movie from last week, Lady Snowblood, with our review of the sequel, Lady Snowblood: Love Song of Vengeance (LSLSV).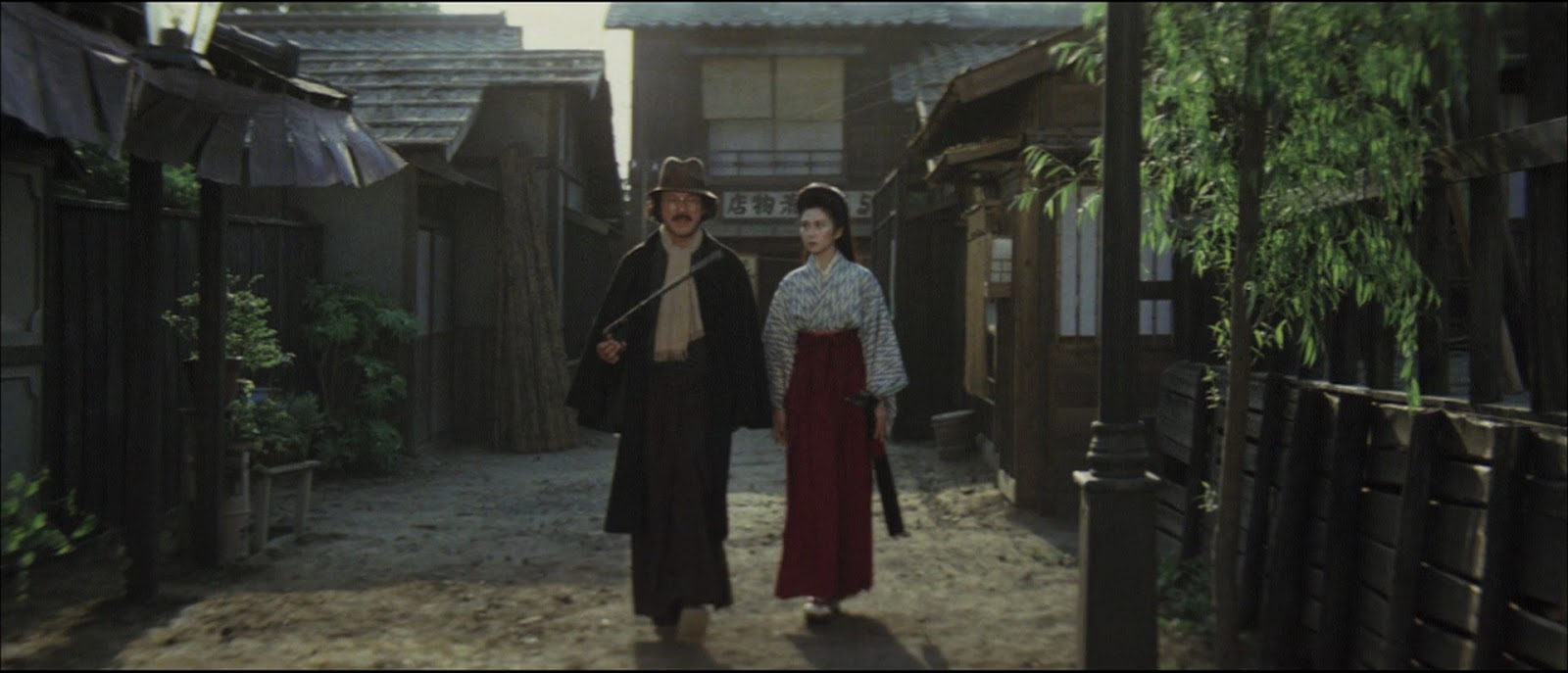 Lady Snowblood: Love Song of Vengeance was released on June 15, 1974 and brings the familiar face of Meiko Kaji back to the silver screen as our heroine, Lady Snowblood, as well Toshiya Fujita in the director's seat. With the original Snowblood having a winter release and the sequel being a summer release, this may have impacted numerous factors of the film; audience, content, and expectations. Many feel the sequel, although both enjoyable as well as watchable, fails to deliver on all fronts, which is something we will visit later.
Right out of the gate, Lady Snowblood: Love Song of Vengeance instantly feels like a different film than its predecessor; only being released a year apart, the film looks, feels, and even sounds different. The sequel is set roughly a decade or so after the events of the first movie, and similar to the first film, to have a better understanding of the film, first we must have a small history lesson. LSLSV is set around the turn of the 20th century with the country of Japan in the last throes of its fight against modernization. With Japan coming off the battle high from its victory over Russia, the country is faced internally once again with catching up with the rest of the world to become a more industrial and modernized nation. Here, we are seeing backlash from the government and small militant and local anarchists fighting to retain their way of life. And insert our Heroine Yuki, who, even a decade later, is still on the run from her crimes and from her past. As the first film was focused more on seeking revenge for her mother and her family, LSLSV's central theme focuses more on vengeance and seeking justice for those who have been wronged.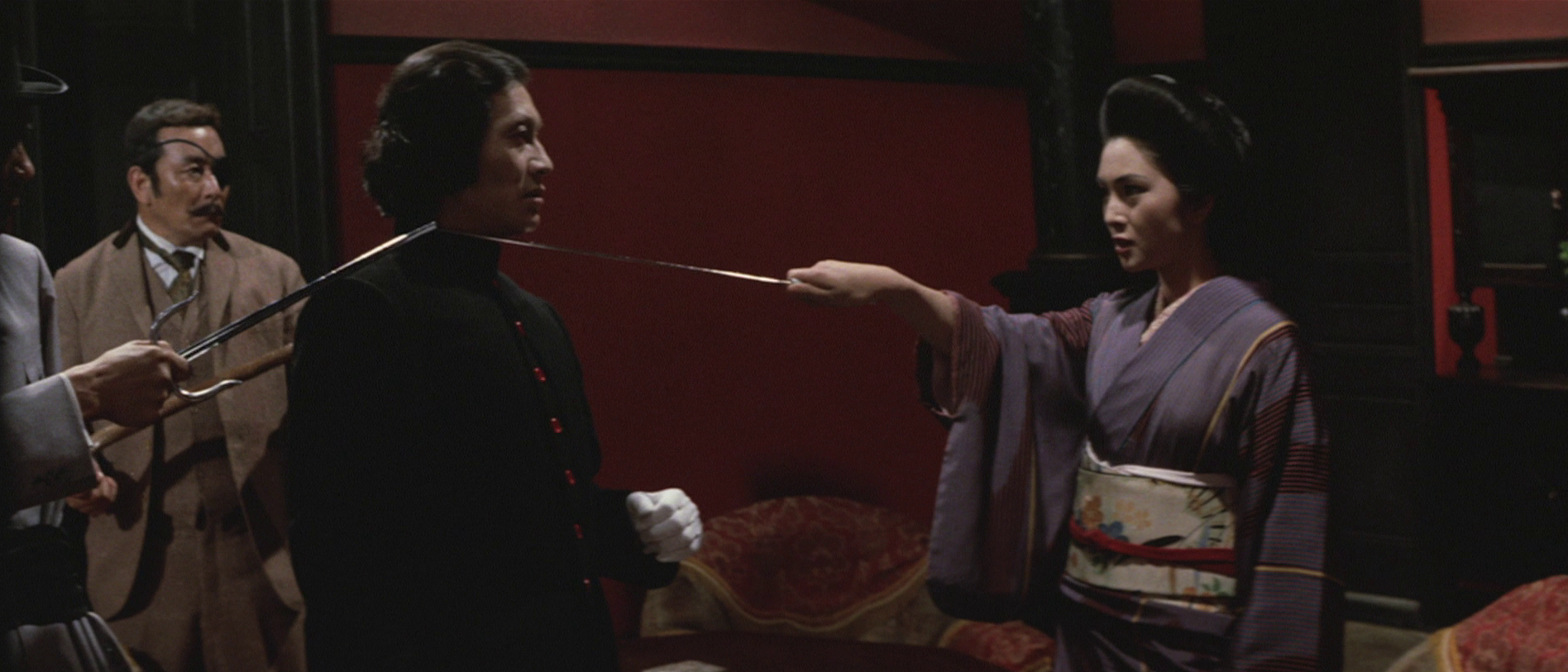 Our film opens with Yuki visiting her mother's grave, as if to seek some solace and peace of mind, when she is quickly encircled by dozens of assailants. With a flick of her wrist, she unsheathes her sword, cutting them from neck to hips, spewing a geyser of blood and cries of agony. Her assailants swarm around her in a dance of death, but Yuki is tired from running for almost a decade. With feelings of desolation and a void in life, during a quarrel with the police, Lady Snowblood submits and is captured. However, during her arrest, she is saved by a secret police force, oversaw by Kikui Seishiro (Shin Kishida) who wants her to work for him and infiltrate the home of Ransui Tokunaga (Juzo Itami), a political and radical anarchist.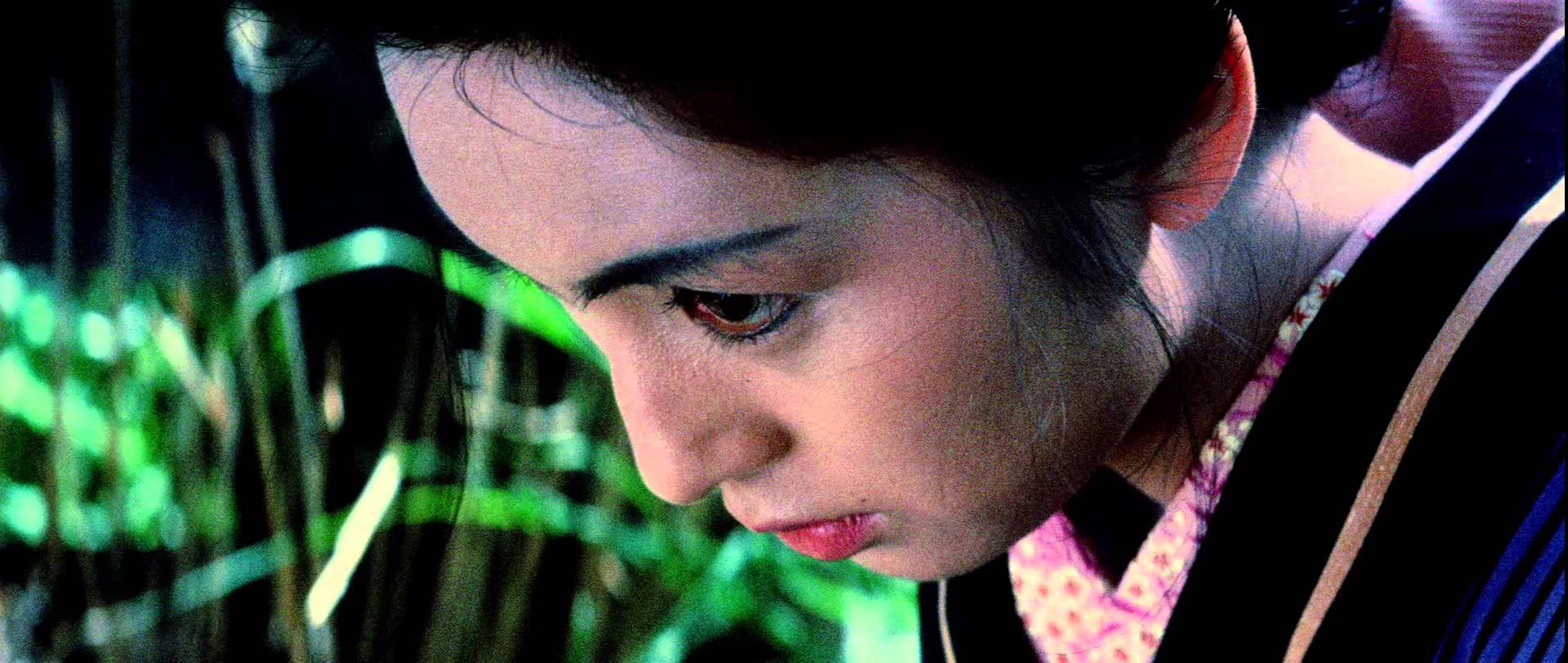 Seeing as how they saved her neck (literally, seeing as how she was going to be hanged for her crimes), Yuki takes the assignment and pretends to be a low-wage maid to infiltrates Ransui's home in search of a document sought after by the secret police force. Rather than kill Ransui and retrieve the document, Yuki begins to sympathize with his ideology and identify the corruptness of the government. Now here is where we see the shift in film theses; Yuki is now seeking vengeance against the crooked and rigged political system, and with this shift, we begin to see a large shift in character in Yuki. Transforming from hell-bent revenge and an icy death stare, Yuki now comes across as a more down-to-earth guerilla warrior, even more so when wielding her sword.
Though I did enjoy watching the film, for whatever reason that still escapes me, the movie just didn't sit right; there was hacking and slashing and gushes of crimson, but overall, it just didn't feel like a Lady Snowblood movie. As I briefly mentioned above, the film is way more plot intense than the previous film; the first film was a simple, yet fulfilling, tale of revenge and justice to those who wrong the innocent. The second film takes more of a left turn and quickly becomes a political drama. In fact, it felt as if Fujita was trying, but not adequately delivering, an homage to Kurosawa and adopt his stylistic approach and sometimes political tones. This overly plot-heavy feel of the film has often been the greatest complaint of the sequel as it is the biggest difference between the two films. For me, I can definitely second it; there were times were I was trying to figure out where the story was going, where was Yuki, and what was happening amidst this political turmoil, and the struggle between the corrupt and the disenfranchised.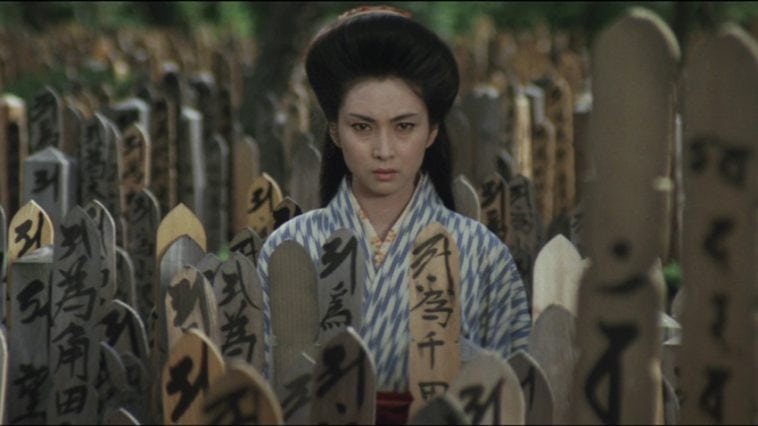 Another major critique of the film is that it is a slow burner; certain scenes, and at times, the overall plot of the story, seems to drag on for eternity. For those riding in from the first film will instant notice a lack of action in LSLSV. The film is dialogue heavy in comparison, but sadly, most of this dialogue is not from Yuki (until the very end). Yuki, for what seems a large part of the film, is nothing more than a secondary character and doesn't have that fire and panache she did previously. Most of the early scenes focus on Yuki and her piercing eyes, but nothing more. We see Fujita's attempt to tell the character that Yuki is still the main person of interest in the film, but does a poor job of explaining why. This is where my notion comes from that although this was labeled as a Lady Snowblood movie, it just doesn't feel like one.
A few downfalls of the film for me was the lack of feeling; with what little action the movie had, it wasn't particularly too thrilling or exciting to watch. It was just some slashes and a few gunshots and then battle over. Another downfall that stood out to me was general choreography of the fights and of the movie as a whole; Yuki is shot literally half a dozen times and does nothing more than a turn and flinch (really?). In comparison to the first film, the sequel seems forced, faked, and just faulty overall.
Now that the majority of the pitfalls are out the way, let's talk about some of the good stuff from Lady Snowblood: Song of Vengeance. The cinematography is phenomenal parallels that of the first film; every shot is perfect and needed for the film. One of the scenes that instantly stood out to me was in the beginning as Yuki fights her assailants on the beach; we switch back and forth from an aerial shot to on the ground and see the openness of the circle, coupled with the openness of the ocean as the waves crash in the early morning…just an amazing scene.
Lady Snowblood: Song of Vengeance, despite having numerous pitfalls is still an enjoyable movie to watch. I would suggest to those interested in watching the two should set aside some time on a weekend afternoon and knock them both out; just don't put all your eggs in the basket thinking the sequel will be better.
Lady Snowblood: Song of Vengeance  can be streamed now on Hulu or purchased on Amazon.
Jorge is an odd one for sure, but fits in with the team easily because of it. He's a fanatic of anime, music, books, and video games and is using this year to catch up on the many great films he's missed.