'Pirouette' #1 Comic Review

Created & written by Mark L. Miller; Pencils & inks by Carlos Granda; Colors by El Cómic en Línea Foundation; Lettered by Jim Campbell
---
When your whole world is a stage, what happens when you want to wash off your make-up and just be yourself? Pirouette is the story of a 15-year-old girl, the eponymous Pirouette, who was trained to be a clown since birth. There's just one problem: she wants nothing less.

Pirouette lives with her crooked father "The Duke" and her shrewish mother "Lady Columbine," all of whom work as clowns in a traveling circus during (presumably) pre-WWII. The story begins during a terrifying daydream of Pirouette's, where she is so desperate to remove the clown make-up. In the dream, this make-up is permanently adhered to her face, and she actually tears her skin clean off. Horrifyingly, this is all to no avail as the skin—make-up included—immediately grows back.
She is awakened rudely (though I can't imagine Pirouette's not a little grateful, at least) by her mother who shrilly commands her to return to work entertaining the circus crowd outside the big tent. Pirouette is quick to put on her game face; she lets her precocious side shine through by throwing juggling balls at a cruel animal tamer and making a little girl laugh by pretending to lift an elephant–through forced perspective. The crowd is quick to turn on her when she accidentally makes the same little girl cry because, let's face it, clown make-up is terrifying.
As we continue to follow Pirouette in a regular show day with the circus, we learn she has few friends and allies among the circus folk. She is bullied and made fun of by the star trapeze artist and both her parents for even dreaming about the possibility of performing on the trapeze herself. But does Pirouette let that get her down? Well, it does admittedly get her down a little, but she most definitely doesn't let her tormentors see this (being more of the 'get even' mindset than getting mad or sad).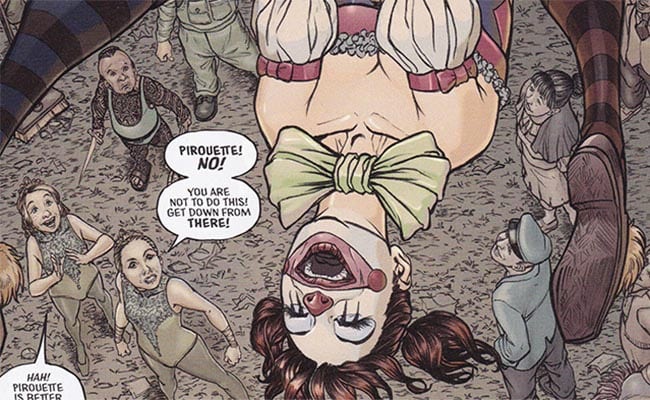 The artwork in Pirouette is lovely and suits the story perfectly. Everything is done in full color, but not bright, sharp colors like many other comics around. The coloring in Pirouette is more subdued with a lot of brownish hues making everything appear older and dustier, reminiscent of an aged circus show poster. The characters and backgrounds are also done in a realistic style that adds to the underlying sinisterness the lights, flashy costumes, and clown make-up are meant to hide. I just can't state how perfectly the style and coloring fit the story.
Overall, I really enjoyed Pirouette #1. The story's protagonist is plucky and relatable and elicits sympathy through her (frankly) rotten "home" life. If you enjoy the frightening allure of old-timey circuses, strong heroines overcoming adversity (from both her family and peers in this case), or even a character's journey to self-discovery, then Pirouette is definitely for you.
Anne was that quiet kid you knew in middle school who always had her nose in a book.Since then, her nerdy interests have expanded to comics, movies, attending conventions, and cosplay.So now she's that quiet lady you know from work or whatever... who always has her nose in a book.