'Welcome to Showside' Vol 1 Review

Welcome to Showside is a brilliant mixture of silly humour and Steven Universe-esque artwork. It's light and fluffy, intertwined with magic and mystique, and above all else Welcome to Showside is about one of the things that makes existence what it is: friendship.
The basics: Kit and his two best friends, Belle and Moon (and their assortment of fantastic beasts of course), spend their days lounging on beaches, chasing after food trucks and just having fun. But Kit's the son of the Shadow King. So amongst the food trucks and beach adventures, Kit and co. are working hard to make sure balance remains in Showside with a combination of magic, absolutely no seriousness, and of course the power of friendship.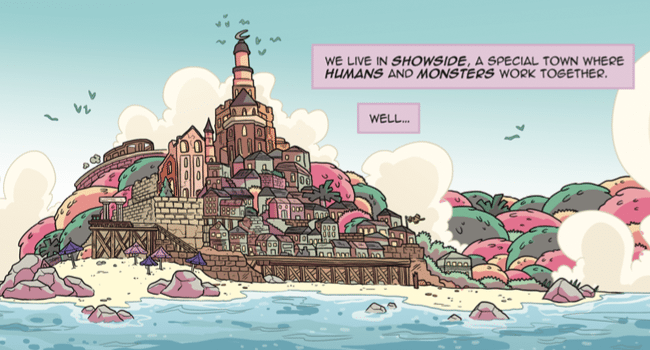 Naturally, hilarity ensues.
Welcome to Showside is goofy without coming off completely ridiculous: it's a perfect balance of story and silliness, showcasing relationships between characters, taking time to introduce us to the individuals, fantastic creatures and long-lost lands that fill the pages. It takes every opportunity to poke fun at…well, everything. One of the best parts of the comic is that it makes a point to mention tropes often used in common media. A villain picks up a necklace on the beach and gets possessed by it (as a food truck owner held captive by it says 'AUGK. THIS GUY IS REALLY EVIL! HE'S WEARING A BIG NECKLACE!).
Belle and Moon discuss in a later issue needing some 'teen book backup'–but Belle is quick to assert they 'don't mean post-apocalyptic romance, either!' (personally, this is probably my favourite line in the entire volume). After Belle's brother does an introductory monologue, Kit asks him if he's 'gonna just stand there like some sort of introductory narrator.' These are just a few examples of how hilariously self-aware Showside is. This makes for a delightful reading experience as we get to know the universe and the characters that inhabit it.
And that's only a sampling of the great dialogue.

Here there are wacky but endearing characters like Mayor Mayer, the gloriously oblivious mayor of Showside, a demon secretary named Frank that takes the form of a floating skull and works for Kit's father, and the other non-human characters Teenomicon (a sassy book) and Boo (an adorable blue monster whose dialogue is depicted through pictures). Showside is a great example of a happy balance of great character development and world building.

I can't say enough good things about Welcome to Showside. Colourful, corny, extremely well written, and an intentionally dark storyline set against bright, hilarious characters and settings… Showside is the kind of comic that will continue to excite and please.
Ian McGinty hits it out of the park. Go have a spooky bagel.

Sarah is a geek through and through. She is an avid reader, gamer, traveler and photographer, and tries to squeeze all these things in while attempting grad school.