Star Wars Revisited Part II – 'Episode I: The Phantom Menace'

Welcome back to Star Wars Revisited! For this edition, I watched The Phantom Menace. I didn't go into the movie with very high hopes, but I remembered that some parts of the movie really stood out. Let's dive right in.
The opening scroll sets the stage for a Republic that, while not at peace, is definitely a happier place than the galaxy ruled by the Empire that we saw in A New Hope. There are rumblings and stirrings, but let's face it–you can't make everyone happy. In this case, it's the Trade Federation that isn't happy, so the Republic has sent two of their most cunning Jedi, Qui-Gon Jinn and his padwan Obi-Wan Kenobi, to negotiate with them.
The Federation is instructed to kill the Jedi and commence the invasion of Naboo by the hologram of a mysterious cloaked figure that I bet we'll see again later. The Jedi fake their death and sneak down to the home planet of Queen Padmé Amidala. When they arrive they meet Jar Jar Binks, a character that I was determined to give a fair chance, and the secret Gungan city. Ultimately they are able to escape with the Queen before the invading droid army reaches the palace.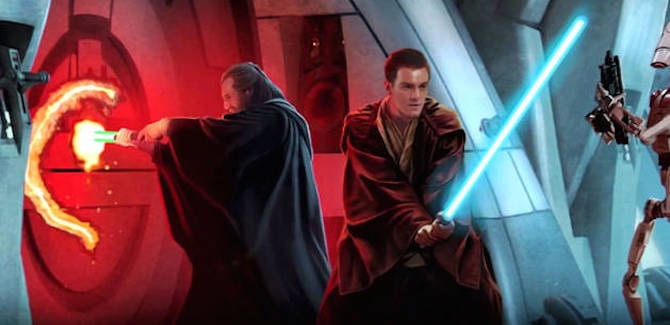 Much like A New Hope, this movie starts off with great spectacle. I loved watching the two Jedi take out swarms of droids, but ultimately I couldn't help wondering whether Lucas chose to use a droid army simply to keep the death toll to a reasonable amount for a PG movie. Ultimately even with the spectacle, this section drags on. It takes too long to get them off of the planet and onto their journey.
Speaking of their journey, as soon as they leave Naboo their ship is damaged and they have to stop on a nearby planet for parts. Luckily the planet is Tatooine and while they're there Qui-Gonn has a chance meeting with a young slave named Anakin Skywalker. Anakin wins a pod race to win Qui-Gonn the parts that he needs, and Qui-Gonn is able to free Anakin through a bet with his owner.
Again, this portion really seems to drag, but it fits with the Tatooine scene in A New Hope. Maybe it's just a lazy planet. I seem to remember not liking the pod race sequence, but I couldn't remember why so I paid close attention this time around. When it started, all was well. I enjoyed the first lap. The problem was that there were two more laps to go. The visuals are fun, but there is no dialogue for minutes at a time. Even just some commentary from the Greg Proops announcer would have helped. Like most of the movie, however, Lucas decided to lean on visuals and skip the substance. It made for a fun N64 game.
The group finally leaves Tatooine after a brief encounter with a sith and head to Coruscant to meet with the senate. Blah blah blah government talk and suddenly Padmé's cohort is Chancellor of the senate, so the crew return to Naboo knowing that the government will take too long to change anything.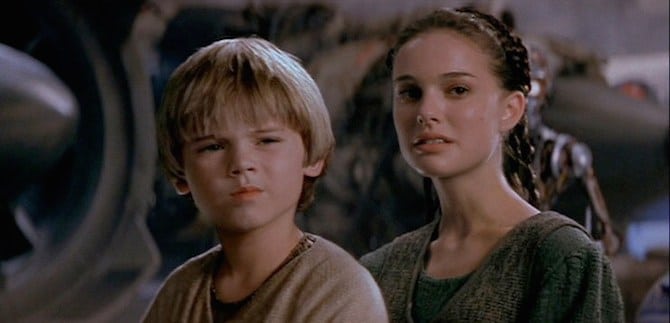 They return to Naboo and enlist the help of the Gungans to capture the viceroy of the Trade Federation and end the war on their planet. Jar Jar is named general and accidentally takes out a bunch of droids. Anakin accidentally flies up to the Trade Federation's main ship, accidentally destroys it (which of course leads to the whole droid army shutting down for some reason), and gets out before the whole thing explodes.
While happenstance was occurring outside of the palace, Qui-Gonn and Obi-Wan are fighting the sith, Darth Maul. Qui-Gonn is killed, but Obi-Wan slices Maul in half. Meanwhile, Queen Amidala captures the viceroy and expels the Trade Federation army with the help of the Republic. They all live happily ever after. Except for Qui-Gonn, who only had a one-picture deal. And probably Obi-Wan, since he didn't trust or like Anakin and now he's stuck with him as a padwan for Qui-Gonn's dying request.
Just as in A New Hope, there are basically three sections to the movie (Naboo, Tatooine, and Naboo again) and each has fun elements (badass Jedi fighting, pod race, badass Jedi fighting), and they are again strung together by weak dialogue and a mediocre plot.
Lucas has said repeatedly that he made the prequels for children, but did he? Aside from the CGI the movie is a lot of people talking about trade sanctions and the operation of the Republic government. Children don't understand that. I was a teenager when the movie came out and even I didn't understand it. Maybe Lucas felt he had to add something for the adult fans that grew up watching the series, but the only people that care about government and trade sanctions work in the government. They probably don't want to watch a movie about how it also happens in space. I do think there are some parallels that can be drawn between the movie and the current US government, but I'll leave that for a Political Science major. I was a film student, so I'll stick to that.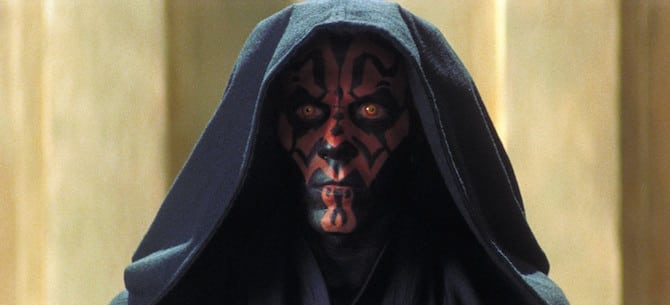 The CGI wasn't great either. It seemed like Lucas had aspirations to make a movie like what would one day be Avatar, but in his rush to do so he didn't let the technology advance enough. The shading and depth of the animations is just not there and it doesn't feel in place with the rest of the movie. When characters walk, their feet slide along the ground. It's really weird to watch and more distracting than anything.
There are some highlights. Much like A New Hope, the movie is carried by a few good actors surrounded by really bad ones. Liam Neeson and Ewan McGregor turn in great performances and Natalie Portman is okay. Even Terrance Stamp shows up for a few scenes. These four have been nominated for a lot of awards through the years, and even won some. They definitely bring something to the movie, but they are almost overshadowed by how terrible everyone else is.
I do see what Lucas was trying to do as far as creating parallels between Luke and his dad as they both begin their journey with the force. I feel like a little bit of outside help would have made the movie better. It could have been cut down to 90 minutes pretty easily, which would have kept the story flowing. He seemed to approach the film as another independent venture instead of the summer box office tent pole that it actually was. He just needed someone to tell him no on occasion.
Though I didn't care for Anakin, he means well. I'm looking forward to seeing him betrayed and murdered by Darth Vader, who I'm assuming takes over for Darth Maul. That should make for some good storytelling, but first let's check back in with Luke and see what he and his friends are up to. Next time we'll jump back to The Empire Strikes Back. It sounds like there might be some fallout from breaking the bad guys' new toy.

Nearing not-so-middle-age, Brandon is on a quest to find himself through the entertainment he grew up with. As deep as that sounds, he's really just using that as an excuse to watch movies. Brandon can also be found on the web series, Billy & Brandon Watch Movies.

Latest posts by Brandon Yotter (see all)