New Comics Wednesday: March 30th Edition

Every Wednesday, Project-Nerd's press partners give me the comics. I read the comics. And then I pick out the best ones and try to get you to read 'em as well. Hopefully it works.
Also—yes, I understand the coincidental nature of discussing the theme of "change" in a series about robots that change into vehicles.
Here's this week's comics:
---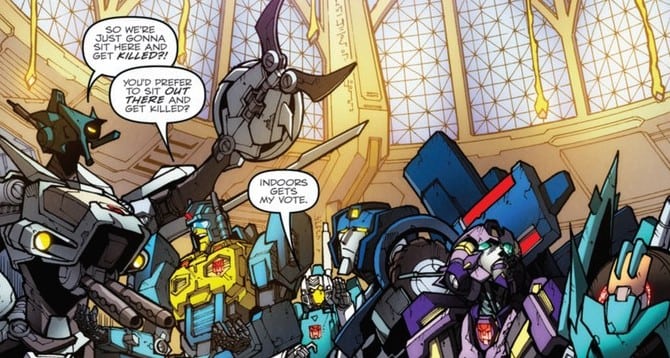 Transformers: More Than Meets The Eye #51 (IDW)
written by James Roberts; art by Alex Milne; colors by Joana Lafuente; letters by Tom B. Long
There's a thing about bettering yourself that no one really anticipates. Change involves a very long, direct look at yourself in the mirror and the way your actions of the past have affected the people around you. It involves truly owning your past in a way that's paralyzing to most people. Change is incredibly uncomfortable for a long period of time.
A while ago in More Than Meets the Eye #44, a recently defected Megatron stood under a statue of himself in a field covered in millions of blue flowers, each representing one life that he had taken. It was a stark visualization and a moment of awakening for the character that comes to fruition in this issue, which finds a bunch of the Autobots—including Rodimus, Megatron, Getaway, Swerve, Ten, Rung, and Ravage—trapped on the same planet as that field, with Tarn and his brutal Decepticon Justice Division bearing down on them.
This was another fantastic issue of this book, which continues to be one of the smartest and most engaging series from month to month. I've talked in the past about how deeply it explores a number of themes, but the impressive part is how Roberts is able to juggle the vastness of the Transformers mythos and keep it relatable. Every character is someone you've met, and every situation is one you've heard about.
And they're all gigantic, millennia old robots that turn into planes and cars.
Megatron's decision to "make amends," as he put it in issue #30, initially felt like a survival tactic. He was put on trial and, through atonement, sought to extend that trial indefinitely in order to spare his own life. Twenty-one issues later—nearly two years of comics—we see that change take hold in a very convincing way.
I, for one, truly hope it sticks—because if Megs can do it, that means there's hope for the rest of us.
---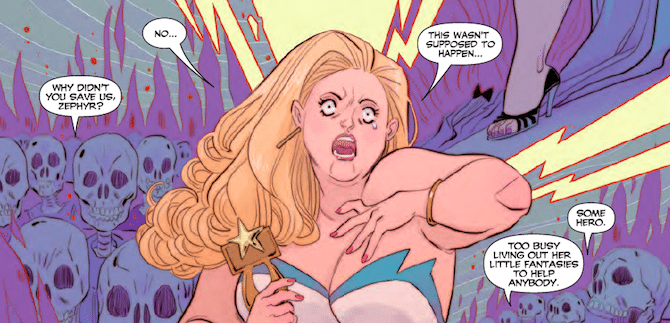 Faith #3 (Valiant)
written by Jody Houser; art by Francis Portella and Marguerite Sauvage; inks by Terry Pallot; colors by Dalhaus & Spicer; letters by Dave Sharpe
Jody Houser just took this book from good to great.
Originally, my reviews of this book, while positive, centered around it being a simple, enjoyable superhero story—the sort of thing that's kind of difficult to find these days. It was a light-hearted book with a dark undercurrent that featured an unconventional protagonist struggling with her insecurities while striving to be a great superhero. The premise had been done a million times, but Faith was such a well executed book from the top down that it demanded your attention.
In this issue, however, Houser introduces a brilliant, completely unseen twist that means this book is about to go off the rails and get far more complex. And with stakes this high, Faith is going to have to mature pretty quickly as a solo act or start pulling in help from some of the rest of the Valiant U.
That brings me to another great thing about this book—it continues to build on the strength of Valiant's shared universe of characters. The new Valiant U is still in its primordial stages, and the creators of these books are working together beautifully to keep it coherent and contained.
If you haven't been reading Faith, you need to order the first two issues from your local comic shop before you get too far behind.
---
Also available this week:
Boom! — Munchkin #15
Dark Horse — Conan The Avenger #24, Fight Club 2 #10, King Conan: Wolves Beyond the Borders #4; Pastaways #9
IDW — Back to the Future #6, Ghostbuster International #3, Godzilla: Oblivion #1, Jem and the Holograms #13, Judge Dredd #5, Ragnarok #8, Skylanders Superchargers #5, Street Fighter x G.I. Joe #2, Teenage Mutant Ninja Turtles Deviations One-Shot
Alterna — Freelance Blues #2
---
Project-Nerd is a press partner of BOOM! Studios, Dark Horse Comics, Dynamite Entertainment, Alterna Comics, Valiant Comics, and IDW Publishing. If you would like to see your studios' content included in our weekly release article, please contact our editors.

Matt Carter is a Seattle based writer and illustrator who self medicates with comics at an alarming rate of $50 per week.

Latest posts by Matt Carter (see all)