Lightsaber Fitness Classes: Enroll Today

If you ever heard the term "train like a Jedi" and wish it meant something more, your wish has been granted.
Padawans everywhere are training in new Lightsaber Fitness Classes that are popping up everywhere from New York to Hawaii.
"Working out with a lightsaber involves a mix of cardio and body-weight conditioning," said Keith Mylett, instructor at the Hawaii Jedi Saber Academy (part of a gym called Precision Parkour) in Honolulu. "The workout – which is similar to any type of martial arts traininginvolving staffs, swords or sticks – targets the muscles in the upper body."
Mylett's class uses 3 to 5 pound lightsaber staffs, with these future Jedi Masters doing all kinds of exercises that tone their upper-body and legs.
"Each class begins by warming up the arms and wrists. Then, the students are taught some basic lightsaber movements, focusing on proper form, aim, speed and power," Mylett said. "Next, the instructors teach the choreography of the workout using a number system so students can remember the moves before partnering up to practice."
The classes range from Padawan training which uses a two-hand technique called "Shii Cho" while the Jedi Masters move on to "Soresu Style" which is a more defensive style featuring more flair and advanced moves.
But even with all the vigorous routines, a class training in the way of the force wouldn't be complete without the final 10 minutes including some peaceful meditation.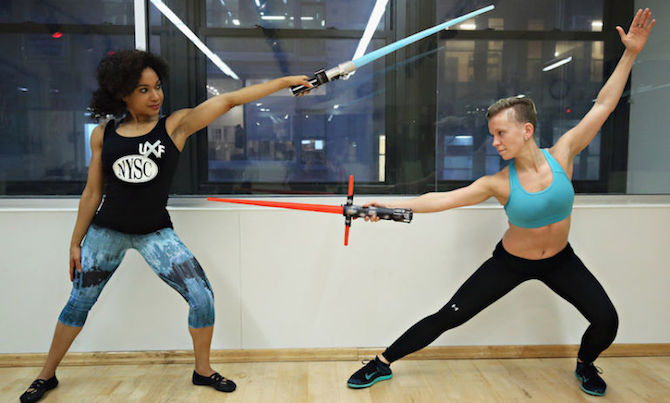 Via Live Science

Iggy is immersed in the world of geek. From the statue covered shelves in his man-cave, to the collection of over 1,000 high definition movies, all the way to the the boxes of comics in his basement. He's interested in video games, collectibles, sports, comics, and books, but his true geek love is movies.