Interview with Director/Producer Anthony Ferraro

Eclectic director/producer, Anthony Ferraro, takes us on a tour of his newest creation!
---
Antagonist Movement: Tell us about yourself and your prior work.
Anthony Ferraro: I was born and raised in Schenectady, NY. Went to college in Manhattan for acting, got my Masters in Directing from RADA/Kings College in London. Started in theatre, made music videos with The House of Borax in the 90's—notably Ben Folds 5, Bracket, and The Del Rubio Triplets. In 1999 I created a series of B&W clown films but that's another story. In 2000's, wrote & directed two Mumblecore features, a few shorts, and was producer/editor for Al Gore's Current TV.
AM: What is the new project?
AF: My new project is Galactic Galaxy, an irreverent sci-fi web series about a disco junkie who must seize his destiny, get off space dust, become Space Werewolf & save the galaxy.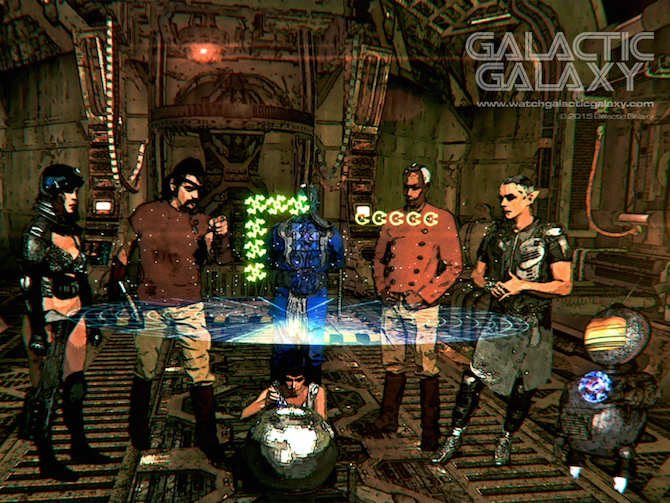 AM: Tell us about your influences and what lead you to make this project.
AF: My influences come from all over. Everything from Matthew Barney's The Cremaster Cycle, Joseph Campbell's The Monomyth, Heavy Metal Magazine circa 1977-1980, Jean "Moebius" Giraud, Alejandro Jodorowsky, Philippe Druillet, and Glen Cook's The Black Company come to mind but the truth is all sort of books, comics, movies and these days lots of episodic TV. As far as films, there are three movies I watch obsessively and are touchstones for my work. Excalibur, 1981, directed by John Boorman, The Outlaw Josey Whales, (1976, Clint Eastwood), and The Three Musketeers (and The Four Musketeers), (1973 and 1974, Richard Lester).
When I sat down to write Galactic Galaxy I new I wanted to follow Joseph Campbell's "hero's journey" as a street map and I decided that I would just write stream of consciousness, that is why it is irreverent and there are space discos, a space werewolf, snail warriors and lots of other odd things. Initially, it was great exercise in "it's all good" because it is so irreverent—it is constantly nodding to all sci-fi from film, TV & print all the time. But that is what is fun about it I believe. There is a long tradition of heightened reality from Shakespeare to Star Trek and, as they say, I am not comparing my work in the slightest to those, not for a minute. But the idea of saying and doing these fantastical things but playing it totally straight is entertaining to me and I think is a great way to get to the truth or heart of some human conditions, shared truths and core feelings.
AM: What makes your work different?
AF: What makes my work different is simply it's my own imagination brought to life. Technically I am interested in the details but not reality or plausibility. And I think what makes my work unique, on one hand I will obsess over style, a costume detail, the color, and the texture, what it means to the character to the telling of the story. I am interested in composition of the frame, the subtext of a moment, visually and physically. On the other hand, in that same breath, if the character is a soldier I just want him to look like a soldier—I'm not concerned with mixing and matching elements from different eras, or the science of how the gun actually works or why he or she would stand a certain way. I love making things up and then justifying them later. I'll name a planet or alien race from the first thing that pops into my head. I won't labor over origin and culture. I will eventually figure that out but the fun is just inventing it from an absurd place then making sense of it later. It's like putting together a puzzle from pieces you created one at a time and when you get closer to completion you have to custom make a few pieces to fit the whole thing together. And a few pieces have to bend to fit. For me, I am excited by the "fiction" in science fiction. I like to have bizarre ideas and play them straight.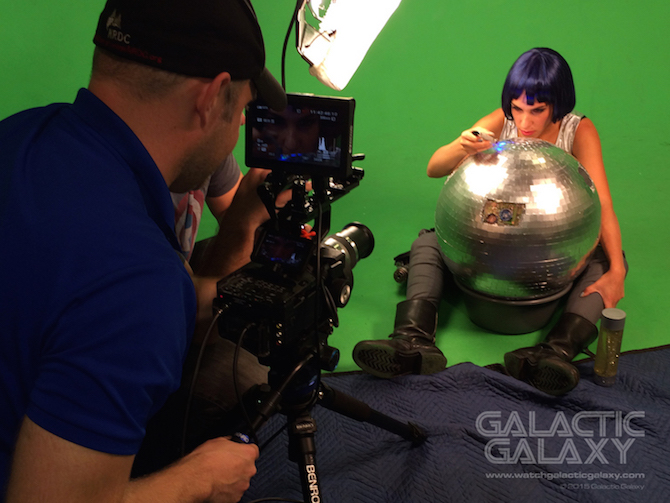 AM: Tell us about the process of making your videos?
AF: What I like about sci-fi is you really need concept art to get the ball rolling. Obviously it starts with the script. I do not get obsessed over the written page. To me it's one element. I get something down on the page and revisit it only a few times and usually in the end collaborate with someone on the final draft. I was lucky in this case to have John Plunkett to help out on the final draft. Then with the art we start with the main characters and maybe a ship or planet. I work with an amazing artist in Los Angeles, Farron Loathing. Once it comes out of your imagination and then filtered through the artist's interpretation it becomes real. You start to imagine these characters more fully. Then we storyboard and again it is another element, all these creative layers toward one goal gain momentum and slightly morph into something else each step. The storyboards are exciting because the story starts to come to life.
Because this is sci-fi it was decided it was best to do it all on green screen. Black Box theatre is basically a play where the actors only have the costumes on their backs, whatever props they need in their hands, and a table or chair. The rest is on a black stage and imagined by the audience and actors. Green screen is the same thing, more or less. It was decided early on for budget limitations at first that we would make the final project a rotoscope, like 2D/3D animation hybrid. The live action would be turned into an animation through software and the ships and environments would be built 2D/3D in the computer. It is still time consuming but much more effective on a low budget. If we were going for photorealism with no money, well it would look wonky. But the beauty was in the end the look is really what is exciting about this series. So…we shoot on green screen. The performances are edited together, then they go to a motion graphics artist who comps them into the appropriate environments. Then sound design and then music. The music and sound design are essential in the finishing process. They are the last touches that are too often ignored on tight budgets.
AM: I know you have handmade a lot of parts for this project. Can you tell us a little about that?
AF: For me personally I have always loved the costumes and props. When I was kid my grandmother had a sewing machine and I used to make costumes all the time. So with sci-fi part of my process as the creator/director is to actually make the costumes and props myself. I know lots of directors famously draw and sketch. I don't really do that but I build props and make costumes and oddly that has become my sketching process, if you will. By realizing the costumes and props I realize the characters. The script was written and I had storyboards for my teaser scene but I just couldn't get started. As soon as I started building the Skull Warriors costumes and developing the hair and mustache look for the Dark Lord I was off to the races. I'll share with you a tip: sci-fi warrior/soldier costumes on a budget. It's a combo of motocross gear/paintball gear/ hardware store bits and bobs, and Nerf guns. Just sand it all down, ding it up, and dry brush some metallic paint. Bam! Space soldier for under $100.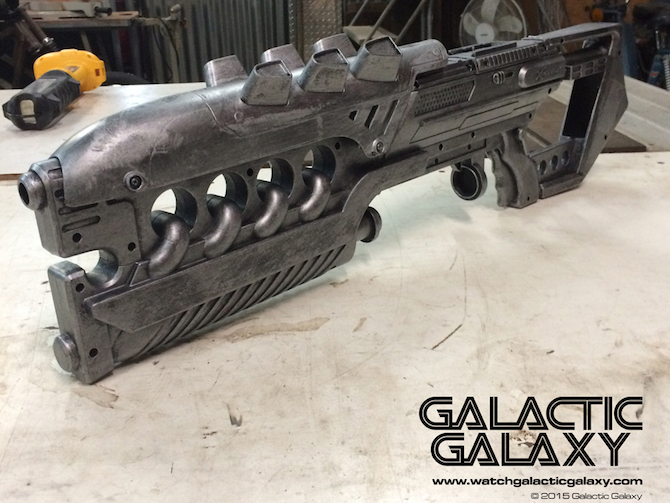 For more information check out the website:
http://watchgalacticgalaxy.com/
---
You can see the teaser for Galactic Galaxy below:

Producer, Director, Writer, Cinematographer
Ethan H. Minsker is a writer, artist and independent filmmaker. Minsker has written screenplays and produced and directed eight independent films. He is the founder of the Antagonist Movement, Inc., a consortium of artists, writers and musicians based in New York's East Village. Mr. Minsker was also the creator and editor-in-chief of Psycho Moto Zine, in publication from 1988-present. Mr. Minsker received his B.F.A. in Film with honors from the School of Visual Arts and his masters in Media from the New School. He lives in New York City.

Latest posts by Antagonist Movement (see all)