'Captain America: The Winter Soldier' Theatrical Review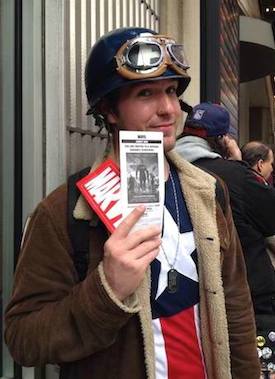 Trust no one. This is the underlying theme in the newest Captain America movie, The Winter Soldier. Nothing is as it seems as Steve (Chris Evans) tries to find his footing as a man out of time. I won't tell too much about the plot, given it would be difficult without major spoilers, but Cap is presented with the age old struggle of doing the right thing vs. following orders.
This film got sooooo many things right. The relationship between Black Widow (Scarlett Johanson) and Cap has really developed into something quite fascinating. They have been working ops together nonstop since the Avengers, so we see that bond between them has further developed.
There are actually a lot of elements to Natasha that we see flushed out in this film. Before seeing Winter Soldier, I was curious how they would approach a solo Black Widow film. Now I have no question. Nick Fury (Samuel L. Jackson) is ever present and up to his secretive shenanigans. However, in this film, his secrets finally come back to bite him.
It's a story that's been done in the comics several times over, but it was really quite fulfilling to see a screen treatment of Nick's actions having consequences. Sometimes when you shoot first and ask questions later, you shoot the wrong person. Granted, when you're having your strings pulled by a World Security Council member (like, I don't know, ROBERT REDFORD), you do tend to have clouded judgment.
Thankfully his number 2, Maria Hill (Cobie Smulders) was at his side to help clean up the mess. Lastly, we meet some new faces; Love interest from the comics Agent 13 (Emily VanCamp), Sam Wilson aka The Falcon (Anthony Mackie), and the not-so-new-but-kind-of-new Winter Soldier. Agent 13 was present but wasn't utilized in a strong capacity. It wasn't to a fault; she was just more of a hint at things to come. Sam, however, owned in this film. He was the perfect balance to Cap and served as a partner, not a side kick. Just wait until you see those paratrooper wings!

And then there was (Spoiler, if you haven't read the comics or watched tv or talked to any Captain America fan ever) Bucky.  They play quite true to the nature of The Winter Soldier in the film. And boy do they let his badass  shine. The hand to hand combat scenes between Cap and Winter Soldier are top notch. Just don't blink because they are fast (in speed, not in length).
There are too many amazing elements of this movie to explain in one short review. I could write an entire essay on the heartfelt reunion between Steve and Peggy. What I can say is this; Captain America, The Winter Soldier, is one of the finest examples to date that just because it's a "superhero movie" doesn't mean it can't be a great film. There are stunning visuals, sure, but that doesn't detract from spectacular performances, superb writing, and spot on direction that are all displayed in spades.

I may have been a huge Cap fan going into this film, but my fiancé wasn't. She quite openly didn't like the first movie. At. All. But she left this film with a big grin. You will not regret seeing it tomorrow. Trust me, you want to go ASAP.

John Detty of Detty Cosplay is a New York based actor, writer, and all around geek. You may have seen him on shows such as Blue Bloods, 30 Rock, Gossip Girl, or the webseries Pause and Reflect. As a cosplayer, John is regularly hitting the cons.

Latest posts by Detty Cosplay (see all)