'Forev' Film Festival Review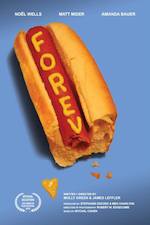 Molly Green and James Leffler, you've done good.
Hollywood is dictating that stories about love need to be over-the-top, swept off your heels romance movies that target only women of the world while men sit through explosions, explosions, explosions. One needs to remind the world that love is a real thing that is experienced by both women and men, and even more importantly, that it can be incredibly awkward. Thank goodness for Forev, the Vimeo Audience Award Winner at this year's Tallgrass Film Festival.
Forev is a romantic comedy. But I'm here, as a guy, standing in front of a girl (actually sitting in front of a computer), telling you to watch this no matter your preference in genre. As Forev is nothing like the Hollywood crap I mentioned previously.
Forev follows Sophie (Noël Wells) and Pete (Matt Mider), two neighbors who decide to get engaged on the way to pick up Pete's sister, Jess (Amanda Bauer). The catch is they've never been on a date, and never really hung out that much before. Both see the benefits in it though; tax breaks, cheaper bills, somebody to fill the gap they both are feeling at the time.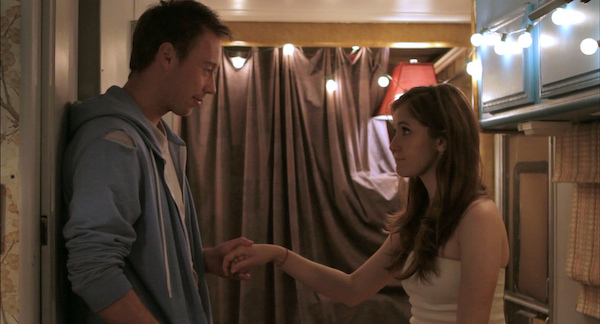 When they announce the great news to Jess, she is far from impressed. It turns out she's dealing with problems of her own and she doesn't have time to deal with what she feels is the dumbest thing Pete's ever done. But thanks to a broken down car, a metro-mechanic (Timmy L'Heureux), and Chuck (Chuck McCarthy), Pete and Sophie find out what they really do need and Jess discovers that she's better off.
Matt Mider portrays the most awkward mid-20's man who doesn't have a shocking back story as an excuse. He's basically a kid. However, Noël Wells portrayal of Sophie shows another character lacking in maturity, selling the blossoming relationship between the two main characters. The two are awkward apart, but even more awkward together.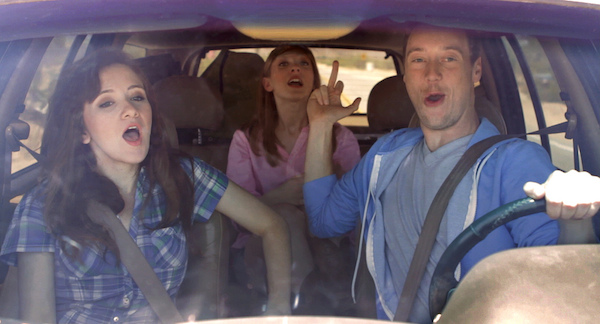 As awkward as Mider and Wells' characters can be, you can't help but laugh because they're just so damn adorable together (my man card's already in the trashcan). Mixing that with some of the fantastic humor written into the script, their chemistry is unique with the two playing off of each other so well. They seem to really be just discovering each other more, and that flame that starts to kindle could very well be real. I'll admit, there were some more than childish moments that most adults wouldn't usually find themselves doing, but at the same time, what's the qualifications of being an adult these days?
Forev has left me wondering if it's Green, Leffler, or a friend of one of the writers who experienced a series of events like this, as all the characters seem believable and the nature of this story doesn't seem scripted at all, more like you're watching a filmed bit of reality.
What really does it for Forev though is the consistent comedic writing. I've always been drawn to movies that create funny or awkward events that are realistic. The movie has a number of laughs but there's nothing that seems like a stretch. The conversations between characters, the quick one-liners fired between siblings, and even the crazy proposal seem incredibly with the nature of our generation.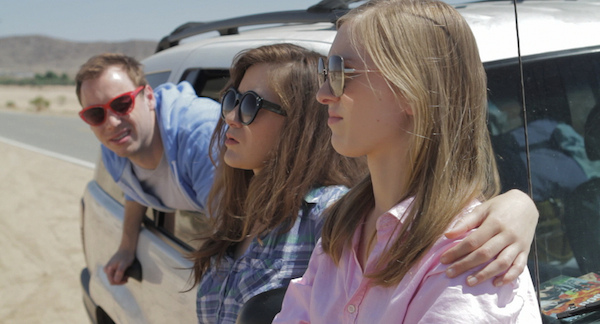 Forev is a romantic comedy. Said it a second time. In fact, that's a third time because the brief description above clearly screams romantic comedy as well. But take the stereotypes away from film genres for just a couple of hours and you'll discover that Forev is a hilarious movie that deserves any award thrown its way.

Iggy is immersed in the world of geek. From the statue covered shelves in his man-cave, to the collection of over 1,000 high definition movies, all the way to the the boxes of comics in his basement. He's interested in video games, collectibles, sports, comics, and books, but his true geek love is movies.