'Worm' Film Festival Review

Imagine a film where the camera never cuts away from the lead character. If boring, pointless, experimental failure, and cliché art come to mind; congratulations, you are a normal human being.
Worm is the first of its highly experimental kind that actually does follow the lead from a mid shot portrait perspective in one single and seamless take. Roughly two weeks of sporadic rehearsal followed by a single day of filming on a peanuts budget resulted in this 2013 Tallgrass Film Festival feature film.
IMDB's descriptive feature of Worm states it as being the first film to be shot entirely using the GoPro Hero 2 camera. This defining feature along with the strange new way of filming using a Baby Bjorn baby carrier with a wooden frame built on to mount the camera is certainly what's drawing curious spectators and solidifying slots in film festivals across the U.S. But Worm is far from just being an artistic study. People didn't walk out of the theater at Tallgrass Film Festival saying "this will revolutionize film," or give it a standing ovation solely for the camera angle.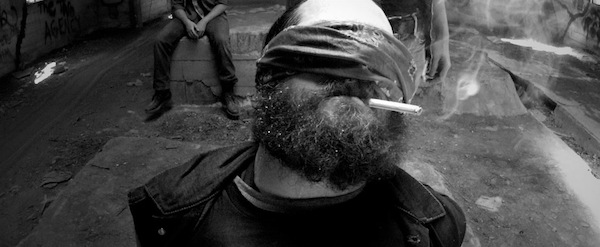 Worm takes place in Guthrie, Oklahoma and basically samples an intense couple hours of a man nicknamed Worm as he squirms his way out of one predicament only to land in consecutively bigger catastrophes. Throughout it our "hero" -a stuttering, scrawny, bearded adult delinquent- depicts a full range of believable anxiety and emotion. He's just like that cleverly stupid, disadvantaged, small town petty criminal many midwesterners have had the pleasure of knowing in one form or another. Worm is clearly his own worst enemy.
Series' of bad decisions to "improve" the life of his little girl and her mother are what lead him to the horrible situations he ends up in. It's also his incredibly soft heart and trusting nature that gets him to places, we as an audience are forced to both empathize with and judge him for. This is where that camera being fixed on him really intensifies the experience. It invokes sympathy for the man who has grown up in a system that's forced him to see himself as having no choice but to consistently do wrong and fail.  The fact that the script never once sacrifices a moment of commuting here or there to cut away gives the audience a strange yet comforting fly on the wall perspective.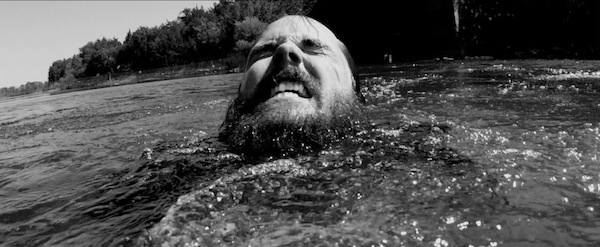 Fortunately, the acting performance given by lead/writer/director, Andrew Bowser, is enough to make you fully believe this is some strange reality you are simply privileged enough to watch play out. Like an episode of COPS from the perspective of the idiot who just keeps running.
It's actually phenomenal that when I remember the film, my memory fills in all of the surroundings of Worm. It's so hard to put into words, but the focus on Worm's character doesn't take away from the surroundings and seriously adds to the realistic setting of being right there with him. You simply get transported into his universe.
The real time is another aspect that is ironically not boring. Just in the first 10 minutes, Worm buries something, rides away on a 4 wheeler, breaks down, walks to town, gets coffee in a cafe, spills anxiously after police come in, rides home on a motorcycle, catches a ride to a bridge in the country, jumps into a river, runs from the cops, and the anxiety Worm feels combined with the heavy hitting, sometimes trancelike, music, give testimony from the beginning that Worm isn't just a typical slow drama. There's real quick paced action in this film wherein the logistics seriously seem impossible. Andrew Bowser appears to have pulled off a magic trick and I can't wrap my brain around how perfect it all came together.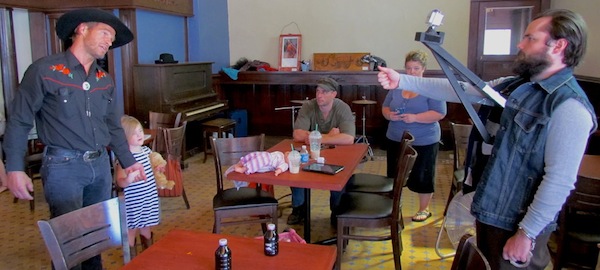 The synopses you'll find throughout the web don't give Worm a good enough picture of what to expect. I went in dreading a drawn out indie flick trying out a new gimmick, and left excited as could be with what I just saw.
Throughout my experience I couldn't push the first theatrical experiences in human history out of my mind. Antigone and the like only depicted real time until "revolutionary" shows started flashing forward. Somewhere along the way, empathetic moments have been dampened with this desire to focus more heavily on the story instead of the experience of characters. Worm and the genius of Andrew Bowser bring back a true real time cinematic story and revolutionize film through humanity's long lived desire to see reality on a stage. The cathartic nature of watching actors live a life has fully resurrected itself on screen with this outstanding film.

Erin plays the role of editor, writer, and Project-Nerd mom on the team. Her hobbies include reading books, playing video games, watching movies, and cooking. Yup, cooking awesome food for the entire team.